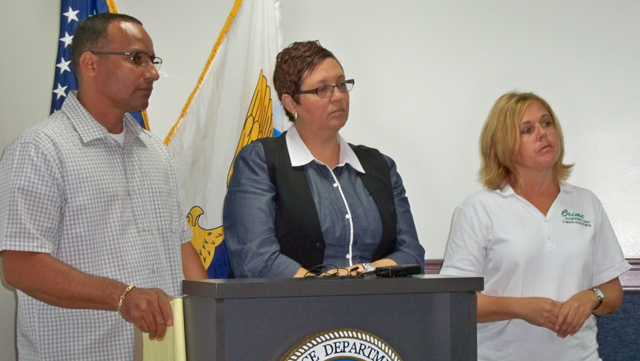 After a brief hiatus Crime Stoppers USVI has returned in full force and with a few new tricks up its sleeve – initiatives to make it easier to report crimes and to report animal cruelty.
At a news conference Wednesday at Police Commissioner Delroy Richards' Frederiksted office, representative of the anti-crime service also said the "Crime of the Week" feature will return, and there will be a new website.
Crime Stoppers was on hiatus from last May until November, when participants reorganized. A memorandum of understanding was signed by Richards in October.
Crime Stoppers chairwoman Laurie Dunton spoke about the P3TIPS Mobile Application that can be downloaded free on, phones, computers, Androids, Apples and tablets. Tips can still be called in to 1-800-222-TIPS.
"The tips may be submitted any time and any where," Dunton said. "If you see something, please say something."
Dunton said the identity of the person giving the tip remains anonymous. Even policemen called to investigate will not know the identity of people giving the information.
The organization will pay a reward to people whose tips leads to the solution of a crime, she continued. Last month tips led to the arrest of six people in relation to crimes reported and a total of $5,000 was paid out.
Dunton said Crimestoppers will submit the Crime of the Week to local news outlets beginning Monday. The new website – crimestoppersusvi.org – will debut at the St. Croix Agriculture Fair Feb. 13-15. Students in the advanced placement computer science program at Country Day Good Hope School designed the website, she said.
The VIPD liaisons are Lt. Maria Jones, who worked with Crime Stoppers on St. Thomas since 2009, and Cpl. Luis Encarnacion, who was called out of retirement to take the lead on St. Croix.
Jones said it is important that the Crime of the Week feature is starting up again. It can help solve cold cases by jogging peoples' memories. She added as things are coordinated they can tackle past serious cases.
Encarnacion said people should not hesitate to call in acts of animal cruelty that will be acted on immediately. He said animal cruelty is taken seriously and is a felony. Crimestoppers will partner with the Crime Prevention Unit and St. Croix Animal Welfare Center.
Dunton said Crime Stoppers is also working on neighborhood crime watches and organizers are establishing community outreach.