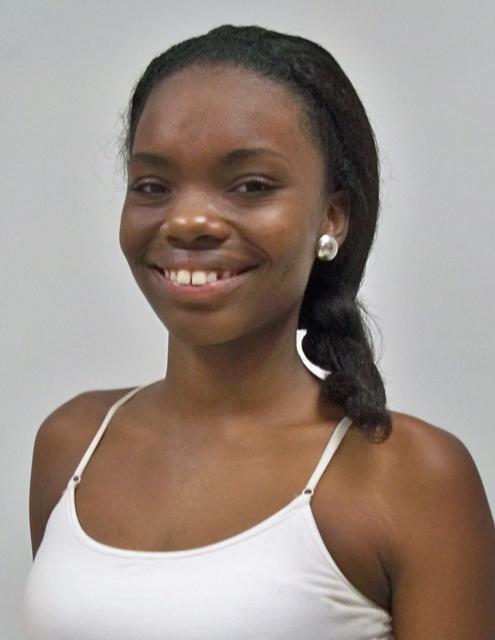 When Angelique Flemming was young she was shy, but thanks to the arts, she's now an outgoing University of the Virgin Islands freshman with her eyes on a bright future.
The 18-year-old bundle of energy, who talked a mile a minute and bounced her leg in a recent interview, said music has allowed her to get out and perform and even win competitions.
She said her interest in music and performing began when she was introduced to musical instruments as a fifth grade student at Ricardo Richards Elementary School.
Flemming said that thanks to the encouragement of her music teacher, Frederick Williams, she started playing the violin and cello and performed in the St. Croix Children's Orchestra.
She played the string instruments through the eighth grade, until she went to band camp the summer before her freshman year at St. Croix Central High School. At that time Flemming picked up the clarinet and fell in love with the sound and harmony of the wind instrument.
In ninth grade she joined the St. Croix Central High School Marching Band under the direction of music teacher and band director Stan Joines. She said Joines is a wonderful teacher who gives so much to his students and wants to see them be successful and good musicians.
"I have so many great memories of performing in marching band," Flemming said. "The feeling and the experience of performing in public gave me the courage to speak in public."
She said, at parades and other events, where the band performed, people would ask her about the clarinet and the difficulty of breathing and marching in the heat, all while playing a wind instrument. "That's how I started to open up and talk to people," she explained. She was also in the Central High Concert Band.
In 2014, Flemming represented the U.S. Virgin Islands in the Poetry Out Loud National Recitation contest in Washington, D.C., reciting "Romance" by Claude McKay and "On Quitting" by Edgar Albert Guest. She said the the Virgin Islands Council on the Arts sponsored her. Flemming added she also enjoys writing poetry.
The multi-talented young woman also enjoys singing, in particular at Calvary Baptist Church in Upper Love, where she is a member.
She has chosen a minor in theater and will eventually take classes on the St. Thomas campus of UVI to fulfill the requirements for theater.
She is majoring in Counseling Psychology and plans to practice both stateside and on St. Croix so she can give back to the people on the island she loves.
"I would also like to be a motivational speaker to help others," she said.
Flemming was crowned Miss University of the Virgin Islands in the fall, earning the title by selling the most tickets for a benefit for the UVI Student Government Association, where she is the publications officer.
Flemming chose UVI because she felt it was easy to transition to the university from high school. "They use the same Caribbean methods of teaching," Flemming said. "The professors help a lot and they give individualized attention in small classes."
Flemming's parents, Barbara and Paul Flemming, are professors at UVI. She said her parents have been big influences in her life, encouraging her to try different things and pushing her to do her best.
The only real challenge she has is time management.
"When I get involved in something it's really hard for me to say no," she said.
She admits faith has helped her to succeed in life so far.
"Without God I don't know where I'd be today," Flemming said. "I give praise and thanks for all God has done for me."