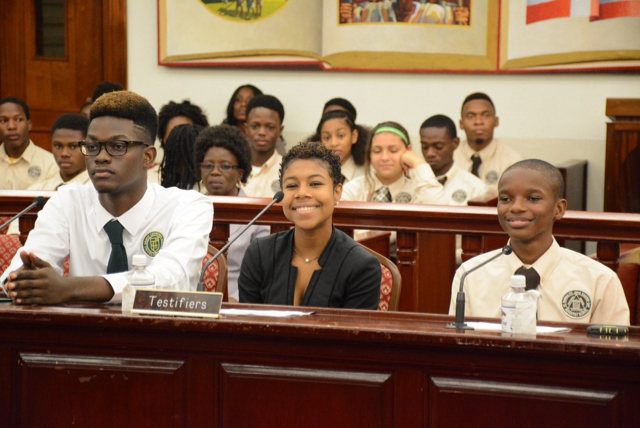 Asked to speak to the Legislature about the legacy of Martin Luther King Jr., three St. Thomas private school students shared their thoughts about discrimination, gun violence and marijuana legalization to the V.I. Legislature Wednesday, with greater clarity and seriousness than often seen by their seniors.
All three spoke about what they would do to change the nation or their community for the better.
Khalese Potter of V.I. Montessori School/ Peter Gruber International Academy talked about how people divide each other and themselves into groups, by race and within races.
"We categorize each other in groups rather than seeing individuals worthy of dignity and respect," Potter said to the Rules and Judiciary Committee. "I would teach people to reject forms of prejudices, whether subtle or overt, by tapping into their sense of empathy."
Irvin Mason Jr. of All Saints Cathedral School said he wanted to see a new multi-purpose center built, to give young people more to do.
"The Virgin Islands crime rate is increasing, especially among young people," Mason said. "Young people need a place to go. My dream is to open a multi-purpose complex were students can go."
In his vision, the center would have theater and arts programs and activities along with sports. He said he hoped to leave the territory for college and return to help make the community center happen.
Jair Smith of Seventh-day Adventist School also focused on youth violence and spoke about creating programs to reduce the number of guns on the streets, and education programs
"On New Year's Eve, confetti and streamers have been replaced by the frightening sound of gunshots," Smith said. He said guns are "available to many, including to minors."
Smith said he believes the territory "must increase security measures so that criminals cannot obtain firearms," and that there need to be stronger enforcement policies. Smith also urged the creation of a gun buyback program, and increased education about firearms.
"It takes the whole community to stop gun violence," Smith said.
"Parents, please talk to your children about the dangers of guns. … This is not television where you come back after the next episode, or a video game you just start again. This is real," he said.
The committee members all praised the children. Sen. Nereida "Nellie" Rivera-O'Reilly asked a couple questions, including about their view on legalizing marijuana and what their message to those adults buying guns would be.
Smith said he would oppose legalization. Potter said "it would depend on what it is to be used for." She said medical marijuana should be legal. As for recreational use, "it will always be around. If you legalize it you could tax it at least," she said.
Mason said he supported medical marijuana, but if it were completely legal and unregulated for minors, "it could become a distraction."
"Some people our age like to use marijuana before school or after school and it could distract them," he said.
The students were among eight students honored Jan. 15 by the Hebrew Congregation of St. Thomas on in observance of Martin Luther King Jr.'s birthday.
"The eight students were each chosen by their school for possessing the qualities, values and ideals of Rev. Dr. Martin Luther King, Jr.," Sen. Kenneth Gittens, the committee chair, said. "As I sat among those in attendance last week and heard the speeches from each of the eight honorees, I had a renewed sense of hope in our territory. Each student spoke with vision, purpose and conviction. From that group of eight, we were able to get three students to present during our committee hearing Wednesday and again I was impressed by their poise, enthusiasm and intelligence."
"Nobody had to coach them on what to say or how to answer these questions on gun violence, legalization of marijuana or youth services. These students showed that they pay attention to the news and the issues that affect them and the wider community. They showed that they are certainly preparing themselves to lead these Virgin Islands to brighter days. I commend them, I congratulate their parents and their entire school community," Gittens said.
The other students honored were: Jemoi Gerald, Antilles School; Tommy Wise, Charlotte Amalie High School; Vela Culbert, Gifft Hill School; Sherwin S. Williams, Ivanna Eudora Kean High School and Camille Emanuel, Sts. Peter and Paul Catholic School.