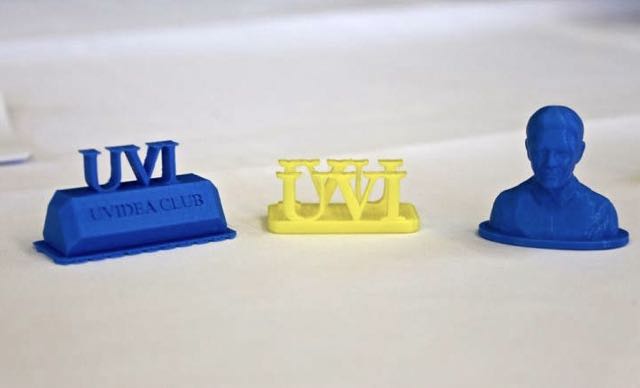 A new innovation center within the University of the Virgin Islands' library on St. Thomas will give students access to the kind of technology needed to make ideas – such as generating three dimensional prosthetics – come to life.
Right now the space is small, but students and UVI professors said during the center's opening that there's no telling what will happen once people get in there and start designing.
A MakerBot replicator is just one of the pieces of equipment in the innovation center and students said that it has the ability to transform polylactic acid – a byproduct of corn or potatoes – into a kind of plastic used for three-dimensional printing.
"This can print whatever concepts and models we might have and the software is also right here, available for the students," said Daricia Wilkinson, president of UVI's innovation and entrepreneurship club.
"For example, if someone has a new design for a phone case, they can just come in here and design it on the computer and they would have the opportunity to print that. Or let's say if someone needs a prosthetic, we would need to size the person and design the parts, but technically, we can come in here and get that done," she said.
Wilkinson said it has been a "dream" of hers to have such a space for students on campus.
"In order for ideas and solutions to be truly created, there needs to be an interdisciplinary approach," she said. "So if someone who is let's say a computer science major has an idea, then someone who is maybe a business major could give some great insight to that, and they could work here together to make a project and make that idea really innovative."
UVI officials said Thursday that the 3D printer right now is only for student use but as more funding and equipment comes in, more opportunities will be available to the public. In the meantime, public workshops in the space will allow community members to learn about 3D printing and design, among other things.
"All of these things are going to create more innovation in the territory and that's going to flow into the creation of more businesses and that is going to create more jobs, so really it is all about innovation driving economic development," said Tim Faley, a Sokoloff professor of entrepreneurship at UVI. "Our hope is to raise more funds, get more equipment and expand the whole center."
Faley said the first goal was to promote innovation among students and to give them the creative space to let their ideas flow.
"We've created this space because what you need for innovation is talent, innovation process and the space for creative collisions to happen," Faley said. "Innovation is about bringing an idea from one field to another or bringing two people with completely different perspectives together and you need a place for that and, since we don't often have these natural collisions, we needed to create a space for them to happen."
Other students said they were also excited about the chance to use the space as a way of building new partnerships with others.
"For me, it's a really good idea that we came up with this space to combine interaction between different majors because with that, we can work together to foster good communication skills, companionship and good ideas to come up with something that is truly revolutionary," UVI student Ish-Shaun Halbert said.
"This room itself has the ability to bring change that is good for both the university and general public as a whole and that is truly an amazing thing to be part of."