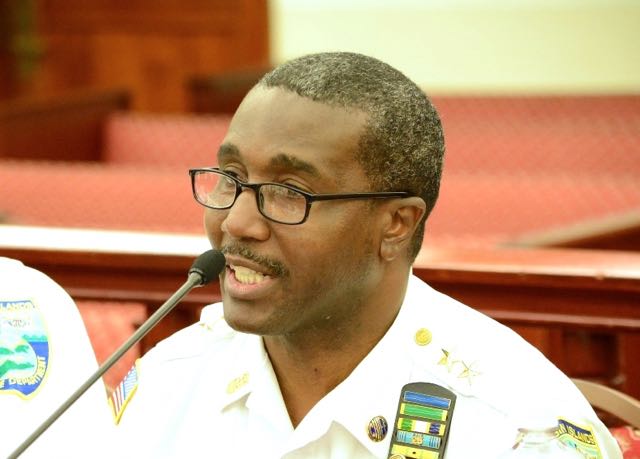 The V.I. Police Department has had dashboard cameras in its police cars since 2013, but the cameras are not turned on, St. Croix Police Chief Arthur Hector told senators during a Finance Committee hearing.
Sen. Clifford Graham asked about the dashboard-mounted cameras and Hector said they are in the cars but not turned on because the department does not "have a policy" on how to handle video records and they do not have a place to store all the video data.
Hector said the department was working on a policy, but the U.S. Department of Justice needed to sign off on it. VIPD administrator Giselle Richardson-Jones said the cameras came with data storage cards, "but they were not large enough and they kept running out."
The revelation came during discussion of a bill proposed by Gov. Kenneth Mapp to create a revolving $8 million credit to buy police, fire, coroner and other emergency vehicles, as well as "ceremonial" vehicles for the governor and lieutenant governor.
The fact that the cameras and also GPS machines were purchased but never used was among several concerns that led senators to vote to hold the bill.
"We spent a great deal of money to equip these vehicles with GPS and cameras. … If we go down that road again, we are just wasting money," Sen. Kurt Vialet said, adding that he felt "insufficient data storage is such a poor excuse."
Vialet also said policies should be in place before the Legislature considers spending money on new equipment.
The committee voted unanimously to hold the bill. This is the second time the Finance Committee heard the bill. It voted to hold it in October of 2015 over concerns about giving the executive branch an unrestricted, rolling line of credit for vehicles, in perpetuity. (See Related Link below)