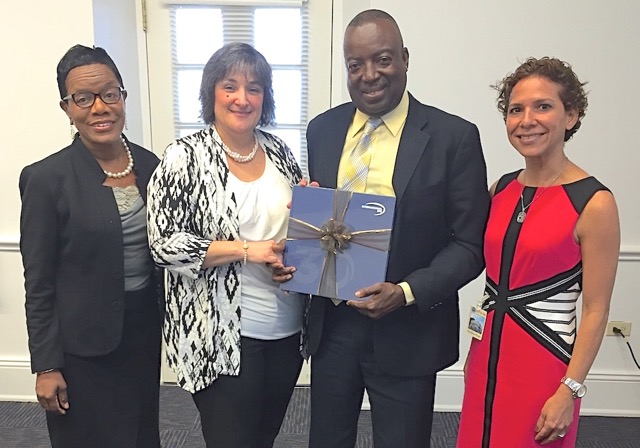 Lt. Gov. Osbert Potter met with representatives of TRICARE on Monday in his capacity as commissioner of insurance to discuss the availability of TRICARE services to its beneficiaries at Gov. Juan F. Luis Hospital on St. Croix.
TRICARE is a health program for uniformed service members and their families, National Guard/Reserve members and their families, survivors, former spouses, medal of honor recipients and their families, and others registered in the Defense Enrollment Eligibility Reporting System.
TRICARE, a vital benefit for the territory's active duty military, has been unavailable at JFL for some time.
TRICARE suspended services at JFL because of deficiencies identified by the Center for Medicare and Medicaid Services. The temporary suspension resulted in many TRICARE beneficiaries having to travel to St. Thomas or other jurisdictions for hospital services.
During its most recent visit to St. Croix, TRICARE met with top hospital officials and toured the JFL Hospital to conduct an assessment. TRICARE is currently awaiting the final report from CMS, which is due to be released this week. TRICARE will make a decision to determine if its benefits will be reinstated to the JFL based on the results of the CMS report.
V.I. Veterans Affairs Director Patrick Farrell also raised the issue of the lack of TRICARE for Life, according to a statement from Government House.
TRICARE for Life is a benefits service offered to individuals 62 and over, but is not extended to beneficiaries who reside in the Virgin Islands. According to Government House, TRICARE said they would consider the question.
"I am optimistic that the results from CMS will be favorable and the services provided to TRICARE beneficiaries will be reinstated at the Juan F. Luis Hospital. I will most definitely meet with the delegate to Congress to pursue obtaining TRICARE for Life for Virgin Islands beneficiaries," Potter said.
Disparities between the treatment of mainland and territorial service members by TRICARE has been a long-time area of concern for the territory. (See Related Links below)