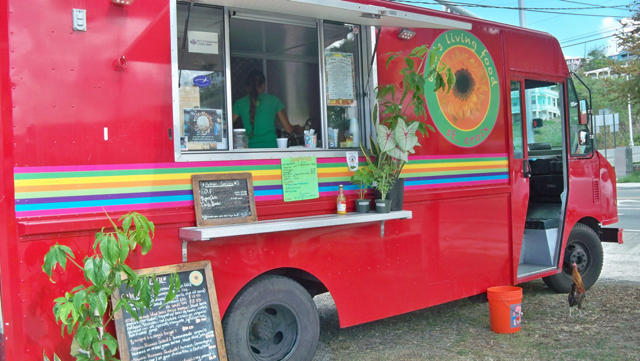 Looking for a fun new career, economic opportunity or to be your own boss in the food industry on St. Croix? Ana Gutierrez, owner of Ana's Living Food Truck, is giving away her food truck to a winner of an essay contest.
Gutierrez said people can submit a 200-word essay on why they would be the best candidate to own and operate an established plant-strong, state-of-the-art food truck on the island of St. Croix.
Gutierrez said she has been on a two-year plan and is getting ready for the next phase in her life, so she's giving away the truck. Her plans are to open a year-round health retreat.
"I see the need for health retreats," Gutierrez said. "My plan is to simplify – for it to be very affordable. All retreats are extremely expensive."
She said St. Croix is wide open and ready for a health retreat.
"This would be a great industry for St. Croix," Gutierrez said. "I see a big future here for health retreats. Just think of it – people come to St. Croix with aches and pains to heal in a beautiful place."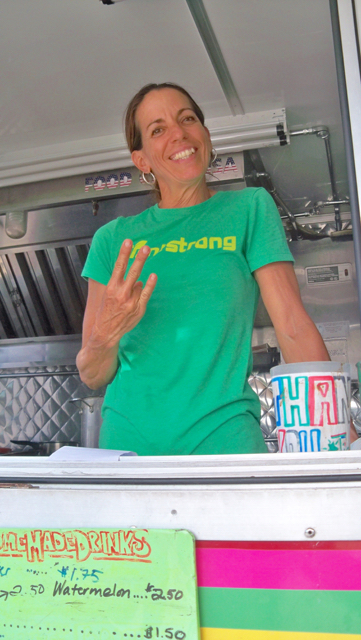 She said she has a spot picked out for the retreat but did not want to disclose it yet. Gutierrez explained health retreats are a win-win for St. Croix because there are so many healers on-island. When she lived in Germany a few years ago, she studied holistic healing. She added she has a lot of ideas to put in place.
Since last February, Gutierrez has parked Ana's Living Food Truck at the Christiansted bypass intersection in Gallows Bay at the old "Charlie's Shell Gas Station." The healthy menu at the red truck is made up totally of fresh fruits and vegetables, the majority of them locally grown.
This contest is open to anyone on St. Croix and beyond.
Gutierrez believes it would be a great opportunity for a young chef on St. Croix just starting out. Or a way to have gainful employment for someone wishing to relocate on St. Croix.
Essays should emphasize a knowledge and passion for healthy, locally grown food. Gutierrez said she will choose the top 10 entries and a panel of judges will select the winner. Essays are to be completely anonymous. Read the complete contest rules on her website www.winmyfoodtruck.com.
Under the advice of her local attorney, Gutierrez has retained the services of Submittable to serve as Payment Processing Agent for the contest. The Payment Processing Agent shall be instructed to log in each entry and to assign to each essay an entry number. Entrants must fill out the entry form on the Food Truck Contest website at www.winmyfoodtruck.com.Each entry is $135, plus credit card processing fees. If your essay is chosen, you will take over ownership of Ana's Food Truck and also receive $2,000 in start-up-cash.
Born and raised on St. Croix, Gutierrez said she has always loved to eat and cook but isn't trained in the food industry. At one time she had a restaurant called Mango Tree Junction in Le Reine at Center Line Car Rental. She said she will still be providing healthy food and more at the retreat.
Swimming and running are two exercises Gutierrez has always incorporated in her health and wellness plan. She swam on the Dolphins Swim Team as a teen and held some team records. She was also on the ground level, competing and organizing some of the first Iron Man Triathlons in the late 1980s. She represented the U.S. Virgin Islands in the 1992 Olympics in Barcelona, running the marathon.
Gutierrez attended Country Day and Good Hope Schools. She earned a degree in language and business from Berry College in Georgia.