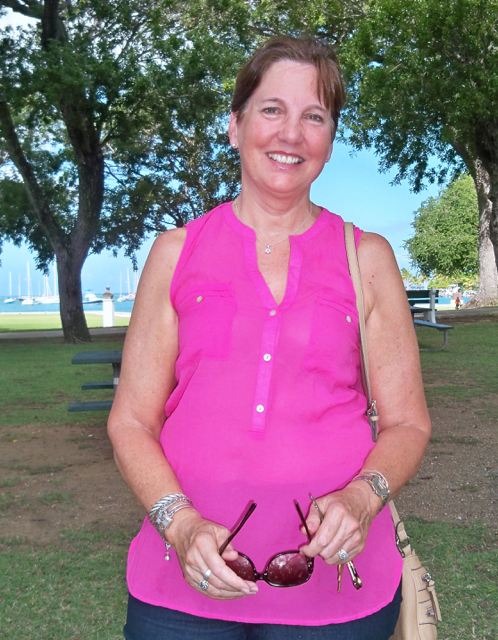 Everyone would probably like a fresh start sometime in their life. This is exactly what the women behind Fresh START, a new grassroots organization, hope to give other women.
Laurie Ingersoll, Fresh START project manager, said with the program women can acquire skills and training to support themselves and augment their incomes. They get training in sewing, design, budgeting, marketing, business and computers. Those who make a serious commitment to the program can gain the skills to run a cottage industry Ingersoll said.
The volunteer sewing instructors, Charmaine Webster-Hauser and Mary Jones, whom Ingersoll said are doing an amazing job, start with very basic training. Krista Schluderman is also an instructor and the curriculum designer.
First, women learn the care operation of different types and brands of sewing machines. Then they get lessons on making wine sleeves using the sleeves of recycled long-sleeved dress shirts. With a little snipping and sewing they repurpose dresses into aprons. And they learn to sew a cross-body water bottle bag and yoga mat bags.
They receive and recycle gently used clothing and other materials from local thrift stores that otherwise would go into the landfill just because they have small holes or stains.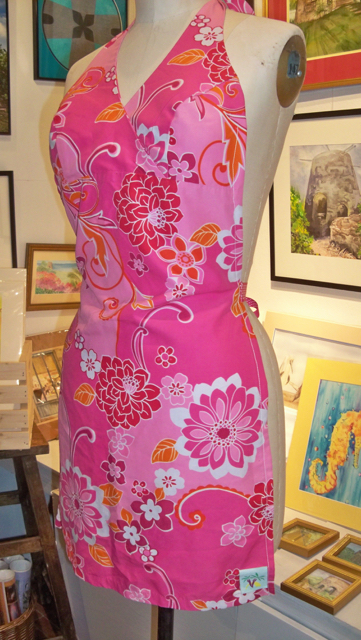 The products are available at the Blue Mutt in Christiansted on Company Street.
Ingersoll said Michelle Pugh at Dive Experience would like participants to make beach bags and indigenous stuffed animals to sell at her dive shop. The items all have an embroidered Fresh START label saying ?Made in St. Croix, US Virgin Islands."
The workshop, on King Street in Frederiksted, has been donated rent-free. Ingersoll said volunteers paid for supplies and made renovations in the three-room space.
Ingersoll explained the walls were bare so they are displaying and selling art work of anyone who doesn't have a venue for showing their art. The organization gets 40 percent and the artist takes home 60 percent from the sale of their art piece in the Fresh START Art Gallery. Well-known local artist, Emy Thomas, donated seven paintings.
Ingersoll said she came up with the idea for the program about a year ago while working as a volunteer sorting clothing at the Women's Coalition resale store Closet to Closet.
"I was horrified to see how much clothing is thrown away," Ingersoll said. So she did research on line about repurposing.
She has approached the Department of Labor to see about the program becoming certified to get funding to pay women a fair wage for 15 hours of work a week. And they hope to coordinate with the penal system and have women trained to be seamstresses when they are released and ready to enter the workforce.
The volunteer board members – Ingersoll, Mary Mingus, Krista Schluderman, Sandy Baldauf, and Lori Hirons – all have nonprofit experience.
"There has been a groundswell of support," Ingersoll said. "And we really appreciate all the help we've had."
Ingersoll said they are using an "each one, teach one" model, in which Fresh START requires each woman taking part to train and mentor another.
"We expect them to help train others and then we should grow exponentially," Ingersoll said. Organizers believe they are teaching valuable lessons and skills that are good for the local economy. The board members hope the women get involved to the point where they can hand it all over to them to manage the program.
Ingersoll said at the end of Saturday's class, they told the women it was time to put things away and close up and they groaned and one burst out with "but it's Saturday, do we really have to go?"
"They absolutely love the classes," Ingersoll added. "It's very exciting to see. It's great when the women get together – they are chattering, sharing and bonding. It's like an old-fashioned quilting bee."
Organizers are planning an open house for the public in February.
Ingersoll said they need volunteers, sewing supplies, sewing machines, fabric, long- sleeve shirts, a computer and printer. The St. Croix Foundation accepts monetary donations for Fresh START. More information about workshop schedules can be obtained and donations made by calling 781-248-6027 or visiting online at www.startstx.com.