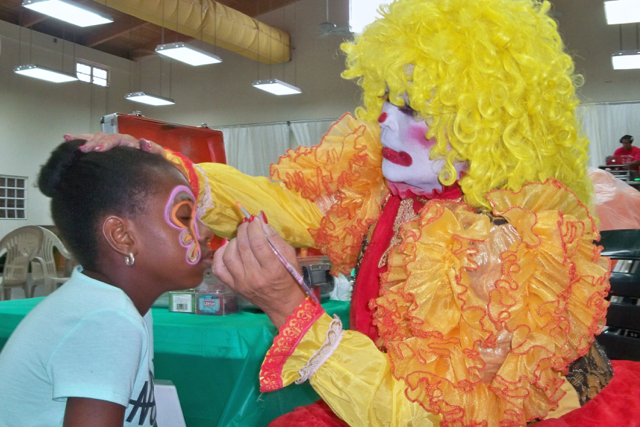 The rain that fell around noon Tuesday did not dampen Gov. Kenneth Mapp's holiday party for children. The lawn at Fort Christiansvaern was the original venue, but around 12:30 p.m. protocol coordinator Mae Louise Williams moved the party to D.C. Canegata fitness center.
Rangers from the National Park Service directed the partygoers to Canegata. Hundreds of youngsters showed up to take part in the activities that began at 4 and ended at 7 p.m.
When the children entered they each got a ticket for cotton candy, popcorn and snow cones served by Jean and Chris Riviere of Sweet Delights. They got a ticket for hamburgers, chicken or veggie burgers served by Good to Chew Catering from the St. Croix Career and Technical Education Center. They also got a ticket for an age- and gender-appropriate gift. The gifts included electronic games, remote-control helicopters, Barbie dolls, hair accessories, jewelry and more.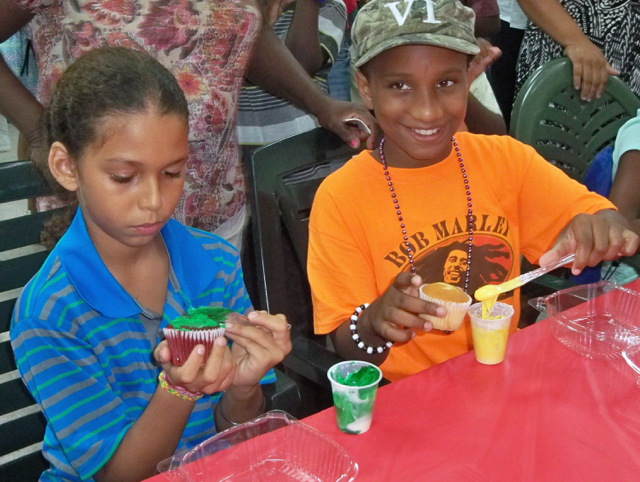 There were activities such as cupcake decorating, face painting, music and games. There was a gift-wrapping relay race. Prizes were given to the children judged to have the neatest wrapped gifts.
Teairra James, 9-years-old, won a jigsaw puzzle for her gift wrapping effort.
"I was really surprised I won," James said with a huge grin. "It was fun and I'm happy I won."
George Torres, 11, said he had fun decorating his cupcake.
"It was different and a cool thing to do," Torres said as he showed the Source his cupcake with bright blue icing and colorful sprinkles.
The clowns, Jay Jay and ViVi, painted faces, and Jay Jay led the youngsters in games. There was musical chairs, tug-of-war, and sack and three legged races.
Home Depot employees gave out kits to make a wooden box. Hermeian Leon, Human Resources manger, said they have been donating craft kits at governor's holiday parties since the store opened in 2011.
"It's all about giving back to the community," Leon said. "Anything we can do for the public we try to do."
Norbin Felix, DJ of United Sounds, provided a wide assortment of music. Charlene Bethelmie, the fraco lady at Christian "Shan" Hendricks Vegetable Market, served children the fruit flavored shaved ice treat.
The children appeared to have fun burning up energy in a Mickey Mouse bouncer and inflated slide set up in the parking lot.
Santa Claus and the Three Kings dropped by to wish the children a Happy New Year.
Williams said the holiday party is a wonderful way for the children to have fun.
"We just want to make sure the children have a good time," Williams said as she hustled around making sure things went smoothly. "The party is all about camaraderie and warm friendly feelings."