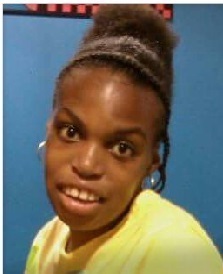 Shamyra Shirlamae Nicholas died peacefully on Dec. 19, 2015, at Detar Navarro Hospital in Victoria, Texas. She was 21 years old.
She is preceded in death by her grandfather, Lloyd Clendenen Sr.
Shamyra, affectionately known as "ShaSha," is survived by her mother, Yvette Clendenen; father, Trevor Nicholas; grandmothers: Shirley Clendenen and Lucile Nicholas; grandfather, Walton Nicholas; great- grandmother, Josephine Prospere; aunts: Marion Clendenen-Acosta, Lauren Clendenen-Williams, Sheryl Clendenen-Sealey, Marilyn Nicholas, Vernicher Nicholas, Marie Malone, Vernessa Nicholas, Melissa Nicholas and Vicar Wilson; and uncles: Lloyd Clendenen Jr., Moambeh Benito Acosta, Kevin Williams, Kevin Sealey, Thomas Prospere, Tracy Nicholas, Timothy Nicholas and James Nicholas.
She is also survived by cousins: Nzinga Acosta, Jahsiah Acosta, Niah Acosta, Kyle Williams, Kayla Williams, Gary Simmonds Jr., Kai Sealey, Kiana Sealey, Ashley Clendenen, Jayden Clendenen, Shamoya Clendenen, Tyler Bukle, Tamysha Nicholas, Teqwan Nicholas, Tasheem Nicholas, Tafari Felix, Shamar Johnson, Shaddai Johnson, Yasmin Nicholas, Cailyn Martins, Caiden Martins, Alijah Nicholas, Nodrick Wilson, Nilla, Wilson, Kerner Wilson, Garvin Wilson, Marvin Wilson, Mara Francis and Junior Nicholas.
Other survivors include great aunts: Anna Thompson, Bernice Clendenen, Leonile Sealey, Rosa Sealey, Marjorie Sealey, Esmy Thomas, Mavis Preddy, Angelina Peter, Christina Prospere and Marietta Prospere; great uncles: Monroe Clendenen Jr., Ejnar Clendenen, Earle Sealey, James Sealey, Roy Sealey, David Prospere, Lucius Prospere and John Prospere; godparents: Laverne Hurley-Allen, Kimlyn Etienne and Bianca Maynard. Shamrya is also survived by many family and friends too numerous to mention.
Special thanks to Devereux Texas and caregivers: Kerri Chambless, Juliana Castro, Priscilla Gilden, Clarissa Cadengo, Krystal Garcia, Mary Brown, Devereux Florida, Dr. Celia Victor (DHS), the Clendenen family, the Sealey family, the Nicholas family, the Prospere family, Christie Yarwood, the Scotiabank family, Mourala Cornelius, Moural St. Rose-Baker, Michelle Samuel, Lucecita Velazquez, Patricia Evans, Ghana Augustin and Joanne Alfred.
The family requests that cheerful colors be worn to symbolize Shamyra's joy.
Funeral services will be held on Jan. 7, 2016 at the Friedensberg Moravian Church, Frederiksted. The viewing will be at 9 a.m. with the service beginning at 10 a.m. Interment will follow at Kingshill Cemetery.