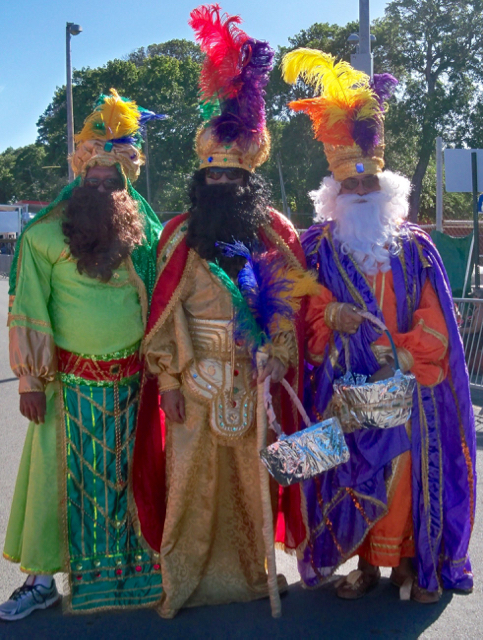 They are three colorful figures, seen often about the islands at this time of year, especially in the Crucian Christmas Carnival parades. They are the Three Kings.
The Three Kings are the Magi, the biblical figures who followed a star to the stable in Bethlehem where, according to the Bible, the Christ child was born. The kings brought gifts of gold, frankincense and myrrh (the latter two are aromatic resins used throughout history in perfumes and incense.)
In the Catholic Church calendar the day is the Epiphany, a "Holy Day of Obligation," when church members are required to attend mass. Around the world the observance by most Christian churches has traditionally been Jan. 6, although now it is typically celebrated on the first Sunday after Jan. 1.
The Three Kings tradition came to the territory from our neighbors. Most Puerto Ricans traditionally celebrate Dia de los Reyes, also known as Three Kings Day, 12 days after Christmas day.
Deacon Aida Nieves, from St. Francis Episcopal Church in Estate Diamond, said to people in the Hispanic community it is a Christian feast day that celebrates the revelation of God's son as a human – the baby Jesus. Nieves referred to the Gospel of Matthew 2:1-12
"We celebrate to honor the newborn king," Nieves said.
She said services marking the holiday in her church are held on Epiphany, the first Sunday that falls closest to Jan. 6th. She said to the best of her knowledge Hispanics of all denominations celebrate Three Kings Day. The word epiphany means "manifestation" or "revelation."
"At this time of year we see a lot more outpouring of love and concern for each other too," Nieves added.
The Puerto Rican community shows it cares by providing a free breakfast feast on the holiday.
In Christiansted the celebration will include a free meal at the "Crucian Rican All Ah We Breakfast" in Christian "Shan" Hendricks Vegetable Market. The breakfast of chicken soup, beef soup, salt fish, smoked herring, bread and roast pork is a Puerto Rican tradition. Local cooks prepare and donate the food
Nieves said it is a tradition for Hispanic children to leave hay and water for the camels under their beds and goodies for the kings. The hay is removed and replaced with gifts. She said as a child it's fun finding traces of hay the camels left. She added when her children were young they carried on the tradition on Jan. 6. She believes now the Puerto Rican children on St. Croix are more into Santa Claus.
She said it seems like local school children have an exceptionally long Christmas vacation with a break until Jan. 7 after Three Kings Day. Stateside, Jan. 6 is not a holiday even though members of Orthodox churches celebrate the feast of the magi. Three Kings Day is a government holiday in the territory, because of the sizable Hispanic population.
"Remember the greatest gift of all was Jesus Christ as our Lord and Savior," Nieves said. "He came to search for the lost and give us eternal life. Whoever believes in him will have everlasting life."