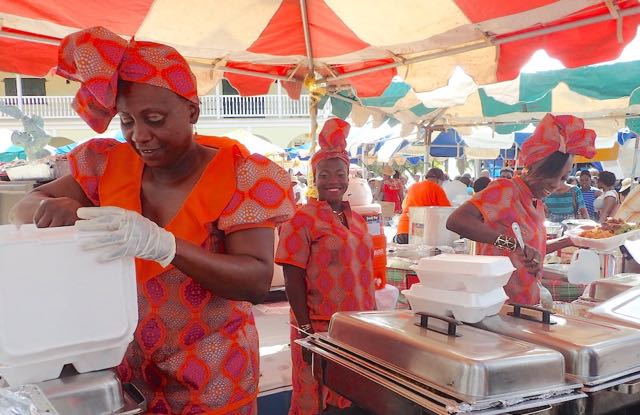 The Christmas winds swirled around Customs House and through Buddhoe Park on the Frederiksted waterfront Wednesday, picking up the savory and sweet aromas from the Crucian Christmas Carnival Food, Arts and Crafts Fair as crowds sampled cultural delights from dozens of the island's best cooks.
One of the most popular Carnival events leading up to parades, tramps and carnival rides this weekend, the Food Fair features traditional dishes prepared in a variety of ways. Roast pork at one booth isn't the same as roast pork from another vendor.
Many of the cooks are families who have passed recipes down for generations and have been cooking for the crowds for decades.
Renita Johannes-George is one of those – a baker who has been dazzling the public for years with her multicolored, multilayered cakes with flavors like coquito, guavaberry and chocolate.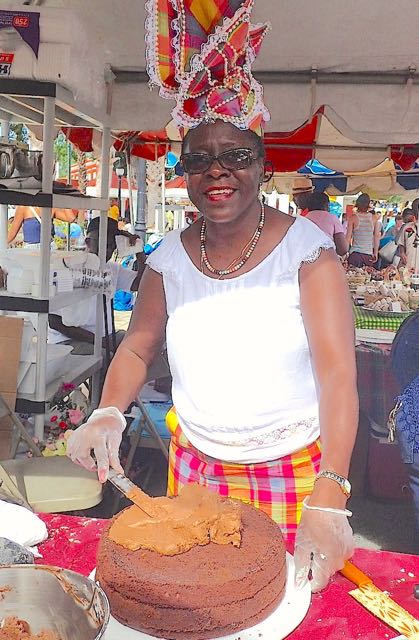 This year, the fair bears her name, an honor conferred each year upon a culinary culture bearer.
"I've always been told I'm the best and now I know I'm the best," Johannes-George said after cutting the ribbon to open the event. "Now I've got to go sell some cake."
Politicians, business people, families, retirees and visitors to the island crowded around the food booths waiting for their favorite fare. Delegate Stacey Plaskett and her family were spotted at one vendor booth and Sen. Novelle Francis at another.
Gov. Kenneth Mapp, who said he has been attending the event since he was 5 years old, said, "It's about coming and looking at the treats and getting some good food,"
Carnival royalty, including Miss St. Croix Khalifa Antoine, a senior at Barry University, participated in the ribbon cutting ceremony. She was attended by Carnival Prince Kanif Wathey, Princess Kleshelle Gaskin and Duchess Nivia McDonald.
After the ribbon cutting, people got serious about food – eating and selling. Daisy Byam, Estella Gordon and Deniqua Byam of Goodies served salmon balls, barbeque chicken, buttered snapper, pot fish, roast pork, and crab and rice with all the sides.
They rushed from one serving dish to another wearing dresses and head wraps in matching fabric.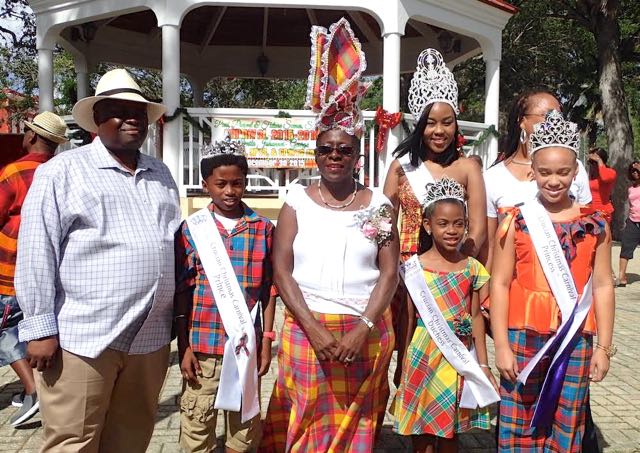 Lilliana Belardo de O'Neal also served crab and rice, as well as conch in butter sauce – her most popular dishes, she said. After the Food Fair, she will move across the street, like many of the vendors, and open a food stand in the Village, serving more local dishes, including pasteles.
"What I like is that so many people come to taste a lot of food and socialize," Belardo de O'Neal said, adding, "And then you don't see them all year."
The Freidensburg Moravian Church traditionally has long lines all afternoon and sold out of several of their most popular dishes – roast pork and roast goat – before 2 p.m. Pastor Dion Christopher said the church members prepare the vast quantities of food, starting the day before the event. He said the food is popular because it "is prepared with love."
Other vendors served up stewed chicken, conch in butter sauce, kallaloo, souse, red peas soup, curry goat, johnny cakes and pates. Drinks included sorrel, ginger beer, passion fruit juice, fruit punch, lemonade and holiday traditions guavaberry and coquito.
At her booth, Veronica Jeffrey and friends served ducana, a traditional dish of Antigua, Barbuda and several other Caribbean islands. Ducana is a spiced sweet potato and pumpkin dumpling, wrapped in a banana leave and steamed. Jeffrey served it with traditional chop-up (eggplant, okra and spinach) and salt fish.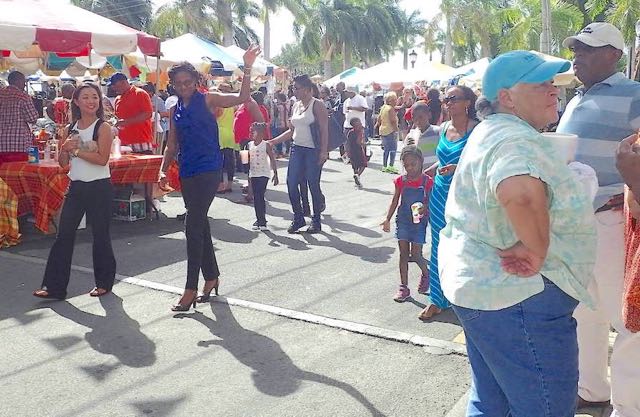 Lt. Gov. Osbert Potter was seen standing next to a food stand and clearly enjoying a plate of whelks. He said he makes a point of attending the fair to sample the wide variety of traditional dishes – especially his favorite.
"It's a chance to really get some of the rare things – like getting whelks. You don't get those every day," Potter said.
Along with Johannes-George's spectacular cakes, LaVerne Bates sold freshly baked tarts, cakes, peanut brittle, pies and slices of Vienna cake. And with an ice cream cart filled with Jaccar sorbet and gelato and Crucian Ice, everyone had several choices for dessert.
The arts and crafts set up around the clock tower included handmade madras skirts, tops and dresses, scented soaps, leather sandals and bath salts made with comfrey.
Isoke Davila of Tropical Ayay said comfrey helps with bone pain and displayed homemade bath salts and salve along with several of her tropical fruit wines.
Good food, arts, crafts and camaraderie were enjoyed more once the music started. The iconic Stanley and the Ten Sleepless Knights played their special brand of quelbe in the park while the West End Masqueraders, mocko jumbies and others danced around the bandstand throughout the afternoon.