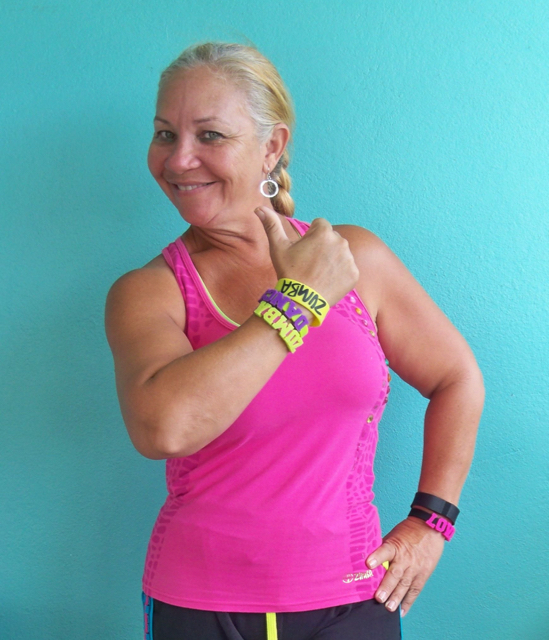 Zumba instructor Monsita Diaz wants kids to get up off the couch, put down their electronics and get moving in the lively, heart-pumping, aerobic dance fitness program, Zumba.
Diaz offers Zumba for Kids, which she called a fun way for youngsters to get fit.
Diaz, a youthful looking 51-year-old, said "fun is my focus." She admits she can be a kid at heart and gets into having fun with the children.
"I feel like I become a kid when doing Zumba," Diaz said.
For the past two years she has been leading senior citizens in Zumba Gold and the general public in Zumba basic.
Diaz notices a lot of obese and inactive children on St. Croix.
"We see a lot of children who are couch potatoes," Diaz said. "Kids need to get involved in things when they are young. And we need to instill a love of fitness."
She said adults can provide fun ways for children to get active and learn the longterm health benefits of practicing fitness activities for life.
"We do fun kids' moves like jumping, skipping, hopping and follow the leader," Diaz said.
She choreographs the routines, and said there aren't any suggestive moves allowed and the children must dress in modest athletic attire and sneakers. It is geared for all fitness levels with kids Zumba music.
Diaz believes the biggest challenge for children in a fitness program is the parents getting them out to participate. She said she provides a fun way to get fit and believes parents should provide transportation.
Diaz said she loves the fact that she has time to dedicate to Zumba and is able to branch out and offer more classes. Diaz, an accountant, was the human resource manager at Virgin Islands Medical Institute, which has closed.
Diaz got certified in 2013 in Zumba Basic, then Gold, Aqua Zumba and Zumba Kids at the Zumba Academy in Puerto Rico
Zumba was created accidentally by Colombian aerobics instructor Beto Perez. Perez was teaching an aerobics class and forgot to bring the music for his routine so he used Latin music tapes he had in his backpack and started to dance, incorporating aerobic moves.
The class meets from 10 to 11:30 a.m. Saturdays at the Armapavie Sports Club on the Hess Road. It was formally known as the Basilio Felix Softball Park. Diaz added children should bring water and a towel.
More information about Zumba for Kids is available by calling 340-332-1279.