Not every child wakes up Christmas morning at home and able to open presents by the family Christmas tree. The St. Croix Democratic Party recognizes this and has tried to bring the happiness of opening Christmas presents to children at the Gov. Juan F. Luis Hospital since the 1990s. The tradition continued Friday with dignitaries and members from the party bringing presents to the lobby of the hospital.
"We know it's hard on parents and patients at this time of year," said Sandra Satorie, organizer of the traditional Christmas day gift giving. "We come every year to spread cheer and pray for speedy recoveries." Satorie also organizes a complimentary breakfast for the staff working the holiday.
The presents wrapped in colorful patterned paper given by individuals and local businesses were piled high in the lobby next to a tree tastefully decorated in shades of purple. For the children who could not come down to the lobby, party members took the presents up to their rooms.
Luis Sylvester, local manager of Molina Healthcare, has taken it upon himself to shop the last three years for gifts for the children in JFL.
He said it is one cause he supports because everyone needs to celebrate and enjoy the holidays, most importantly children. Sylvester added he enjoys going out and shopping for the gifts.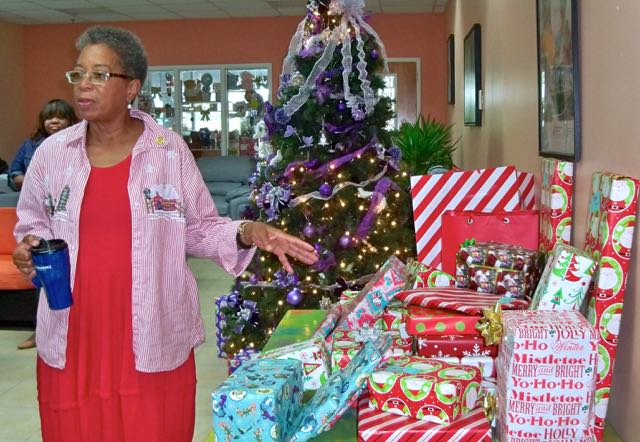 As usual, Sen. Sammuel Sanes made it out bright and early bearing gifts.
"This is one special annual tradition we should always continue," Sanes said. He said he hopes the younger generation takes note of the giving and gives back to the community in turn.
George Moore said the gift giving is a very positive gesture for the community.
Cecil Benjamin, Democratic Party chairman, said since around 1990 the party has religiously orchestrated the gift giving at the hospital. He said the party of diverse backgrounds focuses on the weak and less fortunate.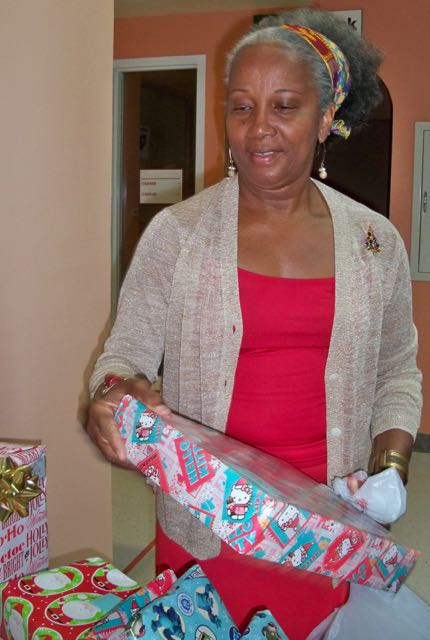 He added the idea is to make the season enjoyable for the children who are sick and aren't able to enjoy the season and get out to do fun activities. He said it is the party's way of coming together with the community and extending the spirit of goodwill.
"We really appreciate and are grateful for the individuals and business that contribute to make this activity a success," Benjamin said.
Other groups and individuals also recently gave donations to patients at the hospital.
On Christmas Eve, V.I. Police Department officer Charles Nibbs and his wife Anita, founders of Luv Kids, gave their annual gift donations to the children in the pediatrics and neonatal units. The hospital employees adopted a family as a project and St. Croix Central High School students also gave gifts to the children in the pediatrics unit.