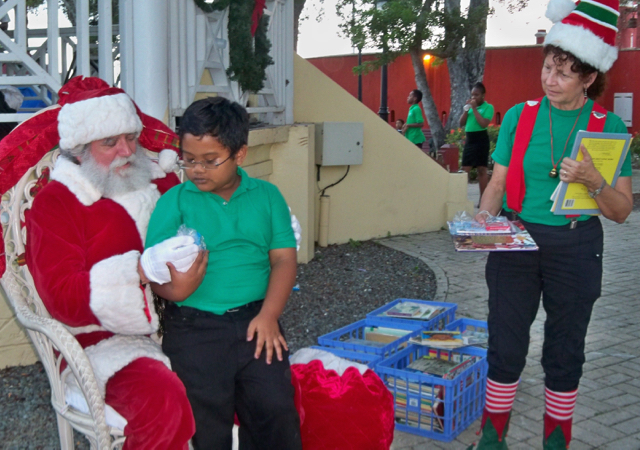 Santa Claus made an early stop in Frederiksted Saturday evening. He didn't get there by reindeer and sleigh but aboard a shiny red V.I. Fire Services firetruck.
He greeted children and gave out goodies at the Frederiksted Tree Lighting sponsored by Our Town Frederiksted. The focus of the gathering was on brightening things up on the streets of Frederiksted, and welcoming the season by lighting a huge tree in Fort Frederik.
Hundreds of folks got in the spirit of the season, enjoying a lively march down King Street with dance and music by the Complex Barracudas Marching Band. The loud and pulsating music of the Rising Stars Youth Steel Orchestra helped guide Santa to Budhoe Park, where he was welcomed by St. Patrick's School Steel Pan Orchestra.
At the gazebo St. Patrick's School choir members sang old familiar carols while Santa Claus and his helper, elf Ellie Hirsh, gave out books and other goodies to children.
Crystal George said it was nice her children got to see Santa in the parade. She added the tree lighting event will become a tradition with her and her young children.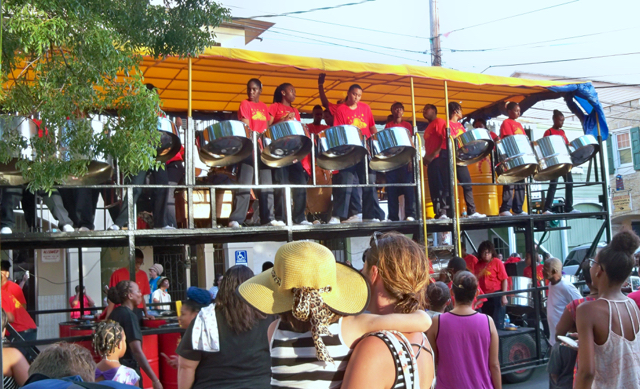 "It's really nice to see such a positive event in town," Laneisha Patterson said with a wide smile.
Al Franklin, from Our Town Frederiksted, said it was wonderful seeing so many people out enjoying themselves.
"This is really important doing something that's keeping young people involved," Franklin said. "Their music is good too and people are enjoying it," he added.
The artificial tree that towers above the walls of the fort was decked out with large red and white wreaths, white lights and a large gold star as the tree topper