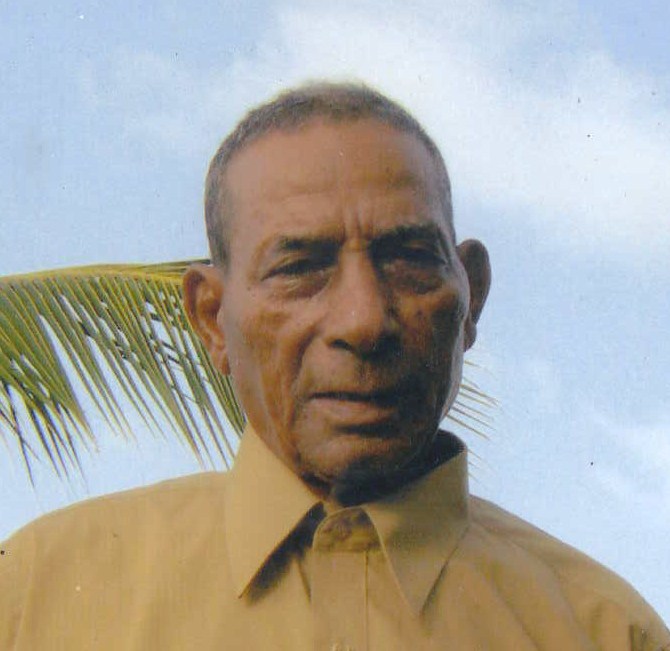 Nicolas Encarnacion, also known as "Colilla," of Estate Adventure Hill died on Tuesday, Dec. 15, at his residence. He was 91 years old.
He is survived by his daughters: Elizabeth Encarnacion, Vilma Santana and Monica Rivera; sons: Claudio Encarnacion, Francisco Encarnacion, Nicolas Encarnacion Jr., Luis R. Encarnacion, Joel Encarnacion and Garibaldi Encarnacion; stepson, Jaime Ayala; stepdaughter, Felisa La Fontaine; grandchildren: Lysha Encarnacion, Nicole Encarnacion, Jessica and Cruz Santana, Aneliz Eberhardt, Tashira and Leesa Torruella, Kimberly and Kevin Encarnacion, Odalis, Ocairy and Samuel Rivera, Rashawn Humphrey, Garibaldi Jr. and Gezell Encarnacion, Luis Raul II, Maria, Francisco Jr., Elizabeth, Arnando, Lucinda, Iris, Brendalee, Javeen, Jerico, Josiah and Jacie.
He is also survived by great-grandchildren: Jeida Sosa, Jovanny Saldaña, Edgar Jr., Veronica and Briana Eberhardt, Alia and Alina Batista, Jahriel, Leeniyah, Jahreem Williams, Shanairy Dortch, E'Mayah and E'Lylah Hansen, Karter Rivera, Nashalie and Zuriel Santana, Nissiana, Malik, Alaisha and Luis R. Encarnacion III; brother, Delfin Encarnacion; nieces: Gladys, Nelly, Corporina, Zulin, Antolina, Araselis, Dolores and Generosa Centeno; nephews: Roberto, Gilbert, Gregorio, Nelson and Nyszael Encarnacion; and daughters-in-law: Hermeian Leon, Diana Encarnacion and Josefina Vásquez.
Other survivors include son-in-law, Cruz Mario Santana; sister-in-law, Zaily Encarnación; special friends: Luz Sierra and Mrs. Branch; special thanks to his caregivers: Steve, Diana, Opal, Mrs. B, Laura and Velma; and other relatives and friends too numerous to mention.
A viewing will take place at 9 a.m. followed by a funeral service at 10 a.m. on Wednesday, Dec. 23, at St. Joseph's Catholic Church. Interment will be at Kingshill Cemetery.
All arrangements are by James Memorial Funeral Home Inc.