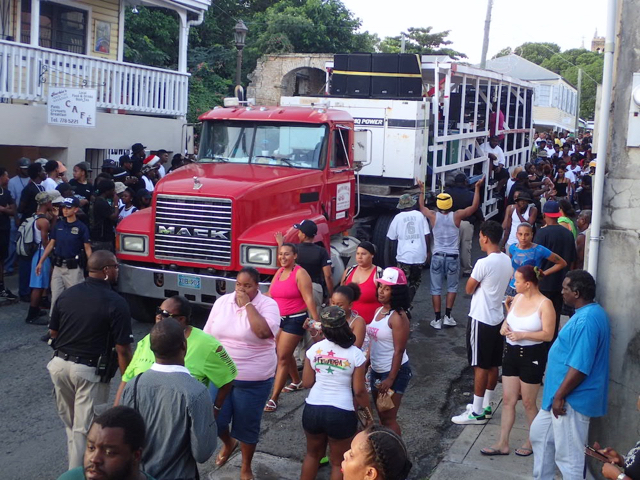 Two popular bands – Poizon and Fusion – crowded flat-bed trucks with instruments and sound equipment and crawled towards Christiansted Saturday morning as the morning sky brightened to kick up the Crucian Christmas Carnival with J'ouvert East, a first time event.
"We decided to have J'ouvert in Christiansted because we felt people in Christiansted need to party as well," Oscar Henry, event organizer said.
By 7 a.m. the morning sun erased night's shadows and people slowly made their way towards the infectious sound of road march music. As the bands advanced, people joined the crowd and danced with the trucks through town to the Altoona Lagoon, east of Gallows Bay.
It was not nearly as large a crowd as the historic Frederiksted J'ouvert that fills the streets and sidewalks of the West end town, but the enthusiasm of the small crowd created the same party atmosphere. It was mostly a young crowd, dressed up or down and in Christmas hats and jingle bells.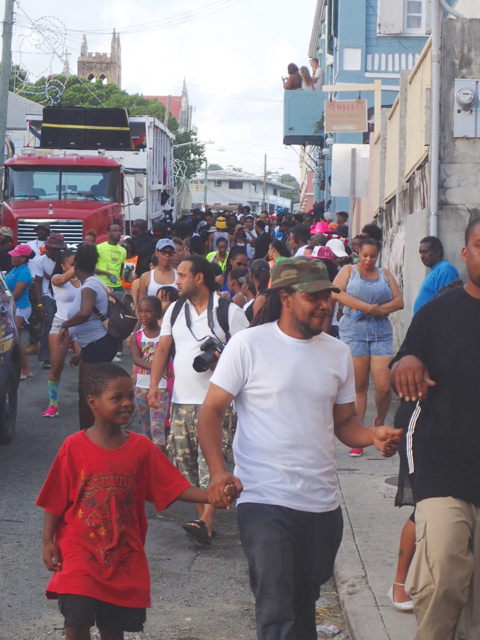 Each year, Carnival J'ouvert is followed by the Food Fair. (This year it is Dec. 30.) Like its big brother, J'ouvert East ended with food, drinks and more music, provided by Poison, Stylee Band and Pumpa and the Unit, filling the Lagoon park with festive sounds until 4 p.m. or so.
After that, many revelers returned to Christiansted for the St. Croix Boat Parade with standing-room only on the boardwalk. Later Saturday night, a mini-version preview of Frederiksted's Carnival Village with rides and more music attracted diehard partiers at the D.C. Canegata Park.
To end the first Carnival weekend, Carnival Princess and Duchess contestants will compete for titles at 3 p.m. Sunday at Island center for the Performing Arts. Next Sunday, Dec. 20, the remaining Carnival royalty will be chosen at the biggest pageant of the year –the Crucian Christmas Carnival Queen Show.
Then on Dec. 26, the Frederiksted Festival Village opens next to the Paul E. Joseph stadium and carnival events jam the calendar through Jan. 6. (See related links for full schedule.)