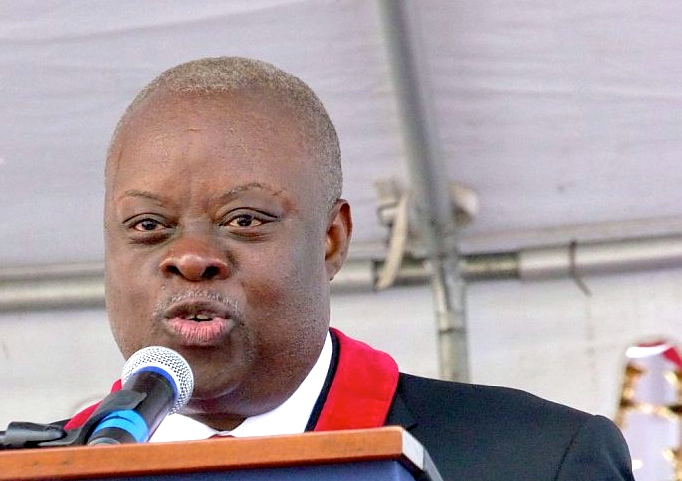 Asked Wednesday to look back on what he's accomplished after almost a year in office, Gov. Kenneth Mapp said that he's not where he would like to be, but that his administrative team has been able to meet some "individual benchmarks" that lay the foundation for a solid first term.
In an interview with the Source at Government House, the governor acknowledged that the past eight months have not been without controversy. Questions have been raised publicly about his spending, transparency and travel, but even so, Mapp said the focus has been on "cleanup" and repairing the condition of the government he received, while also bringing certain processes, programs and rules into the 21st century.
Repairing relationships with federal partners has also been a priority, along with putting together a long-term financial plan for the government, he said.
"From a personal standpoint, I don't think I'm at the point where I can determine accomplishments because it's about term, about where you begin and end," he said. "If I say we're making progress within the Police Department, we've come to a resolution on this issue with Hovensa, we have a single tariff within the harbor of Charlotte Amalie that's eliminated competition between our two port companies…. I don't want the administration to look at these individual benchmarks and call them accomplishments."
"We have a very wide vision and really the issue is how we can poise the territory for economic growth and job creation, for restoring our financial stability, growing our revenues and really managing our expenditures, and improving what's going on in our schools," Mapp said. "That's what we have to look at."
Spending
Coming into office, Mapp described the government as being "on the brink of financial collapse" but recent reports about his credit card purchases have called that into question. Articles in other media outlets about purchases made at St. Croix restaurants or department stores on the mainland of expensive sheets led to a call from Sen. Armando "Rocky" Liburd for an audit of government credit card purchases, and Mapp said Wednesday that he "welcomed" the audit and the public understanding it would bring about how credit cards are used.
"I think that people make the mistake of not recognizing that the reason you give somebody the credit card is because you're anticipating to have expenses that your budget will pay for," he said. "If I entertain, if I take someone to a business dinner, is that dinner illegal if I pay with the government credit card? But it would be legal if I bring the receipt in, pay for it out of my own pocket and then have Finance write me a check?"
"If I have to travel and do business for the government, I get a GTR (a government travel authorization) and they give me a cash advance, and I bring back the receipts to justify the advance versus my staff sitting here in this office, buying the plane ticket with the card, and then I go to the hotel and pay for it with my card, and I bring the receipts back. Is one legal over the other?" Mapp asked.
He said, "I don't have a problem with anyone auditing the credit cards because the credit cards are given for the expenditures of the office and the media have not asserted that the expenses made to date are not outside the confines of the office."
That includes the sheets, he said. The government provides housing options on all three islands for local governors, and Mapp said that was an entire first family before him that "slept in those homes, used the beds and the bathrooms."
"Does anybody reasonably expect that I'm going to come in and use the same linen and the same towels and same pillows? Is that reasonable?" Mapp asked. "If I say to our office budget director, 'I want you to go buy me this linen and she gets a voucher and goes to the store to buy it, that's fine, but if I walk into a store on the mainland and want to buy my own linens, that's illegal?"
"So I don't have any issues with these questions or concerns. No one has asserted that I use that credit card for my own personal expenses and I don't have any qualms about someone doing an audit and taking a closer look."
Whistleblower
Most recently, concerns about the governor's personal expenses were raised after former Special Assistant Attorney General Laverne Mills-Williams filed a whistleblower, wrongful termination lawsuit against Mapp.
Mills-Williams was deputy legal counsel in the Office of the Governor when she released information on what seemed to be extravagant personal expenses for dining, drinking and travel, paid for by the governor's office. The information was released to local newspapers, including the St. Croix Avis, in response to requests under the V.I. Open Records Act.
In October, Mills-Williams was transferred to the Department of Justice and, a few days later, received notice that she was terminated from her position within the Office of the Governor. She filed suit, claiming that she was improperly fired from the job for not letting the governor and his top aides look over the information before releasing it to the press.
Mapp recently filed a motion to dismiss the suit and said Wednesday that Mills-Williams never "wrote me a memo, sent me an email, requested a meeting, stopped me in a hallway, went to my senior staff and said to any of us that we were spending money illegally or improperly."
"And quite candidly, she could not make such an assertion, so for her to leave the office and say there's illegal expenditures, what kind of attorney is that?" Mapp said. The governor added that as deputy legal counsel, it was Mills-Williams' duty to advise the staff if they were breaking the law, instead of staying quiet.
"We also didn't tell her, Ms. Williams, that she was fired," the governor said. "We sent Ms. Williams to the Department of Justice at the same salary she was receiving to work as a special advisor to the attorney general – that doesn't sound like sour grapes to me."
"And the first thing she did was go and hire a convicted criminal to represent her on an employment case. Who could tolerate such an association?" Mapp asked. "In the civil case I was served, she makes some assertions that are one, completely false, and two, that we wanted to change or alter the records. But we had absolutely no conversation with her so I don't know who would have altered anything."
Building the Budget
Mapp said questions about spending go along with being governor and, while the lawsuit gets addressed, the focus is still on stabilizing the economy. The recent announcement of a pending sale to ArcLight Capital Partners' Limetree Bay Holdings of the shuttered Hovensa refinery on St. Croix is one in several efforts to get development off the ground, and Mapp announced Wednesday a few other moves the administration has made to gain revenue.
"We've done our own budget. We're now working into our vision and we feel good about that," the governor said. "We've spent a lot of time and invested a lot of energy specifically in sitting down with our federal partners and understanding some of the challenges between the V.I. government and theirs and … we've been able to recover a lot of federal grant monies as far back as Fiscal Year 2011 and are really poised to go forward on a very positive note through the Environmental Protection Agency, Centers for Disease Control, Department of Human Services and Department of Education, which all combine to represent more than $150 million."
Working with Congress to take out language in the Revised Organic Act to give Customs and Border Protection the ability to keep a portion of customs duties collected locally for the operation of offices in the Virgin Islands is also a priority and Mapp said that since this practice started, the agency has kept millions in local revenues.
"After the Sept. 11 terrorist attacks, Congress created the Department of Homeland Security, into which several agencies, including Customs and Border Protection, are folded," he said. "And while they continued to collect customs duties in the territory, as opposed to just assessing the administrative costs of the administration of Customs services, they also assessed the services of immigration, border protection and homeland security. But there is a federal budget for that, and every state and territory pays for the mobilization of these services through that federal budget while we pay ours from the government of the Virgin Islands."
Having local agencies, such as the Taxi Cab Commission and utilities regulated by Public Services Commission, pass on charges from assessments or fees on the their local customers is also a problem and Mapp said Wednesday that he is also working on a plan to fix the system.
Finding a way to keep the Government Employees Retirement System running will also keep workers from taking a hit to their paychecks, Mapp said. Several plans have been presented over the past few months to stop GERS from recommending another contribution hike but Mapp said Wednesday that all of the options so far have "been unacceptable."
"The government isn't just going to stand by and watch the system collapse but we're not going to throw good money in bad holes either," he said. "The system came here with a number of plans that were completely unacceptable and I had to tell them in some instances that their recommendations were foolish. They wanted $600 million to fix the system for 22 years, or $1 billion to fix it for 40 and that alone is not a full fix."
Mapp said there was another proposal for a contribution increase, which, between that, taxes and other deductions, eats up most of a government employee's paycheck. Another proposal to hire more workers who can pay more into the system also did not pan out, since Mapp said the government would have to hire another 11,000 government employees to make it work.
The solution, he said, was to bring in two extra members on the GERS board that know about investments and hedge funds.
"The board is not required to have anyone that knows anything about investing money," Mapp said. "With all these Economic Development Commission hedge fund management firms in the territory that we give massive amounts of tax breaks to, there's no one we can ask to sit on the board and give us some advice in terms of what's going on the market and what's the investment portfolio should look like?" he said.
"The board makes bad investments, two of them lost $100 million in retirees' money, and we fix the problem holistically. I'm not just going to give them a bucket of money. It's not going to happen."
Next Year Will Be Better
Along with a GARVEE bond issue that will bring in money for roads, Mapp said the government is looking at strategies that will improve the quality of life in the territory and tap into growing industries – such as Uber taxi service on the mainland – that will improve the tourism product.
The government has also said it supports a proposed increase in the minimum wage and is also looking at ways to "reconfigure" the salaries of government employees so that teachers, corrections officers and other individuals making a small base salary get an increase that will bring in qualified applicants to fill vacancies, Mapp said.
Speaking about Education, Mapp said there have been discussions with department's leaders and union members to switch to year-round school, with the 12 months being broken up into trimesters.
When asked how the government would get around collective bargaining agreements with the unions, Mapp said the key is to find out what the extra time is worth and pay it. Giving union members full step increases up front might not be possible, but giving a smaller amount might be, and the discussions have already started on how to make that happen.
Doing more revitalization in downtown St. Thomas, bringing in hotel development for St. Croix and giving organizations such as the V.I. Taxi Cab Commission a chance to modernize – and train its members – are also coming up.
"It's going to be an exciting year," he said.