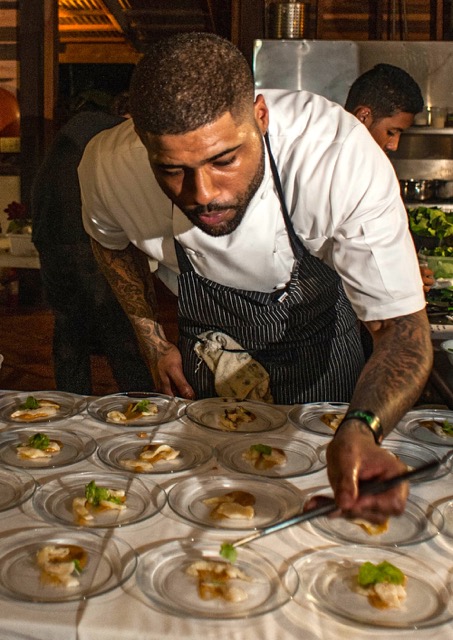 The main course of this week's Crucian Fusion Culinary Excursion benefiting Cultural Heritage and Nature Tourism Inc. is Saturday's gourmet food and drinks competition and tasting at Whim Plantation Museum.
Native son Digby Stridiron, V.I. Culinary Ambassador and 2015 Caribbean Chef of the Year, will be featured, and local mixologist Frank Robinson from Zion Modern Kitchen will create drinks for the occasion.
Participating chefs are asked to create two uniquely interpreted local dishes and prizes will be awarded in several categories.
"We're asking them to dig deep into their Crucian recipes and find something unique to St. Croix," said Frandelle Gerard, CHANT executive director.
In previous years, guests sampled such gastronomical delights as bread pudding with coquito cream sauce, conch ceviche with avocado puree, Santa Cruz pasta, papaya hot sauce and chicken confit with gooseberry jam ketchup.
A special prize will be awarded to the chefs who follow this year's theme "Guavaberry, the Twelve Nights of Christmas" in honor of St. Croix's Stanley and the Ten Sleepless Knights who are celebrating 45 years of making music.
Gerard said chefs should prepare enough of their kicked-up Crucian recipes for 200 tasting samples.
Tickets for the Crucian Fusion competition are $50 or $60 at the door. There are still openings for chefs, Gerard said, and all entrants must have a food handler's card. There is no entry fee.
Entertainment will be provided by the We Deh Yah Cultural Dancers and the iconic Stanley and the Ten Sleepless Knights quelbe band.
Those participating chefs and cooks will tour and shop at six St. Croix farms on Wednesday with $50 coupons provided by the Agriculture Department. The public can join the tour for $25. Transportation leaves the Agriculture Fairgrounds at 8 a.m.
Gerard said a private dinner party on Thursday at the newly renovated Cohen Estate on Strand Street in Frederiksted is a new event this year. Stridiron will prepare a five-course meal and a family member will conduct tours of the estate. Tickets are $200 or $250 to dine at the chef's VIP table.
Last Sunday, the Ridge to Reef Farm hosted the first Crucian Confusion event – the Friends of James Beard's slow-down dinner. Stridiron, chef Shaun Brian Sells from Ocean 362 on St. John and chef Brandon Callanta from Stridiron's new "balter" restaurant prepared a farm-to-table meal with wine pairings for more than 60 guests, including Kristopher Moon, vice president of the Beard Foundation and a food writer from New York City.
Funds raised from the Crucian Fusion events support CHANT's programs that include guided walking tours, cultural events and scholarships. Gerard said they hope to raise enough this year to provide two $1,000 grants for students accepted into certified culinary programs.
"It's important to help continue the work of Crucian Heritage and Nature Tourism to enhance and impact the quality of products guests experience here by uplifting what we have on St. Croix," Gerard said.
Tickets for the events are available at www.chantvi.org and at the CHANT Frederiksted office behind Polly's at the Pier.
Sponsors include the V.I. Department of Agriculture, St. Croix Landmarks Society, the Buccaneer Hotel, Palms at Pelican Cove, West Indies Corporation, Prestige and V.I. Tourism.