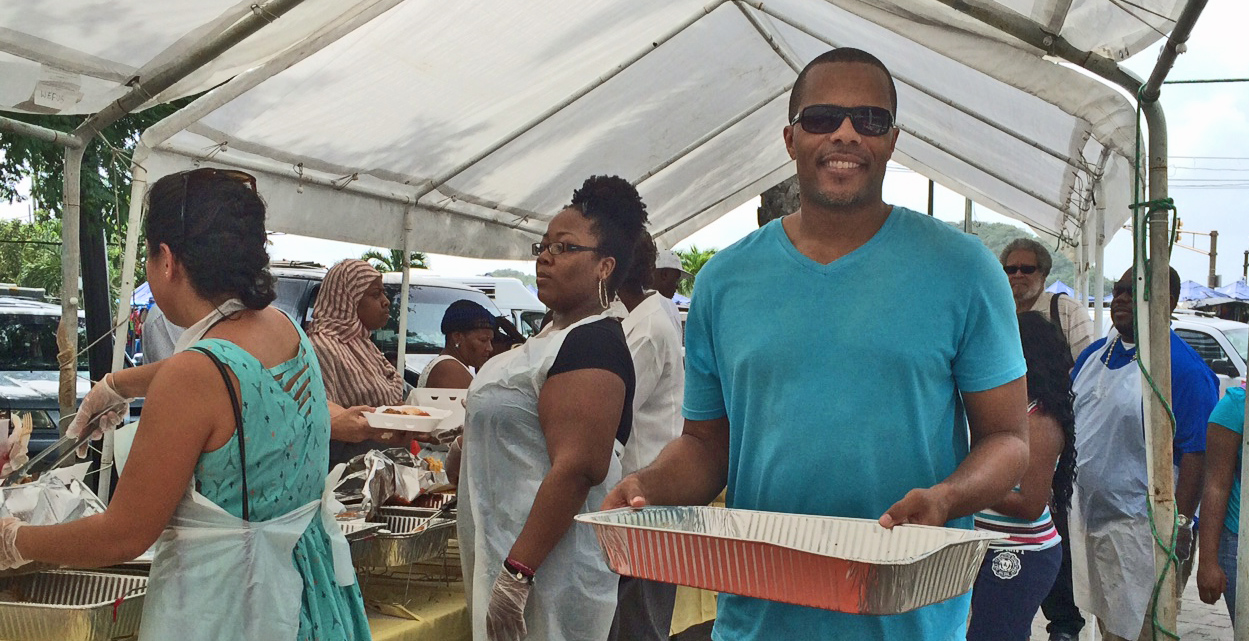 The Thanksgiving spirit was abundant over Charlotte Amalie Thursday from the Salvation Army Chapel on Main Street to the grounds of Ulla Muller Elementary School and, of course, at Emancipation Garden for the Penn-Scipio traditional feast.
When one hungry guy, Vincent Daniel, woke up Thursday, he said he was a happy man. He knew he would be fed a full hot meal later at the Salvation Army.
A tall, lanky fellow with a soft smile under his herb hat, Daniel, was surrounded at noon in the Salvation Army Chapel by others who had come to enjoy the day — the companionship, the music and, of course, the traditional meal.
Thursday, Daniel said he's looking forward to everything but the turkey, in Rastafarian tradition. He said he's grateful to be able to eat at the Salvation Army, which serves a hot lunch on weekdays.
"I've been eating here for a lotta' years," he said. "They provide food for the people who are not so fortunate as others. I do landscaping, construction, but I can't always find work. Sometimes it's rough."
As Daniel spoke, an eight-piece brass band played everything from Christmas carols to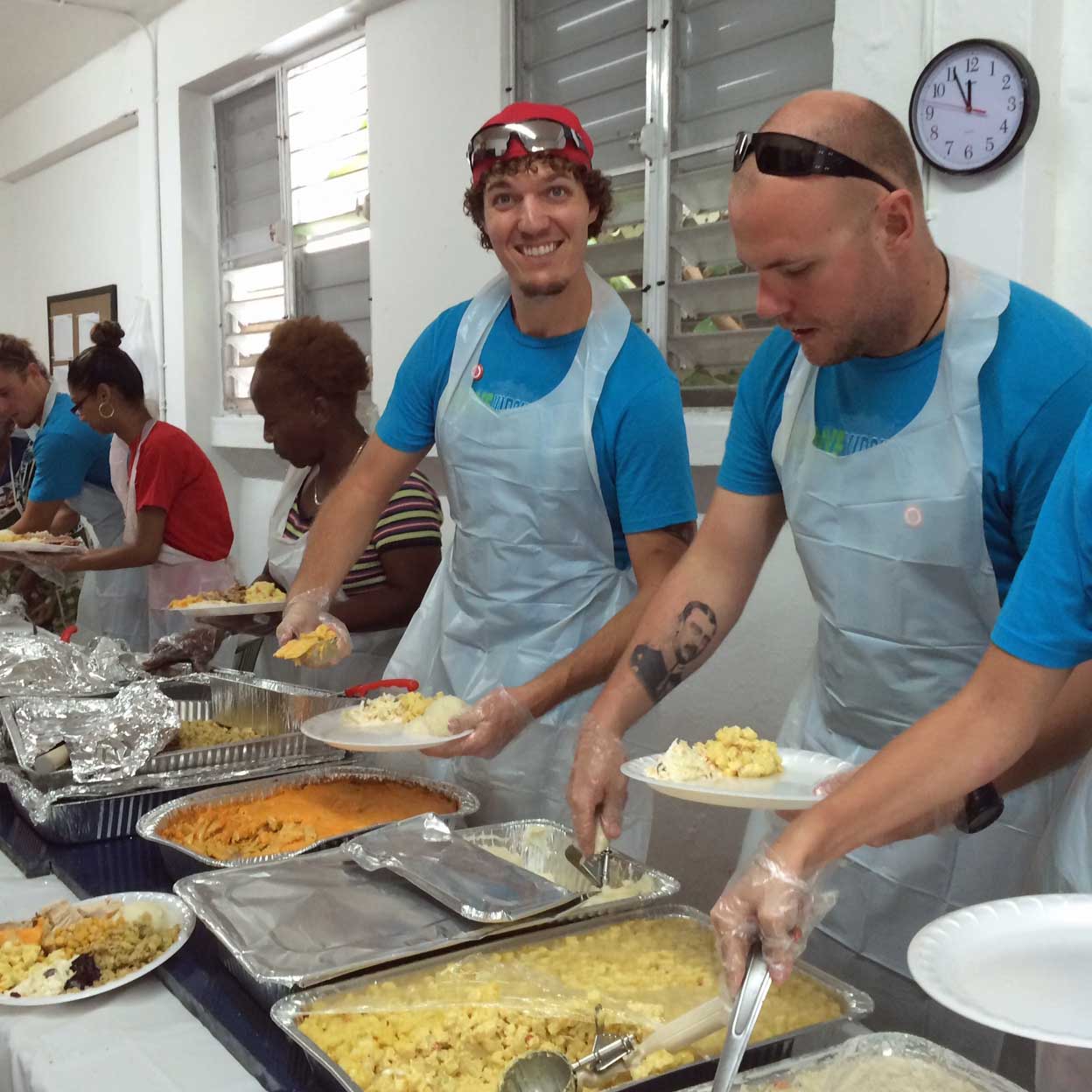 rousing marches, as volunteers from Skydive Virgin Islands, clad in bright blue T-shirts carried out steaming plates of hot food, while greeting all visitors.
"Come in, please, let me find you a seat," said Candia Faith, a volunteer. "It's our first year," she said, adding that the six volunteers had learned of the need from veteran volunteer Erik Ackerson's Facebook page.
Salvation Army captains Daniel and Valerie Hazeldine, who have been on island for about four years, had their hands full Thursday.
"I sometimes don't really know where all the volunteers come from," Valerie Hazeldine said during a break in the action Thursday. "We serve about 85 to 100 meals in the Soup Kitchen during the week. We couldn't do it without them."
The organization has run an accelerated advertising campaign in local media recently, "Yes, we've been trying to get the word out about our services," Hazeldine said. "Our outreach is going well."
On St Thomas, the soldiers have been spreading the gospel since 1917, the same year the U.S. bought the islands from Denmark.
On that subject. Hazeldine had exciting news. "We finally got the word," she said. "For the Centennial, the Salvation Army National Danish Band will be here over Easter Week." The SA is known for its bands, and the Danish Band is highly esteemed internationally.
Further downtown, the Penn-Scipio feast was in high gear with folks lined up all around the Emancipation Park gazebo.
Francine Penn-Scipio and dozens of friends, a small army of volunteers, have been serving the Thanksgiving meal to the islands' hungry for at least 30 years. "I'd have to look it up," said Penn-Scipio Thursday, while overseeing her production line. Mounds of nourishment line the long tables — turkeys, hams, baked chicken, kingfish in sauce, potato stuffing, macaroni and cheese, gravies, broccoli, carrots, beans, salads, soups — await those with a hankering for some turkey. It's a family tradition.
Orthopedic Dr. Adam Flowers, who has volunteered for the last three years, was in demand Thursday, hauling pans of food from one station to another, while backing up the music with the Reformed Church choir.
"Others join us, too," he said. "I really don't know many voices joined in."
At the other end of town, a bevy of Ivanna Eudora Kean High School and Addelita Cancryn Junior High School students dressed in bright red FCLLA T-shirts were industriously dishing out the meal that the Caribe Tradewinds Lodge 589 and Pearls of the V.I. 585 have been serving for the last 19 years, under the guidance of Joey Cranston Jr. The initials stand for the Family Career and Community Leaders of America.
"These kids love to do this. And it's good experience for them. They come every year," Aubrey Gerard said.
He said they anticipated serving between 300 and 350 meals Thursday. "We serve from 10 a.m. until 3 p.m., and that's about our usual count," he said.
The bounty ranged far and wide, available to one and all. There was a feeling of joy and generosity in the air, emanating at the feasts and on the street. If anyone went hungry Thursday, it can be safely said, they simply weren't paying attention.