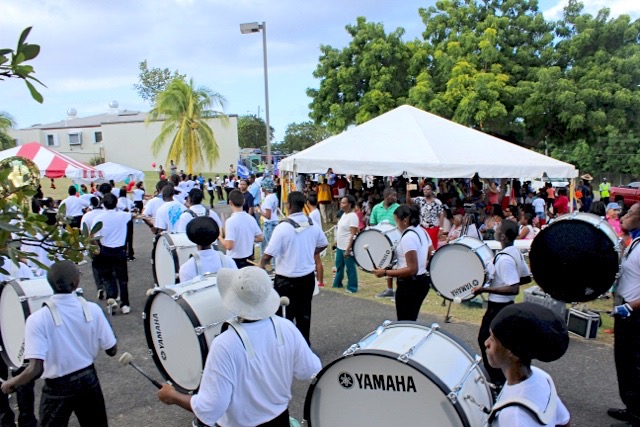 St. Croix's month-long Christmas Carnival festivities start Saturday with a "mini-carnival" at the Herbert Grigg Home for the Aged with a parade, food, fashion, soca, steel-pan, marching bands, Santa Claus and more.
This is the fifth year of the mini carnival, Grigg office manager Maria Colon-Clarke said this week. They partnering with the Crucian Carnival committee and she said residents are looking forward to the festivities.
Although it is a special day for the residents, "it's for everybody," she said. "The public will be there; family members will be there, so do come and enjoy the festivities as well. A lot of people have donate their time and we have a full program in store!"
Akil Thomas, dressed up in a festive outfit, will open the parade, which will run through the circle within the grounds of Grigg home. A fire truck will carry Santa Claus. Two of the home residents will be selected as grand marshals and will be in the parade too.
The Ricardo Richards Elementary School Mocko Jumbies, St. Croix Majorettes, St. Croix Motorcycle Club, St. Croix Educational Complex Marching Band and others will participate.
Performances by the Alfredo Andrews Elementary School Quadrille Group and Alpha Soldiers Group, Cyndee's Models in the Isle, and YGT Models from the Mon Bijou Community center will occur inside. The Arthur Richards Jr. High Steelpan Band will also show off its chops.
There will be performances by CYOR Dance Project, Jahmari Johnson and Antonio Cruz, the Russell Ensemble and Jumbie Jammerz.
Kul-E Band and Selekta Trouble will rock the crowd on a sound system provided by Deathrow Sounds.
Colon-Clarke said, "We have a very full program."
Festivities start at 2 p.m. but Colon-Clarke suggests coming early, around 1 p.m., to find parking and not to miss anything.