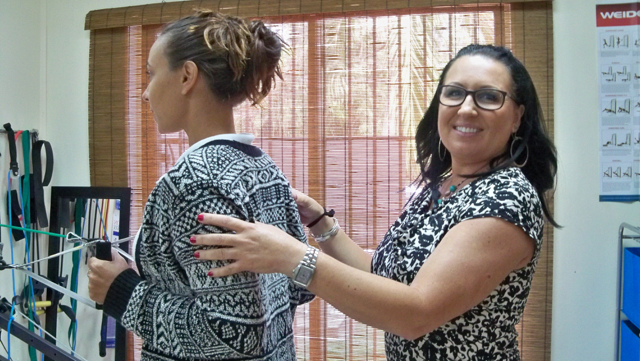 Anna H. Boguslawska, physical therapist and owner of Integrated Therapy, said recently that getting the right therapy does not have to be as complicated as many residents might believe.
Most people aren't aware of the fact that they don't need a physician's prescription or referral for physical therapy, she explained. Her plan labeled as "open access" allows patients to choose their own specialist without a referral.
Because of "open access," people don't have to take time off and spend money to get a prescription from their physician to alleviate certain types of pain.
"To become pain free, assessments are made first, and then I develop a treatment plan," Boguslawska, said.
She said the plan calls for at least 12 visits and if there isn't relief she then recommends people see a physician.
"Physical therapy isn't just crack and pop like what is done by a chiropractor," Boguslawska added.
Boguslawska, a board certified physical therapist, specializes in mechanical, hands-on diagnosis and treatments of the spine using the McKenzie technique. She also treats back and neck injuries and does post-surgical rehab for knees, hips and shoulders. She works to ease joint pain and carpal tunnel syndrome symptoms.
She is dedicated to helping athletes and all individuals with acute pain so they can live a pain free life and be as active as they desire.
Boguslawska has thought of everything, from customizing appointments to soothing decor and to the addition of the pleasant scent of the office to make her patients comfortable on their voyage to a pain-free life.
"I want people to be soothed by the environment," she said. "I want the office to be a place of healing and positive feelings the moment you walk through the door."
For faster and better success she recommends people not put off treatment.
Her office is at Beeston Hill Medical Center, situated on the ground level, offering handicap accessibility and easy access to patients who may be in pain. There is plenty of parking and it is within a short walking distance of the public bus stop.
Boguslawska came to St. Croix on a dive trip more than a decade ago and fell in love with the island and local community. She was tired of her busy lifestyle and was ready to give up the fast pace of life in the States. She added she likes a small community where she can have more of an impact helping a good portion of the population.
Boguslawska said she was raised in a healing environment. Both her parents were physicians, and she said her mother, Dr. Helena Janowska, has been a big influence on her. She said Janowska is 73 years old and still going strong and practicing medicine.
Boguslawska knew at a young age she would get into the medical field.
She graduated in 1992 from the Academy of Physical Education and Rehabilitation in Wroclaw, Poland with a masters degree in physical therapy, specializing in McKenzie mechanical diagnosis and treatment of the spine, a non-invasive mechanical approach to back and neck pain focusing on patient self-treatment, education and prevention – teaching proper body mechanics and pain relieving exercises. She is proficient in sports medicine and orthopedic rehabilitation and treatment for myofascial pain syndrome. She worked as a physical therapist for the University of Tennessee.
Boguslawska said she is the only person she knows of on island certified to perform functional capacity evaluations for employers and disability clients. The evaluations take three hours and are determine if a patient is well enough to return to work after an injury or go on disability.
Boguslawska, who opened her office in 2014, said she loves it when she sees people she has treated out and about and they wave their arms in the air saying, "Look at me. I feel great!"
People can call 340-690-4119 to find out more about insurance and treatment.