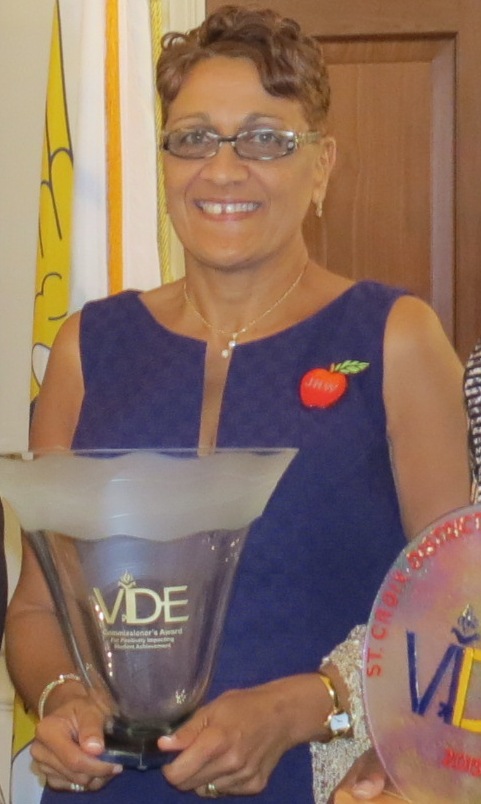 Seventeen St. Croix public school teachers were lauded and bestowed with lavish gifts from their peers, school administrators and the Insular Superintendent's Office for being chosen as their respective school's teacher of the year during the District's 2015 Teacher of the Year Awards Ceremony. The event was held on Saturday, Oct. 24, at the Government House Ballroom in Christiansted.
The most exciting moment of the evening came when Monique Mari Motta was named St. Croix District 2015 Teacher of the Year during the awards ceremony, which was attended by family members, dignitaries and well-wishers. Motta was selected out of six finalists following an extensive evaluation process.
Motta, a 27-year employee of the Virgin Islands Department of Education (VIDOE), is a special education teacher and the chairperson of the Modified Instruction Department at John H. Woodson Jr. High School. A 1979 graduate of St. Croix Central High School, she received a B.A. in Social Work from Morgan State University. Her career was advanced in the Department of Education Special Services Division when she sought specialized educational services for her daughter. Former Woodson Assistant Principal Natasha O'Halloran-Smith said Motta instructs students who are severely cognitively delayed and would often ensure that her students are included in campus social events.
Taking to the podium after being named St. Croix District 2015 Teacher of the Year, Motta said to the audience, "So often the students that I teach are not the ones that you are going to read about their academic accomplishments – you are not going to read about their successes in life. But for many of my students, we have to teach more than communication. We teach them life skills and independence."
Finalists in the competition for St. Croix's top teacher were Nicole Girard, Alexander Henderson Elementary; Chaselle McConnell, St. Croix Educational Complex; Steve Bullock, Elena L. Christian Jr. High; Wendy Wynter, Lew Muckle Elementary and Maurecia Llanos of the Pearl B. Larsen Elementary School.