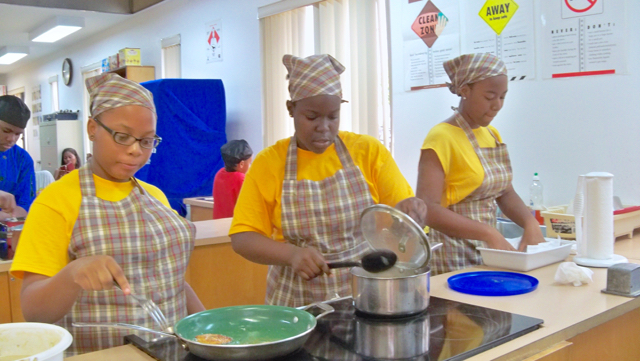 Sunday's scattered showers may have put a damper on attendance at the annual World Food Day celebration at the University of the Virgin Islands, but everyone would agree the sorely needed intermittent showers, then rays of sunshine, heat and humidity were just what plants need to thrive.
Local resident John Josiah said he heard the agriculture department was giving out free seedlings so he had to come and get them, weather permitting. He said there was a rain shower at his home before he left for the event and it could not have been more appropriate.
"The showers were timely, coming together with the sun now, which I believe will be a good omen for good crops," Josiah said. "Tomorrow morning will be the perfect time for me to plant."
The DOA gave tomatoes, peppers, cucumbers, bok choy and basil, so people can start their own little kitchen garden.
Local award winning farmers Grantley Samuel, Dorcas Griffin, Grizelle "Isoke" Davila and more sold healthy looking live plants for small gardens and flawless fresh produce.
There were plenty of educational activities on food production for folks to take part in. Local experts spoke about the featured food items, soursop, goat and okra.
Errol Chichester, DOA assistant commissioner, gave a lecture on the soursop family. He talked about fertilizer, pests, and the uses of the soursop. Don Bailey, research specialist at the UVI Agriculture Experiment Station gave a lecture on okra production. And for meat lovers there was a lecture on goat production by Stuart Weiss, research assistant professor, UVI Agriculture Experiment Station.
Around 50 people attended the lectures that were held in the Great Hall.
The entrance fee was a contribution of a canned or non-perishable food item for a food drive. The food was collected in grocery carts and Rev. Rod Koopmans, director of My Brother's Table soup kitchen in Frederiksted, accepted the food on behalf of MBT. In the past the carts were piled high with food, this year it appeared donations were down.
And there was, as always, food for sale and live entertainment at World Food Day celebrations.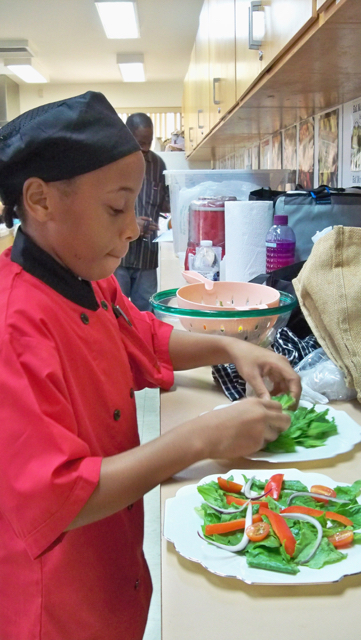 The Rising Stars Youth Steel Orchestra played and members of the St. Croix Martial Arts Center demonstrated martial arts. Ay Ay Cultural Dance Company danced the quadrille and the Guardians of Culture Moko Jumbie stilt dancers made an appearance.
Food vendors sold traditional food including fungi, fried chicken, goat stew, rice and beans, tarts, layered cake, and local drinks.
Youngsters from private and public schools showed off their culinary skills in the annual 4-H Youth "Super Chef" competition. The students had to prepare an appetizer, entree and desert using soursop, goat and okra in the dishes judged by local chefs.
Sommer Sibilly Brown, a "Super Chef" judge, said the competition is an excellent opportunity to encourage students to be creative and use their food management skills. The list of winners was not available as of late Sunday.
Xiaxiang Washington, a junior at St. Joseph's Catholic High School, said she liked the rush she got in the cooking competition. And she enjoyed cooking with different local ingredients that she will now incorporate in her cooking.
Tours of the Agriculture Experiment Station and a Soursop Blast competition were open to the public. Officials also gave opening remarks.
World Food Day is a worldwide event designed to increase awareness and understanding and provoke year-round action to alleviate hunger. It is observed Oct. 16 in recognition of the founding of the United Nations' system for technical assistance research and policy making in agriculture, fishing, forestry, and rural development. The first World Food Day was in 1981.
Locally the day is sponsored by the UVI Cooperative Extension Service in partnership with the UVI Agricultural Experiment Station and the VI Department of Agriculture.