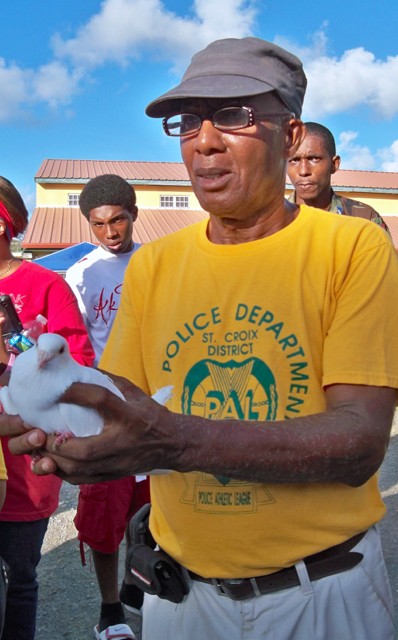 Law enforcement agencies, crime prevention associations,concerned citizens and youth groups marched against violence in the National Night Out Against Drugs, Crime and Violence March.
Under a blazing Saturday afternoon sun, about 125 people strode from Basin Triangle to David C. Canegata Ball Park.
"We're putting criminals on notice," VIPD Officer Edith Christopher said. "We're standing up and letting criminals know crime isn't acceptable anymore."
Christopher is an organizer of Night Out events and community-oriented police officer for the Weed and Seed program under the crime prevention bureau.
National Night Out is an annual community-building campaign that promotes police-community partnerships and neighborhood camaraderie. National Night Out is funded in part by the Law Enforcement Planning Commission and the Virgin Islands Police Department.
Flemon Lewis, grants manger from LEPC on St. Thomas, said the Night Out is an excellent opportunity for the community to take a stand against crime.
"We all suffer at the hands of crime," Lewis said.
Saturday was the 28th year the US. Virgin Islands has taken part, Lewis said.
Jacqueline Freeman , territorial coordinator for Weed and Seed, also flew from St. Thomas for the march and ceremony.
Sen. Terrence "Positive" Nelson said the event helps focus energy on a universal call for peace.
Cenita Heywood and Renholdt "Rookie" Jackson were honored for their years of serving and commitment to local youth and the St. Croix community.
Jackson said it's important to get youth involved because they are going to be the ones to bring about change.
"It seems the adults are asleep" Jackson said. "Kids will reduce the madness that is going on around us."
Jackson is a retired police officer and director of the Police Athletic League program and director of the children's band Mind, Body and Soul. The band performed at the ceremony following the march through town.
Heywood is an Air Force veteran and charter member of the V.I. Chapter of the Tuskegee Airmen; she co-founded the Youth Aviation Club, through which students can get a feel for flying and for careers in aviation. The club supports aeronautical training for young people. She is also active in the American Legion and is a teacher and audio/visual media specialist at St. Croix Career and Technical Educational Center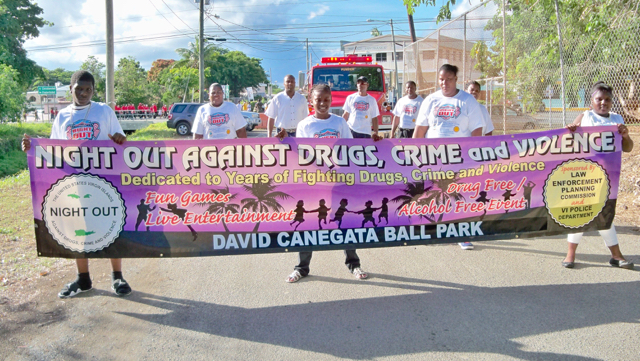 Rachel and Antonio Sealey brought a dozen white homers, doves that fly home, that were released, representing the release of an elderly gentleman's spirit – the 73-year-old man was beaten and left for dead in D. Hamilton Jackson Park in Grove Place on Aug.17. He is in a Florida hospital with no hope for recovery.
Inmates from the Board of Corrections spoke to the youth about the life of crime and life in jail.
Some of the nine organizations that marched included the Youth Aviation Club, Alexander Henderson Elementary School students, Junior ROTC, VIPD Police Cadet Program, and VIPD Officer Philern Davis, leading the Metalic Muscle M2 fitness team.
Friday night at the ball park, local church choirs, bands and dance groups offered up prayers, praise and blessings for St. Croix.
Neighborhoods across the nation hosted block parties, festivals, parades, cookouts and other various community events with safety demonstrations, seminars, youth events, visits from emergency personnel and exhibits.