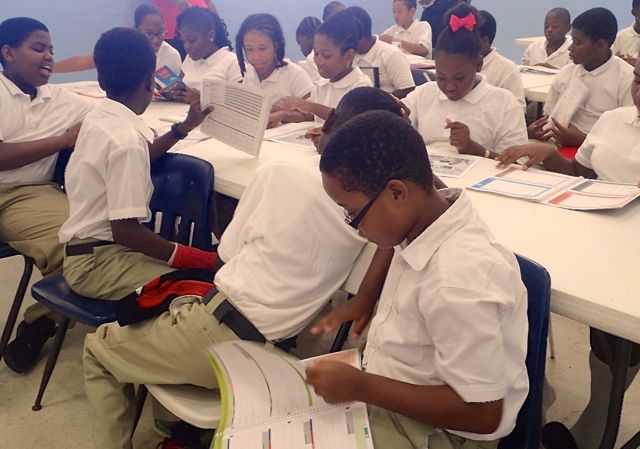 Claude Markoe Elementary School fifth- and sixth-graders were given Coole School day planners Wednesday to help them organize their schoolwork, donated by the Rotary Clubs and Innovative Companies.
The Safe and Drug Free Coole School program, now in its 15th year, was started at Juanita Gardine Elementary by the V.I. National Guard Counterdrug Task Force with support from the U.S. Attorney's Office. Now most fifth- and sixth-graders in the territory's public and some private schools participate in the program.
The planner is intended for use by students, teachers and parents. Teachers enter assignments, students complete the homework and parents monitor progress. Each page contains a puzzle or concept to challenge the student.
"We think the planner is a good tool for students at an early age to get organized – for teachers to give instruction and parents to use as a tool to keep track of their children," said Jennifer Matarangas-King, Innovative vice president.
Matarangas-King said Innovative sponsorship provides funding for the Coole School planners – around 1,100 copies this year – because the company admires the work of Rotary and the focus on youth.
All four Rotary Club presidents spoke to the assembly, along with Rotary Asst. Gov. Marcel Galiber and Markoe Principal Anastacia Jackson.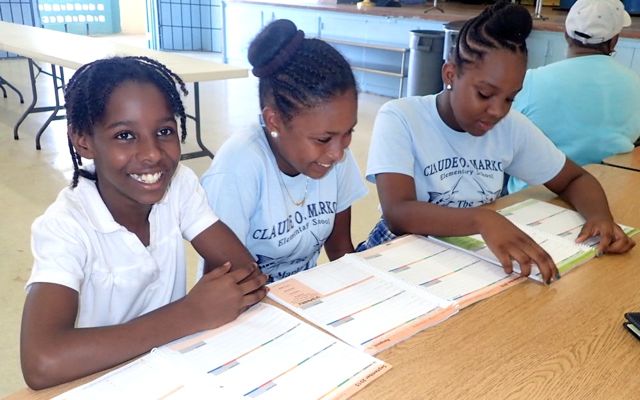 Jackson said it is important for students to know that the community cares about them and what they do.
"Your performance will have a real impact on this school, the school's community and the global community," she told the assembly.
Sixth-grader Leah Deterville sais she used the planner last year and is looking forward to using the tool again. She said it helps keep track of her homework and "keeps it safe," adding that she like the puzzles and other activities in the book.
"It inspires us to learn more and it's a fun way to learn," Deterville said.
The other speakers were Rotary presidents Michaelina Henry, Kim DeLine, Jennell Bryan and Sandra Gerard-Leung.
The V.I. National Guard also sponsors the Coole School program.