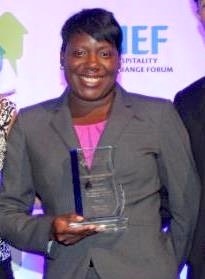 Lissa Cuffy was recently named Caribbean tourism supervisor of the year by the Caribbean Hotel and Tourism Association, the organization announced in a Monday press release.
Cuffy, who works Frenchman's Reef and Morning Star Marriott Beach Resort as a housekeeping manager, received the award at the Caribbean Hospitality Industry Exchange Forum earlier in the month in Puerto Rico.
Cuffy was previously a guest service supervisor at the Frenchman's Reef resort.
In addition to achieving outstanding success in her position and understanding the importance of the tourism industry, the announcement said Cuffy stands out with her mantra that management is the act of providing supportive and effective leadership.
"Management sets standards of performance, assumes responsibility for work objectives, initiates focuses and serves as motivators for employees for the purpose of achieving the company goals," Cuffy said. "Management also aids in the development and growth of its employees."
Three others received honors at the event: Andre James of the Hyatt Regency Trinidad was named Caribbean tourism employee of the year; Neil Forrester of Antigua Hotels and Tourist Association was named Caribbean National Hotel Association executive of the year; and William "Bill" Clegg of Choice Hotels International was named Caribbean allied member of the year.
"These individuals reflect the true spirit of Caribbean tourism professionals," CHTA President Emil Lee said. "We are proud to have these four individuals representing the Caribbean region by demonstrating exemplary skills and going above and beyond their job description to enhance the overall guest experience," Lee said.
The CHTA is a federation of 32 national hotel associations with more than 600 member hotels and over 300 allied members.