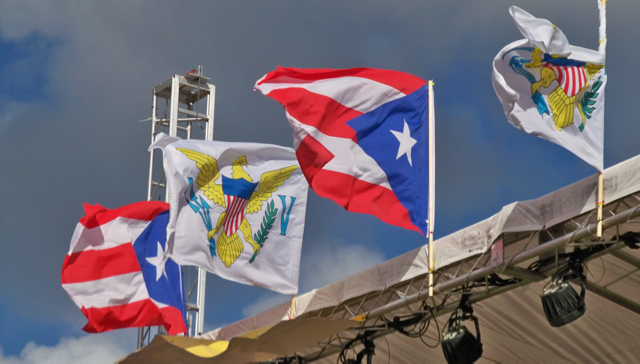 Music, food, drink and dancing brought Crucians together with their Puerto Rican friends in great numbers at David C. Canegata Ball Park Sunday for VIPR Friendship.
In the early afternoon the Grand Parade rolled through Christiansted to the park, where vendors sold everything from salt fish pates to quality Puerto Rican art objects.
This year's theme was "Golden Jubilee Fifty Plus One."
Monsita Diaz, 51 years old, was up and at it early Sunday, running in the first ever VIPR Friendship five-kilometer race. She was one of about 25 runners.
Diaz came in third in the 46 to 55 age group. She said she had fun running her first race ever.
"I feel great that I accomplished my goal in my first race," Diaz said.
Sunday afternoon, youngsters took center stage at the village and entertained the crowd with quadrille dancing, banjo picking and steel pan playing.
The Weed and Seed King Derby Banjo Band, made up of four boys out of Grove Place, had the attention of the crowd with banjo picking and playing of traditional music.
Band leader Camille Macedon, also known as King Derby, said the aim of the band is to keep traditional music going so it won't disappear.
"Playing at events like this is very special keeping our cultural mix of music alive," Macedon said.
Mirza Saldana Lampe, chairperson for the Family Day activities and entertainment, said the VIPR Friendship Committee gets children involved to keep traditions alive and to bring the cultures of the Virgin Islands and Puerto Rico together.
A dozen students from Pearl B. Larsen Elementary School recited an original poem, titled "It's a Celebration for You and Me." A group of children from Ricardo Richards Elementary School danced the quadrille. The Lew Muckle Elementary School steel pan band played traditional steel pan music.
A big hit with the crowd was the Maypole plaiting, done by students from Lew Muckle Elementary School. The children took colorful ribbons over and under each other while dancing to quelbe music around the pole set up in front of the stage.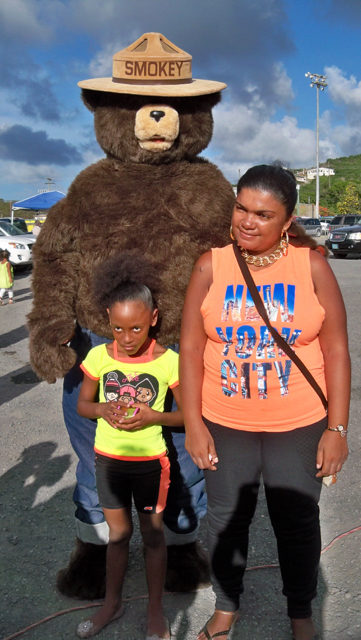 Smokey the Bear and Sparky the Fire Dog were on hand for photo opportunities. The person dressed in a pile-fur costume and blue jeans must have been roasting while posing for picture after picture in the hot afternoon sun.
People were in a long line at the fraco truck, waiting for the cooling treat made with shaved ice and fruit flavored syrup. A dozen vendors sold kabobs, fried chicken, pates, fish, pizza and more.
Local resident Iris Navarro said she always comes to the Family Day events for food, fun, and to see friends.
Sen. Sammuel Sanes said the VIPR Friendship events are always special to him because he sees friends bringing cultures together in celebration.
"This is a nice celebration that brings families and friends together," Sanes said. "This is great showing we're one culture."
He added it was nice to meet new people that came over from Puerto Rico and he hopes they come back to St. Croix again.
Hermandad De Artesanos, artists from Puerto Rico, set up tables selling handcrafted items such as wire sculptures, wood toys and wood-burning art. Oscar Figueroa, president of the group, said it was their first time displaying their art and he hopes it isn't the last.
Other activities during the holiday weekend included Sacred Night, Friendship Village, VIPR Queen Pageant, and a formal reception at Government House.
Puerto Ricans have been a significant part of U.S. Virgin Islands and especially St. Croix society for well over a century. Some celebrations and pageants occurred at least as early as 1960, when Nereida Santos was named the first VIPR Friendship Queen, according to information from the VIPR Friendship Committee.
It became official in 1964 when Gov. Ralph Paiewonsky signed an act turning Columbus Day into Virgin Islands and Puerto Rico Friendship Day.
The act calls for the territory to "observe the occasion with fitting ceremonies honoring Puerto Ricans residing in our midst and who have made substantial contributions to the advancement and progress of the Virgin Islands."
The Virgin Islands and Puerto Rico Friendship Committee organizes and puts on the festivities. 
When the territory's first Hispanic governor, Juan Luis, took office in 1978, his wife, Luz María Luis, began commemorating Friendship Day with ceremonies in Government House on St. Croix. St. Thomas also had a luncheon.
What started as a luncheon, moved on to three days, then a week, and in 2005, spurred on by the Virgin Islands and Puerto Rico Friendship Committee (VIPR), expanded to a whole month of pageants, concerts and festivities. Now it has combined with Hispanic Heritage Month celebrations nationwide, recognizing contributions of Hispanics of every origin to the national fabric.

In 2007 the celebrations were extended to St. Thomas.
The first VIPR village was at the Christiansted waterfront and was dedicated to the late Miguel Duchesne, first VIPR committee president.