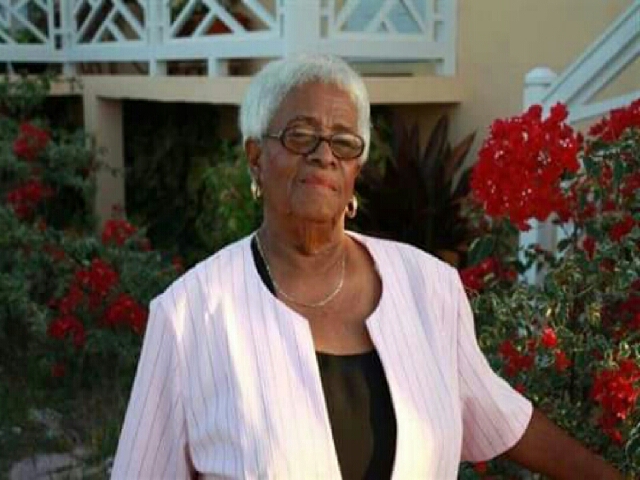 Anna Maria Fredericksen Lang, age 86, made her transition peacefully on Oct. 1 while surrounded by family and loved ones. Mrs. Lang nurtured her children at home until her youngest child went to kindergarten. She then began a career as a para-professional with the Virgin Islands Department of Education until retirement. She was a long-time member of the Altona Baptist Church.
She was preceded in death by her mother, Cassandra Sealey Petersen; father, Arthur Fredericksen; brother, Eugene Gordon; husband, Andrew Lang,Sr.; sons: Leon and Charles Lang; and grandchildren: Leon Jr. and Lenicia Lang.
She is survived by her son, Albert Lang; daughters: Gloria Lang Escobar, Melba Lang, Alice Lang Wise, Florine Lang David and Merline Lang; stepdaughters: Irene Lang and Yvonne Lombardi; brothers: Owen Fredericksen, Alvin Fredericksen; sisters: Eugenie Graham, Laverne Fredericksen, Yvonne Francis, Marjorie Hurtault and Clarice Rasberry; sister-in-law, Lyria Gordon; daughter-in-law, Phillipa Lang; sons-in-law: Luis Escobar and Marsvyn David.
She is also survived by grandchildren: Adelbert, Lorenzo, Damian, Walleed, Khaleed, Andie, Joshan, Che, Mekala, Shalante and Aaliyah Lang, Aaron Lang, Mikala Kobe, Roberta Lucas, Althea Boyd, Octave Jr., Xamara and Chloi David, Jumel Gadson, Raydiance Wise, Charles Vanterpool, Irismar, Denitre, Trevor Jr., Trinisha, Trenelle, Milton, and Andrew Williams; 38 great-grandchildren; 11 great-great grandchildren; nephews: Eugene Gordon Jr., Randall, Kahil and Kaseem Simmond, Jahsani and Jamal Fredericksen, Shaeme, Shamall, Shakeed and Shaquawn Ramos, Salim and Amar Rasberry.
Other survivors include nieces: Leona Gordon Schuster, Gladys Gordon Rissing, Dolorita Gordon Gay, Kalima Williams, Kimaya Schmidt, Nikoia, Kinoia and Chiemeka Fredericksen, Shereen Mack, Iyanla and Kiassa Rasberry; 1st great nieces and nephews: Eugenia and Froilo Santos, Dolorita Santos Gookool, Lyria Rissing-Collin and Alphaeus Russell; as well as special cousins and friends: Sister Cecilia Simmonds, Pastor Will Woods, Carmen Quinones, Sitnah Yarwood, Sharon Powell, Esmerelda Cornelius, Corliss Nathaniel, Bernice Cornelius, Sheryl Williams, Claudette Coleman, Lynnette Lang, Mavis Lang, Francine Lang, Arlene Lang, Ivorene David, Angela Quetel and family from St. Thomas, Rex Schuster, Annette Hendricks O'Neal, Michelle Hurley (special caregiver), Pat Singh, Sylvia Cornelius and Esther David.
Survivors are also other family and friends too numerous to mention, including: Altona Baptist family, Branch, Sealey, Cornelius, Encarnacion, Gordon, Schuster, Rohlsen, Carter, Christian, Wilson, Johannes, Flemings, Abramson and the caring members at Juan Luis Hospital and La Paz Hospice Care.
The viewing will be held at 9 a.m. followed by A Celebration of Life service at 10 a.m. on Tuesday, Oct. 13, at the Altona Baptist Church at Estate Montpellier. Interment will be at Christiansted Cemetery.