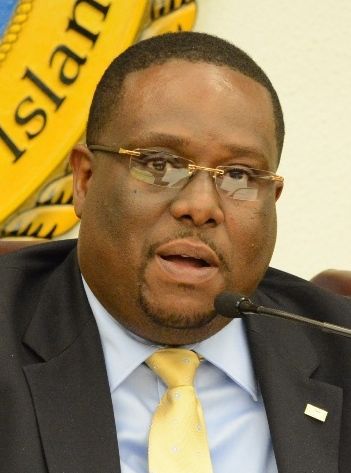 The many agencies that pleaded for more funding during budget hearings will find little good news in the budget bills sent on to the Senate floor Thursday, as the final bills hewed close to Gov. Kenneth Mapp's proposed budgets.
While disappointing to affected agencies, the lack of budget increases is not a surprise. Throughout the long summer's budget hearings, agency after agency made its case, some saying they could function without increases. But when some critical government and government-funded entities, including the territory's courts and hospitals, pleaded for special consideration and more funding, sympathetic senators were clear that there was not enough money to go around and increases were unlikely. (See Related Links below)
Gov. Juan F. Luis Hospital Chief Executive Officer Kendall Griffith had requested an additional $13.4 million, to compensate for cuts in the miscellaneous portion of the budget. And Schneider Regional Medical Center CEO Bernard Wheatley said the hospital was facing at least a $2.8 million shortfall between the cost of uncompensated care it is mandated to provide and the governor's recommended appropriation.
The V.I. Government's General Fund appropriation for Schneider remains at $22.47 million and for JFL at $20.15 million, unchanged from the governor's original proposal. [Bill 31-0200]
V.I. Superior Court asked for an additional $7.2 million, with Superior Court Chief Presiding Judge Michael Dunston testifying, "The funds proposed by the governor are totally insufficient to cover the court's operations." The budget bill for the courts [Bill 31-0221] provides $28.59 million for V.I. Superior Court – about $2.8 million more than the governor's proposed $25.7 million appropriation, but less than the requested increase.
The V.I. Supreme Court had asked for an additional $3.1 million, or short of that, asked the Legislature to "restore the court's funding to its 2010 appropriation" of $6.9 million. But the Supreme Court's budget remains at the governor's proposed $5.7 million.
Acknowledging the lack of increases, senators urged agencies to work to carefully manage their resources.
"It's not so much that there is a lack of funding, but we do have a management problem that I am truly, not only hopeful, but prayerful, that we'll be able to overcome this and be able to manage our finances properly so that the people of the Virgin Islands can live much more comfortably," Sen. Kenneth Gittens said.
Sen. Jean Forde said agency heads "ought not to just think that they are going to put in a request and we are going to find monies somewhere along the line without holding them responsible. Yes, it takes money, but we need money management."
The Rules and Judiciary Committee approved 34 bills Thursday, sending them on for a final vote. Most were budget bills and technical bills transferring V.I. government money between an array of legislatively created "funds" for budgeting purposes.
It also sent on bills to increase hotel room tax from 10 to 12.5 percent; to devote more excise tax revenue to the V.I. Waste Management Authority; and to create a licensure board for counselors.
It approved the Legislature's own budget bill too. The Legislature's funding is unchanged from last year, with $19 million for operating expenses and $2 million for capital improvements.
All members were present, including Gittens, Forde, Sens. Novelle Francis, Justin Harrigan, Neville James, Nereida "Nellie" Rivera-O'Reilly and Janette Millin Young.