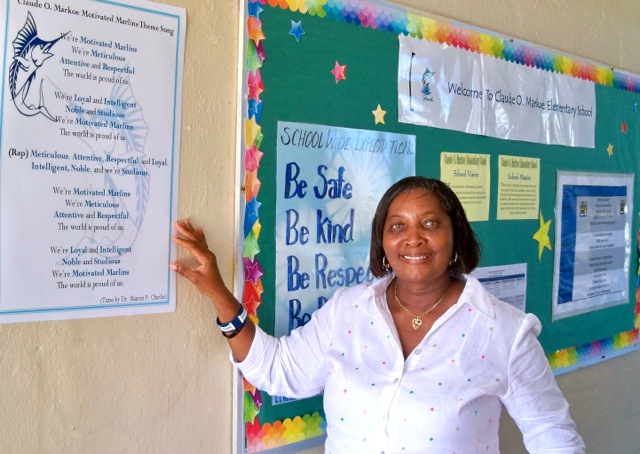 Summer vacation came to a close Monday for youngsters in the public school system. Children headed back to school Tuesday ready to buckle down for a new school year dressed in crisp clean uniforms and new shoes, and with new hair styles.
Sharon P. Charles, assistant principal at Claude O. Markoe Elementary School in Frederiksted, said Tuesday was an exciting day for the "Motivated Marlins." Charles said the staff is looking forward to a new year of academic excellence.
She said collaboration was exemplified as everyone worked diligently to facilitate new and transfer students to their classrooms. Charles expressed appreciation to parents and caregivers who were patient and understanding.
Elena Christian Principal Carlos McGregor said everything about the transition from the old campus to the new one went very smoothly. McGregor said students were thrilled to be back in school although at a different campus.
The junior high students moved to Charles H. Emanuel Elementary School located in Kingshill just past Superior Court. Former Charles H. Emanuel students are going to Alfredo Andrews Elementary School now.
As students entered school grounds across St. Croix they were greeted by men from all parts of the community I effort to show they care and to offer encouragement for a successful school year.
Students were greeted by senators, commissioners, firemen, police, emergency medical technicians, military personnel, pastors and others.
Sen. Terrence "Positive" Nelson was among those greeting students at St. Croix Educational Complex. Nelson said they are committing to being a male support group for local young men.
"Though we greeted everyone, this morning was about the men connecting with young men," the senator said. "We want them to know that we professional men and fathers in this community are here for them; to let them know that we need them to stay alive, finish school, get advanced education, and eventually, be good fathers."
Nelson said when Sen. Kurt Vialet introduced the idea to him, Nelson was on board immediately.
"I still have hope for our young men," he said. "I believe the children are our future. Teach them well and let them lead the way. …. Let the children's laughter remind us how we used to be. This morning was powerful and moving," Nelson said.
Sen. Kenneth Gittens greeted students at St. Croix Central High School and Georges Christian Academy Daycare Center.
He said, "I had a great time this morning joining other professional men from our community in welcoming back our high school students, particularly our young men as they started a new school year."
"It's a new school year and a new beginning," Gittens said. "Our children need to know that they are loved and that their education, their choices and their lives matter."
"Whether our children are just starting kindergarten, entering high school or leaving the nest for college, our hearts and hopes go with them," Gittens said.
He said there is so much negativity in the community and on television that students see every day that they need to be reminded that they come from a community where people are being positive and doing great things.
Gittens said, "Our young men need positive role models and this is just one small way that we can step in."