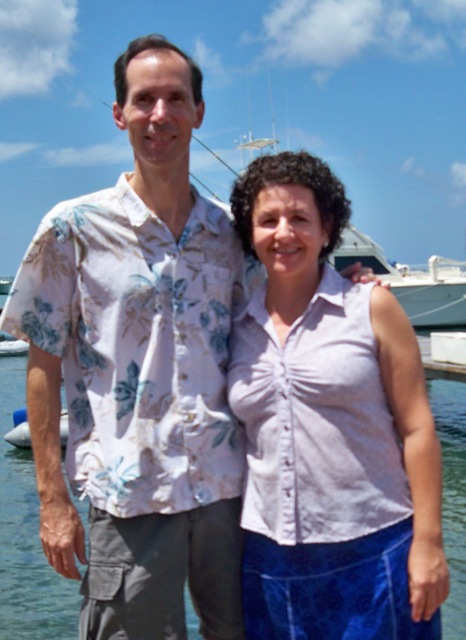 Lovers of live music Bob Sifniades and Jamila Hammad have made it their mission to help keep music alive for people to enjoy every day on St. Croix. Their mission led them to create a web calendar to promote local musicians and let people know when and where to hear live music and to have fun.
The website the couple manages has grown to become an extensive St. Croix events calendar found at StCroixCalendar.com.
Hammad said the free online calendar is popular because they keep it up to date. "You know you can go there and get information that is pretty accurate, to the day," she said.
Hammad said the calendar has listed more than 15,000 events since 2010. In the past year the website has averaged around 10 events a day. Since the site was launched it has had only five days with no events listed.
Every Tuesday they send an "Info Please" email to musicians and restaurant owners asking for updates. Each Thursday, they send an email blast to their subscribers, containing all of the listings currently on the website.
Hammad said they have more than 800 subscribers and get more than 500 hits a week. She said they have a network of about 85 information-providers including restaurants, musicians, nonprofits and other organizations. There isn't any distracting advertising on the site, she said, which adds to the appealing look.
Behind the scenes, there is a database and numerous programming features that help them quickly find, add, edit, highlight, repeat, delete or replace all of the information. Hammad said it only takes about 20 minutes a day to do an update.
The couple mentioned when they visited and, and after they moved to St. Croix, they were often looking for listings of where to find live music.
They said the site is being promoted by folks that lease cars, villas and hotels letting their guests know where to find live music performances. Restaurants are also promoting the site and listing standard information like business hours.
There is a map button to click on for locations of the events.
According to Sifniades, his friend, Joe Hazi, actually started the calendar concept listing events in emails.
Sifniades explained Hazi loved going to live music events at bars and restaurants on St. Croix and he wanted people to know where the music was, so in 2008 Hazi started a weekly email to spread the news.
The first musician listed was Kurt Schindler, followed by Michael Justis and Steve Katz. Whenever Hazi met people who shared the love for live music, he asked for their email address and added them to the list.
In 2009 Sifniades suggested Hazi convert the list to a website, which Sifniades and Hammad designed and programmed.
StCroixCalendar.com was launched July 2010 with Hazi as the editor. The website continued the weekly email feature, and at the time there were about 400 subscribers. When Hazi died in 2013, Sifniades took over as editor at Hazi's prior request.
Hammad, who does data entry, said she started to help Sifniades, her husband of 26 years, because he was pretty busy designing the site.
"We have a lot of great musicians here," Hammad said. "We're lucky to have a nice variety of talented musicians. … We really appreciate the local music scene. It's worth it promoting them in the calendar."
As is the case with many people, the couple vacationed on St. Croix, fell in love with the island, and decided to relocate in paradise. They moved to St. Croix in 2005 and managed the Blue Vista Villa.
Hammad, a mixed media artist and author, has self-published a book on spirituality and a novel. Sifniades has been a freelance programmer for 15 years.
To learn more about the calendar, visit www.stcroixcalendar.com or call 340-773-1612.