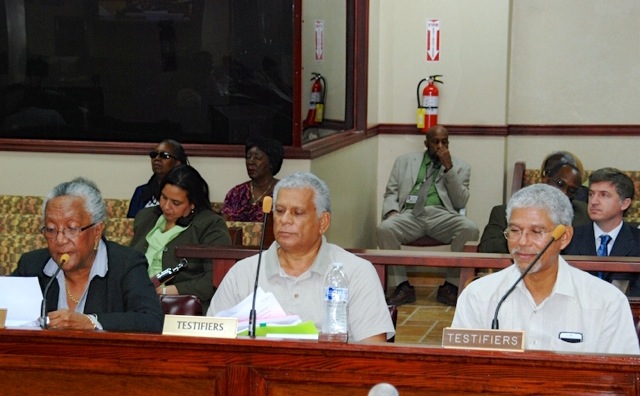 Among a laundry list of ideas proposed by St. Croix retirees to add to legislation to shore up the ailing Government Employee Retirement System, legalizing medical marijuana and using taxes and fees on it received some positive attention from senators Thursday on St. Croix.
The Committee of the Whole meeting was the last of three hearings – one on each major island – on legislation to increase employer and employee contributions and reform an array of passages in the territory's public employee pension laws. (See Related Links below)
Without action, GERS will have spent its entire trust fund by 2024 or 2025, and will only be able to pay about 45 percent of pension obligations by taking current contributions and immediately distributing them to retirees, without investing, according to the GERS and a federal Department of the Interior Office of the Inspector General audit.
The bill [Bill 31-0146] sponsored by Sen. Neville James is based on, but slightly different from, legislation proposed by former Gov. John deJongh Jr. in March 2014. [DeJongh Pension Reform Proposal]
Thursday's hearing began with St. Croix retirees Herman Fahie, former Sen. Ronald Russell, and two members of St. Croix Retirees Inc., Mary Moorhead and Miguel Nico. Russell spoke about an array of possibilities, of varying levels of practicality, from having GERS take over the V.I. Water and Power Authority to requiring GERS to invest more locally. One of those ideas, devoting medical marijuana revenues to the system, generated some support among senators.
Medical marijuana is not legal in the territory. Last November, voters approved a ballot question on support for medical marijuana with 56 percent in favor to 44 percent opposed. The nonbinding referendum has no direct effect on the law but informs the Legislature that Virgin Islanders want the Legislature to legalize medical marijuana.
Several senators said they thought Russell's idea had merit. Sen. Clifford Graham said it was worth considering and that he was "thoroughly impressed" with the medical marijuana industry in Seattle when he visited not long ago.
Sens. Marvin Blyden and Terrence "Positive" Nelson also expressed interest in the idea.
There was no discussion of the range of potential revenues the proposal might generate, but the legislation is only a small part of the solution, and a large infusion of cash, probably from pension obligation bonds on the backs of all V.I. taxpayers, is critical, according to GERS's financial consultants and actuaries.
Legislation authorizing up to $600 million in pension obligation bonds was enacted in 2006, but not acted upon to date. Senators largely agreed some bonds may be necessary, but expressed concern about the risks.
"A pension obligation bond is necessary to shore up the pension system; there is no if, and or but about it," Graham said. Graham castigated deJongh for not acting on it and said GERS "should have sued" the previous administration to force it to issue the bond or bonds.
While deJongh did not float pension obligation bonds, he did create a pension reform task force, which made recommendations that formed the basis of the bill being considered by the Legislature. DeJongh submitted draft legislation in March 2014, but the Legislature never acted on it. (See Related Links below)
Several senators probed testifiers on the risks of pension obligation bonds to the V.I. government, if the economy takes a turn for the worse.
Leon 'Rocky' Joyner of Segal Consulting said, "Here is the problem with pension obligation bonds; it is a general obligation of the government, long-term. This is a risk … and if you can find some other source of $600 million, that is better. But I don't think you are going to find another source," Joyner said.
He said Pittsburgh used pension obligation bonds in 2000 and the economy tanked afterwards, putting the city in a bind. But Pittsburg was in good shape and chose to do so in hopes of making more money, while the V.I. system is running out of assets and has few other options, Joyner said.
No votes were taken in the information gathering hearing.
Senate President Neville James said the legislation should be addressed by the full legislature in session planned for Aug. 22 or 23, after it is marked up and amended. He also said he was meeting with executive branch officials to investigate the territory's borrowing limit and the prospects for issuing pension obligation bonds.