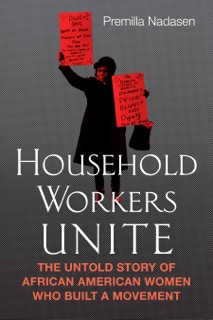 "Household Workers Unite" by Premilla Nadasen
c.2015, Beacon Press $27.95 248 pages
There is not a speck of dust in your home. The floors gleam, the kitchen shines, the bathroom sparkles and the rugs are fluffy again. You've changed bed sheets and you even washed windows.
You're ready for fall and thankful for the help you had getting this way; if that help was paid, read "Household Workers Unite" by Premilla Nadasen, and you'll be thankful for even more.
Picture this: a white reporter encourages African American maids to "speak out about their hardship" and the women who employ them. You know the movie, but did you recognize the "victimization theme"?
Yes, says Nadasen, The Help "reinforces dominant stereotypes of passive household workers," even though there was historically nothing passive about them.
In the years following the Civil War, the "Mammy" figure took hold in white America, becoming somewhat of a cult idea based on the idea of a loyal, maternal female slave. That vestige of slavery (and inherent racism) generally affected how African American domestic workers were treated by white female employers then, but "new ideas were germinating."
In 1881, black laundresses formed a "Washing Society" and eventually went on strike for higher wages. Activism never stopped, but there was a setback in the fledgling movement during the Depression, when black domestics found day-work by sitting in a street corner "slave market" and that didn't go unnoticed.
By 1934, journalists, activists, and other black feminists threw their support behind Dora Jones, who led the Domestic Workers Union (founded in 1934) in New York.
Nurse, midwife, and housekeeper Georgia Gilmore used her cooking skills to raise money for "The Club from Nowhere," a group supporting activists and organizers both financially and with food. Undoubtedly, the Civil Rights Movement spurred Atlanta's Dorothy Bolden to work with Dr. Martin Luther King Jr. on behalf of household workers.
Cleveland's Geraldine Roberts founded the Domestic Workers of America. Edith Barksdale Sloan pushed the movement along when she became head of the National Committee on Household Employment. Other influential women bore their share of the movement, just as today's activists help protect the workplace rights of caregivers, personal helpers and domestic workers of all races.
Imagine seeing a federally funded monument to the "black mammy" standing in our nation's capital. Yep, in 1924, the United Daughters of the Confederacy tried to build exactly that, and it was "furiously opposed."
That's just one of the stories you'll read inside "Household Workers Unite."
Stories are what Nadasen says she tried to fill her book with, in fact, and she somewhat succeeds. There are, indeed, a lot of stories here, but there's plenty of dryness, too, in the form of names, dates and acronyms that ultimately become quite overwhelming.
My advice is to try and get through them; this book is powerful and inspiring, but the voices and their memories are what matters.
This isn't your curl-up-in-front-of-a-fireplace kind of read but it is a pleasure, especially if you're a historian, feminist or domestic worker yourself. "Household Workers Unite" will make you think as it eats up every speck of your time.
__
The Bookworm is Terri Schlichenmeyer. Terri has been reading since she was 3 years old and never goes anywhere without a book. Her self-syndicated book reviews appear in more than 260 newspapers.