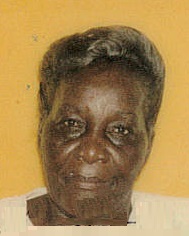 Millicent Charles Mason of Estate Peter's Rest died on July 26. She was 93 years old.
She is survived by her son, Walter Sylvester Browne; daughter-in-law, Jenneth Browne; grandchildren: Lisa Martin, Nolda Browne, Stuart Browne and Brian Browne; great-grandchildren: Hugh Martin Jr., Javid Martin, Huleesa Martin and Kendi Martin; sister, Delores Charles; brother, Foster Charles: nieces: Charmaine Hackett, Eloise Charles and Yvonne Adams; nephews: Rhony Pryce, McArthur Jarvis, Recaldo Samuel, Everette Soanes, Gaston Thomas, Henville Daniel, Philbert Daniel, Kensworth Pryce, Ray and Terry Charles; grandson-in-law, Pastor Hugh Martin Sr.; and stepson-in-law, Winston Nurse.
She is also survived by her stepdaughter, Yvonne Mason James; other relatives: children of Casilda Pryce, children of Eloise and Ray Charles (U.S.A.), Grethlyn Edgecombe, Yvonne Benjamin and family, and the Pryce (Canada), Jarvis, Nurse, Mason, Daniel and Charles families (ANU); special friends: Pastor Ventura, Lambert Alfred, Virginia Liburd, Glenda Frederick, Pamela Turner, Mrs. Galloway, Sadie Lloyd, Morris Benjamin, Dez Baltimore, Tony, Randy Germain and Pastor Massicot; special mention: pastors and members of Miracle Revival Deliverance Tabernacle; as well as other relatives and friends too numerous to mention.
A viewing will take place at 9 a.m. followed by a funeral service at 10 a.m. on Thursday, Aug. 20, at the Miracle Revival Deliverance Tabernacle Church, Beeston Hill. Interment will be at Kingshill Cemetery.
All arrangements are by James Memorial Funeral Home Inc.