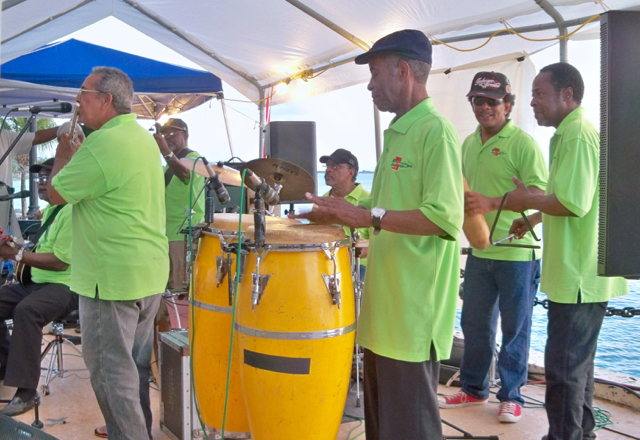 The music Sunday drifted past the large crowd at the Verne I. Richards Veterans Memorial Park, across Strand Street in Frederiksted, to the open windows upstairs of the Caribbean Museum of Art, where it got people inside swaying to the sound.
It drifted across hundreds of meters of ocean to the near the end of the cruise pier, where a young man preparing to make a late Sunday afternoon dive could be seen nodding his head to the beat before jumping into the water.
The open-air concert began with the youthful band, Mind, Body & Soul, playing old standards from the likes of Bob Marley, Otis Redding and Stevie Wonder. The band is under the direction of Rookie Jackson and sponsored by the Police Athletic League.
Just as the sun began descending into the ocean, cultural torchbearers, the world-renowned Stanley and the Ten Sleepless Knights, took the stage to play its own classics.
Quelbe at Sunset was an effort by Department of Sports, Parks and Recreation to provide the residents and visitors of St. Croix the opportunity to experience learn and enjoy the cultural aspects of the Virgin Islands through music.
Otis Johannes, from La Vallee, said he didn't know about the concert beforehand and was happy to be in town for the show.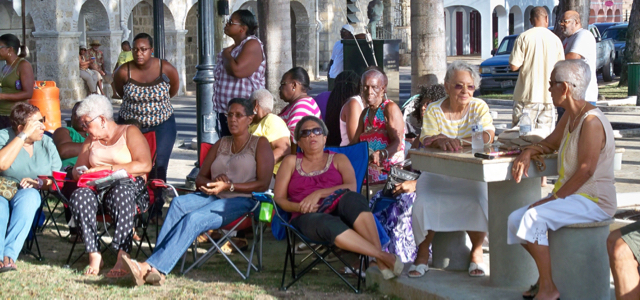 "I'm having a nice afternoon and I really like the music," Johannes said while enjoying a piece of fried chicken.
The effort was well received as the park area was crowded with residents and, maybe, a few visitors, enjoying the music and patronizing the food and drink booths set up in the park. It bodes well for followup series of open-air concerts planned by Parks and Recreation. On Friday, Quelbe at Sunset is scheduled again from 6 to 8 p.m. at the park,with the Russell Ensemble as the featured performing artists.
Sunday's concert was a social event for Frederiksted as well as a musical event. Residents, when they were not swaying to the music or enjoying the food, greeted old acquaintances with hugs or handshakes. Those attending appeared to be enjoying the jewels that Frederiksted location offered – beautiful scenery with cultural activity.
"I'm glad we happened to be in town and found out about the music and free entertainment," local resident Pat Hughes said.