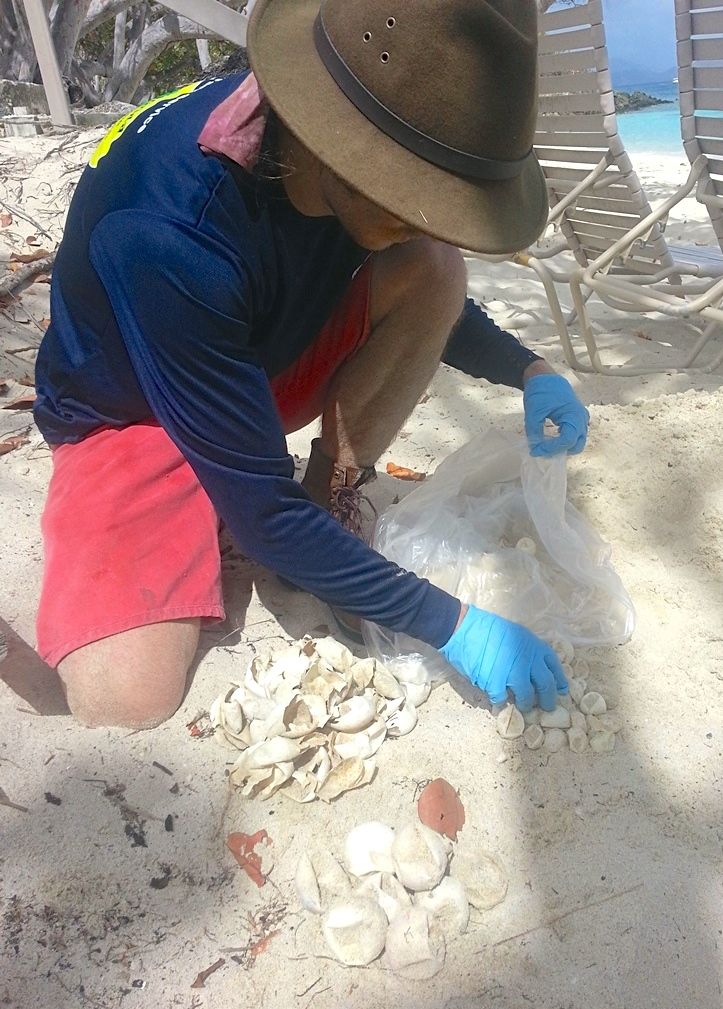 With sea turtles regular visitors to local beaches, several groups keep tabs on their activity. Because it now has the staff to do it, the V.I. National Park is revitalizing a turtle-monitoring program that languished since the early 2000s, and Thursday sent out an appeal for help in measuring and protecting sea turtle activity.
"We're focusing on nesting turtles," said Shane McKinley, the park's exotic animal and plant biological science technician.
On St. John, this means hawksbill and leatherback turtles. He said there is no documentation of green turtles nesting.
No experience is needed to help, but volunteers will be required to attend one training session. Sessions will be held from 1 to 3 p.m. Monday and from 8 to 9 a.m. Wednesday. Other training sessions will be scheduled as needed, McKinley said. They will be held at the park Visitor Center in Cruz Bay.
Work will begin the week after the training is held.
"We'll focus on nine key beaches" on the north and south shores, McKinley said.
Volunteers will be responsible for assisting in identifying turtle species and activities, conducting beach surveys and recording data. Tasks include walking the assigned beach one or two times a week, photographing or drawing signs of turtle activity, and writing up and uploading recorded data via smartphone app/email weekly.
According to McKinley, the project will use technology to improve reporting. He said a Caneel Bay guest recently posted video of turtles nesting at one of the resort's beaches. He said that was helpful because it provided information on the nests.
Occasionally volunteers will be asked to assist park staff with turtle nest excavations, night surveys or turtle rescues. This volunteer commitment will require at least one to two hours in the early morning each week until the end of November.
Transportation to and from adopted beach will be the volunteer's responsibility. Possible risks may include traversing thick vegetation, steep rocky terrain, rocky beaches with wet rocks that may be slick or unstable, and exposure to inclement weather. However, McKinley said, they're likely to see beautiful sunrises.
McKinley said both residents and long-term visitors are welcome to participate.
While the St. John park plans upcoming turtle monitoring, the federal Fish and Wildlife Service just finished its program at Sandy Point National Wildlife Refuge on St. Croix.
Wildlife biologist Claudia Lombard said 84 leatherback turtles came ashore at Sandy Point. She said they made 400 nests. As for the number of hatchlings, Lombard said she is still gathering data for 2015. And she said that nearly 1,500 people came to participate in the turtle and hatchling watches.
The Sandy Point program is targeted toward youth, church and community groups, who gather at the beach in groups of 30.
"It's so popular we have to turn away a lot of people," refuge manager Mike Evans said.
He said the St. Croix program is divided into two phases. In the first, groups are on the beach at night starting in mid April to watch the turtles come ashore. He said those in the group get to watch research teams gather data.
Once the turtle start to hatch in early to mid-June, groups are back on the beach watching the hatchlings head into the water.
According to Evans, the turtle watches are limited to leatherbacks because the other two varieties of sea turtles that nest on St. Croix beaches – hawksbill and green – scare easily.
"The leatherbacks seem to be much more suitable for turtle watching. They're bigger and slower," he said.
He said turtles nest on all St. Croix beaches.
In response to a request for Information on turtles at Buck Island Reef National Monument on St. Croix, the park's chief of resource management, Zandy Hillis-Starr, sent an information sheet on the turtle nesting. It indicates they nest from March through December.
While turtles nest on all beaches, they're most often found at Buck Island, Sandy Point and East End beaches including Jack's and Issac's. They're also found on south shore beaches including Southgate, Coakley Bay and Hay Penney.
The information sheet indicates Buck Island will be patrolled nightly to protect nesting turtles and to continue long-term sea turtle research. Patrols began July 25 and will last into October.
In addition to St. John and St. Croix beaches, turtles also nest on St. Thomas beaches, Evans said.
However, Roy A. Pemberton, who heads the Fish and Wildlife Division of the Planning and Natural Resources Department, said there are no formal turtle watching or monitoring programs on St. Thomas.
"It's hit or miss," he said.
He said there were recent informal turtle monitoring events at Morningstar Beach and Abi Beach on St. Thomas, but nothing organized or controlled.
Sea turtles in the Virgin Islands are protected under both federal and local law. They're listed on the federal Endangered Species List and locally on the Indigenous and Endangered Species List, Evans said.
He said that under federal law, turtle poaching is a felony with up to a year in jail as the penalty.
That said, Evans said it doesn't stop people from poaching eggs and turtles. He said that while it doesn't seem to happen at Sandy Point, it does on other beaches.
He said he's mystified as to why the practice continues since food is readily available at the supermarkets but said that folklore seems to attribute magical properties to turtle eggs and turtles.
"If turtle eggs were truly an aphrodisiac, the pharmaceutical industry would be all over this in a New York second," Evans said.
Hillis-Starr's information sheet urged beach goers not to dig in the sand or use tent stakes. They should keep tabs on their dogs. Boat operators should drive slowly to avoid hitting turtles. Lights along beaches should be shielded so turtles and their hatchlings don't become disoriented. Beach goers should keep their distance and not use flashlights or flash photography.
She said if anyone finds an adult turtle or a hatchling in distress they should contact
the Sea Turtle Assistance and Rescue Network at 690-0474. It operates round the clock.
They can also call Buck Island Reef National Monument resource management at 277-6794 any time. From 8:30 a.m. to 4:30 p.m., contact the park's Christiansted headquarters at 773-1460.
Contact federal Fish and Wildlife's Sandy Point National Wildlife Refuge at
773-4554 or 690-9451.
Reach Planning and Natural Resources enforcement division at 244-9066.
To volunteer for turtle monitoring on St. John, contact McKinley at 693-8950 ext. 222 or via email at alan_mckinley@nps.gov. Indicate how many mornings per week you can commit, specific beach preference if any, and any related experience.