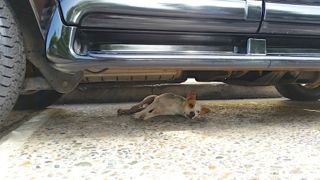 There was no opposition within the Humane Society during its annual meeting July 31when it voted to seek legislation requiring pet owners to spay and neuter their pets, according to its soon-outgoing president Joe Aubain.
With the V.I. economy hurting, more and more Virgin Islanders are taking animals to the shelter, having decided they cannot afford them, and some are becoming strays, Aubain said. "We have seen a significant increase in the amount of people who simply cannot afford to take care of their animals anymore," he said, adding the situation was similar stateside during the recession.
"But unfortunately, things being what they are in a small island community, it's more of a struggle" to place all the animals locally "because when you live on an island, there is a limited pool" of people to place animals with, he said.
More spaying and neutering of pets would reduce the problem of strays and finding homes for them, and is what responsible pet owners should do, with or without a law, according to Aubain.
Asked about the potential price tag for new law enforcement at a time of budget crisis, Aubain agreed money was a concern, but suggested the costs can be kept very low, or simply be a part of everyday law enforcement, with no specially dedicated officers or new patrols.
"Obviously we are not asking for a special team to be created at the Agriculture Department or V.I. Police Department to address it. But I think if the law is passed and on the books, it will make people more conscientious about the pets they own," Aubain said.
"And we are not attempting or hoping to put any legitimate business out of business or ban all breeding across the board. Anyone that wants to breed pets would have to be a licensed business," he said.
Asked about people resisting having their pets spayed or neutered, Aubain agreed some pet owners are hesitant. "There is a misconception that when, especially a male dog, is neutered, say a guard dog, it loses some of its attributes … and that is not true. It does not change the temperament. Obviously what you don't have is 12 puppies you can't afford to keep," he said.
He said they do not expect success overnight, but the Humane Society will work on draft legislation and on trying to get senators on board. "We may have one willing to sponsor" now, he said.
At the present time, all the major animal welfare and care organizations strongly endorse voluntary spay and neuter programs, but are conflicted on or opposed to mandatory, penalty-based programs. At least 30 states require sterilization in order to adopt from a pound, shelter or rescue center, but no states and only a handful of cities make it mandatory for all pet owners, according to the American Veterinary Medicine Association.
The AVMA and the American Society for the Prevention of Cruelty to Animals both oppose mandatory sterilization laws, as do several other major animal defense organizations. "Although spaying and neutering helps control dog and cat populations, mandatory approaches may contribute to pet owners avoiding licensing, rabies vaccination and veterinary care for their pets, and may have other unintended consequences," AVMA officials say in the organization's official statement on the subject.
Los Angeles passed a local mandate in 2008, becoming the first and largest U.S. city to do so. An online search for news about the law found several blog and opinion pieces dating from right around the time of the new ordinance's passing, calling it a "failure." But the search turned up nothing recent, except for mundane announcements by the city of Los Angeles about the law and funding for low-cost operations, suggesting it has not generated much long-term outrage.
In the USVI, the St. Thomas Humane Society is not expecting success overnight, and Aubain said raising awareness will also help.
"We realize there are going to be challenges. There were many challenges to the animal cruelty law. We still have cockfighting … But we have to have the discussion," Aubain said.