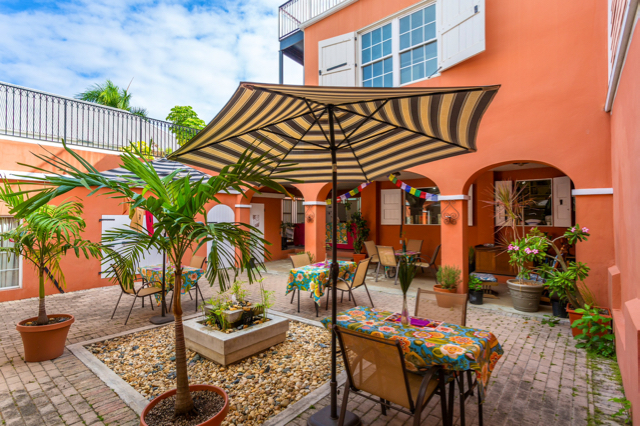 Bale Kaza-Amlak said he is committed to and passionate about providing quality, nutritious, wholesome food at Renuatum's Island Fresh Cafe. It's in his nature to prepare healthy vegetarian and vegan food, he said.
Kaza-Amlak enjoys everything about preparing meals – even going out and harvesting coconuts for smoothies.
The little Cafe is tucked away in the The Renuatum Spa and Yoga Studio center on 1246 Queen Cross in Christiansted. Patrons dine in the pretty tropical courtyard or do takeout orders after yoga class. Folks can cultivate a healthy lifestyle all in one spot at the Renuatum Center.
The cafe generally prepares healthy dishes from what is available and in season. Kaza-Amlak makes his creations with fresh products from local farmers. He gets produce from Sejah Farm, the Art Farm, Ridge to Reef Farm, and his mother's farm.
"Ideally it would be great to have all organic locally harvested food," Kaza-Amlak said.
The popular "Abundance Smoothies" are filled with homemade coconut milk from local coconut trees, fresh mango, banana and doTerra wild orange essential oil. Always fresh, always healthy, and always made with love Kaza-Amlak said. The "Sunshine" drink is made from orange and lemon juice.
Kaza-Amlak said dishes, salads, and drinks prepared with kale are popular with patrons right now. He also offers a smoothie loyalty rewards card.
He said sometimes it is a challenge getting everything he needs with a limited market and the seasonal nature of farming on St. Croix.
The restaurant has been open for two years and is a work in progress, Kaza-Amlak said, making and trying new items for the menu. They are in the process of changing the menu and featuring more wraps.
Kaza-Amlak said he grew up in a health-conscious family. He said his mother, Kemba Kaza, a labor and delivery nurse, was a big influence on him. The 10 children in his family worked in her garden and learned to eat and appreciate nutritious food fresh from the garden.
To educate and bring knowledge to locals about healthy eating and leading a healthy lifestyle he is conducting a free class on using essential oils for weight management, at 6 p.m. Wednesday.
He has taken courses on using doTERRA essential oils and in particular he will share knowledge on Slim and Sassy, a blend of oils designed to manage appetite and burn fat. He said the next class he holds will be a medicine cabinet make-over, remaking the medicine cabinet with essential oils.
"We give the tools to help with goals to getting healthy," Kaza-Amlak said.
He said the balance of healthy food, exercise, lifestyle, and the right supplements give lasting health benefits.
Kaza-Amlak encourages people to stop in for healthy and nutritious drinks and meals. Good healthy people make a healthy community, he believes.
"It starts with healthy people eating nutritious food," Kaza-Amlak said.
The cafe is open from 11 a.m. to 5 p.m. Monday through Friday and 10 a.m to whenever on Saturday, Kaza-Amlak said. Patrons can place a take out order by calling 340-514-4849.