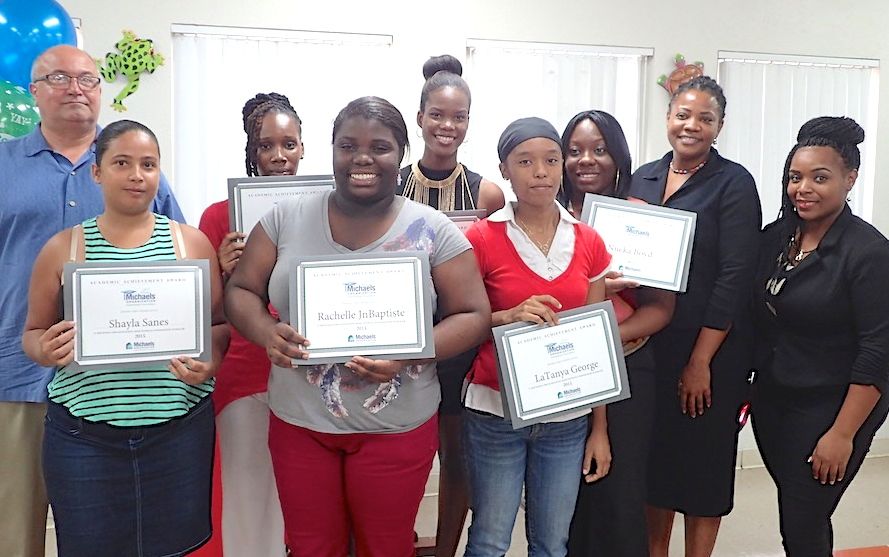 Marking 25 years of awarding scholarships to students who live in affordable housing across America and in the Virgin Islands, the Michaels Organization Educational Foundation presented 11 students from St. Croix with grants to attend college.
An awards ceremony was held at Croixville Apartments on Wednesday for recipients and their families. Speakers included representatives from Michaels and the housing communities' administrators. After remarks from several students, refreshments were served.
Two more Virgin Islanders were selected this year than last to receive between $1,000 and $5,000 for college and several have been awarded more than once.
Vanessa Peter of Canebrake Apartments, a senior at Howard University in Washington, D.C., was selected also to receive an additional award by the company to commemorate the anniversary, according to Roger Williams, Interstate Realty Management vice president.
Peter has a 3.7 grade point average with dual majors of biology and mechanical engineering. She hopes to attend medical school and become a pediatrician or pediatric oncologist.
Jashana Scotland, also from Canebrake, has benefited more than once from a Michael scholarship. She is a junior at Howard, maintains a 3.87 GPA and hopes to specialize in aerospace engineering or robotics.
A mother of four, Sonja Acosta of Croixville Apartments won a scholarship again this year to attend the University of the Virgin Islands. She is a senior studying nursing and, after she graduates, she plans to continue her education and become a psychiatric nurse.
Acosta's son, Jaseim Everington, a freshman, also received a scholarship this year for UVI, where he hopes eventually to earn a master's degree in computer science.
Nneka Boyd and LaTanya George, both from Croixville Apartments, won scholarships last year as well. George is a sophomore at UVI and the mother of a toddler. She is a member of the National Guard and is earning a degree in business administration.
Boyd is a junior at UVI studying hotel and tourism management and is the president of the university's hospitality club.
Williams congratulated the students and said he likes to see repeat scholarship recipients because it demonstrates commitment and dedication.
"I always brag about the Virgin Islands because we give the most scholarships here," he said. Last year, St. Croix recipients were given the second highest number of grants.
The other recipients include Sheryn Richardson from Harborview Apartments, who will be a senior at Ashford University pursuing a degree in finance.
Shernice Morris, a Croixville resident, is a sophomore at UVI working on a bachelor's degree in nursing.
Three other scholarship recipients from Croixville are entering UVI as freshmen. Rachelle JnBaptiste, a high school honor graduate, will study psychology; Sherry Maxwell wants to be a registered nurse; and Shayla Sanes, a single mother of four, hopes to own her own bakery.
Several of the recipients and their relatives had prepared remarks thanking the Michaels Organization for their financial aid. Acosta's aunt said she "accepted the scholarship with great pride.
Managers Bobbi Gomes from Canebrake and Victoria Cornelius of Croixville congratulated the scholarship winners.
"I'm not sorry for harassing you" to turn in applications, Cornelius said.
The Michaels Organization is the parent company of Interstate Realty Management in New Jersey that manages Croixville, Harborview and Canebrake Apartments on St. Croix. The company is building senior housing on St. Thomas that should be open next year.
Michaels has granted more than $4 million and 1,900 scholarships over the years. This year more than 200 college scholarships worth $575,000 were awarded. The founders, Michael and Pat Levitt, contribute $2 for every dollar donated by the company's vendors.