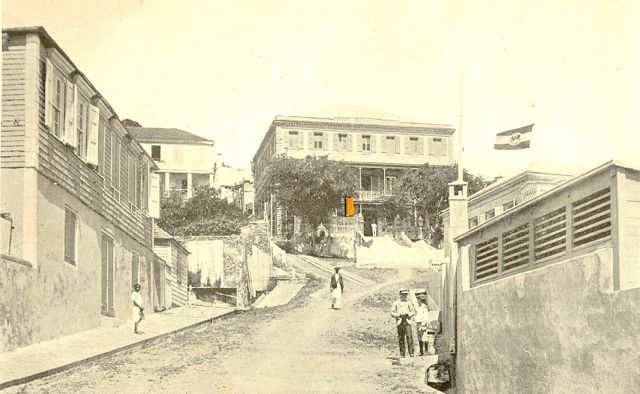 The last four V.I. governors have all come under fire for using government funds for housing or for security improvements to their private home, and all four have either spent money renovating the historic Catharineberg residence or said it needs more spending to be livable.
So as a legal and practical matter, where should the V.I. governor live? V.I. law says the governor "shall maintain his official residence in the Government House on Saint Thomas during his incumbency." (Author's note: The Revised Organic Act of 1954, which is federal and V.I. law, contains these provisions) But the former governor's apartments, on the third floor of Government House, were converted to offices more than 20 years ago and would need to be at least partially moved to new locations to make room for Mapp or any future governor and family to actually reside there. How much work would be necessary is unclear.
Meanwhile there is no clear-cut answer to where the governor should live, as there are no other provisions for the governor's residence but the one established by law at Government House that is currently occupied by offices.
There is the historic former Danish Consulate in Estate Catharineberg, which is often referred to as the Governor's Mansion, but after several expensive renovations, former Gov. John deJongh Jr., current Gov. Kenneth Mapp and the West Indian Co. have all said it is musty and unsuitable for family life or entertaining without more work. And experts say it should not be air-conditioned, begging the question of whether the V.I. governor should live without air conditioning. Also there is no legal or historical basis for it being the governor's residence.
While governors are free to spend their own money on residences in both districts, the lack of a clear, workable, legally authorized public residence may have played a role in the past four governor's controversies over housing.
Earlier this year, Mapp revealed the government-owned WICO was paying $14,500 a month in rent to house him at a villa in Estate Nazareth while on St. Thomas for work. That comes out to a $174,000 a year government-funded housing benefit for Mapp.
If Mapp served two terms like deJongh and Gov. Charles W. Turnbull, and WICO keeps paying the rent the entire time, it will mean a total V.I. government expense of $1.39 million.
Mapp, like Turnbull, Gov. Roy Schneider, and deJongh, cited the condition of the Estate Catharineberg residence and the money it would cost to make the property livable, and like Schneider, said the historic governor's residence at Estate Catharineberg is unfit for habitation.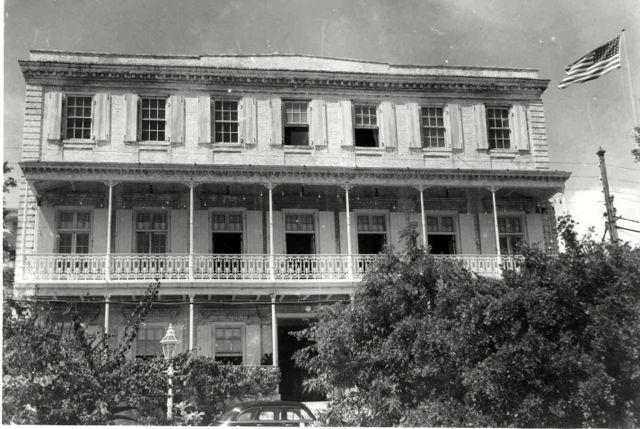 The Nazareth villa expense was controversial and, in late May, Mapp announced he would no longer reside in the apartment but would stay in a hotel when on St. Thomas. But the lease was already signed, and WICO has indicated it is still paying the lease, even though Mapp is not staying there.
Mapp and WICO have been silent on how WICO came to the decision to pay his rent, adding to the controversy over the decision and its cost.
Mapp has a condominium on St. Croix that is his primary residence.
When deJongh took office in 2007, he decided to live at his private residence, rather than the residence set aside in Estate Catharineberg. Renovations were recent and no mold was cited at the time, but had been noted previously and since. DeJongh said had a family and needed more residential bedrooms than the two at the estate.
Public Works spent $490,000 on a security system, fencing, a guardhouse and changes to the driveway and parking.
"I was advised that to renovate Estate Catharineberg for a family would require well over a year of construction at an estimated cost in excess of $1.5 million," deJongh said in a statement when sending a check for $203,000 to pay for the net cost of the renovations earlier this year. "I also was informed that the estimated annual housing expenses to be incurred at Catharineberg would be $80,000 per year, which over the course of my eight-year tenure … would have cost upwards of $640,000," he said.
According to deJongh, moving his entire family into the historic house would have cost more than $2.1 million over the course of his administration, so he decided to stay in his personal home (See Related Links below)
DeJongh had three children, while Catharineberg only has two bedrooms, complicating renovations. Mapp, with no dependents, would not require as much change to the structure so the cost to make it suitable for just him should be proportionately less.
Sen. Adlah "Foncie" Donastorg, who ran against deJongh in the 2006 gubernatorial race, made a political issue of the expense. A U.S. Department of the Interior inspection determined the expense should have been explicitly approved by the Legislature and deJongh said he would turn over any portion that could be removed once he left office and reimburse the government for the remainder.
DeJongh wrote a check for $203,000 after Mapp took office, but Mapp, a long-time political foe of deJongh, declined to cash the check, preferring deJongh spend nothing at all, rather than take partial payment and possibly imply, without saying, that the debt was resolved. (See Related Links below)
Not long after taking office in 1999, Turnbull arranged to have WICO spend $7,000 per month renting a house in Estate Elizabeth, a precedent cited by WICO to justify its more recent deal to pay Mapp's rent. WICO officials hired a conservation consultant who reported the property was unfit to live in due to toxic fungus spores, specifically Aspergilus versicolor.
To live in a private rental, Turnbull also spent government funds constructing a guardhouse and security system for that rental property, actions which landed deJongh in hot water when he followed suit on his personal residence.
Turnbull lived in his rental home for close to a year while he completed millions of dollars in renovations to Catharineberg, where he lived for the rest of his time in office. He and Schneider are the only V.I. governors to have resided at Catharineberg since the 1860s.
Schneider was the first to actually reside at Catharineberg. He lived there after Hurricane Marilyn damaged his private home. His bedroom on the third floor was later converted to offices, at which point he moved back to his personal residence on Flag Hill and built a guard shack there at public expense – much like Turnbull and deJongh did later.
Gov. Alexander Farrelly was the last governor to live part time at Government House. WICO acquired Catharineberg during Farrelly's tenure and he began renovations. Farrelly reportedly spent some weekends at Catharineberg, but never lived there. (See: WICO CLARIFIES TURNBULL RESIDENCE ISSUE in Related Links below)
Until Schneider, there was no confusion about where the governor lived, according to V.I. historians.
"The Government House was used by Denmark, by American naval governors and civilian governors," Sen. Myron Jackson, an historian and former executive director of the V.I. Cultural Heritage Institute, said in a recent interview with the Source.
"Farrelly lived in Government House, but Schneider chose not to," Jackson said. "The private quarters were converted in the Schneider administration to public offices, then Denmark Hill became part of government holdings and became a retreat," Jackson said. Denmark Hill is another name for the location of the historic Estate Catharineberg residence.
V.I. State Historic Preservation Office Executive Director Sean Krigger recounted the same history for the Source.
"Government House was constructed as the offices and residence of the governor and, yes, it was the residence up until Farrelly, who was the last governor to utilize the third floor for his private residence," Krigger said.
In contrast, with the exception of the time Turnbull spent there immediately after renovating it, the Estate Catharineberg residence does not appear to have been used as a residence for the governor.
"It was originally built as a residence for a former governor during the Danish period," Krigger said. The property was acquired by a former Danish governor general named Hans Henrik Berg in 1826, according to a V.I. government historical survey of the property Krigger provided.
The building was constructed by 1831. The Danes considered it for a governor's residence, but decided instead to rebuild the existing Government House, starting in 1864. WICO purchased the property in 1917.
When Mapp said he would not live in the villa WICO rented for him, he also said he could not live at the Estate Catharineberg residence because it was uninhabitable. Jackson said he agrees, saying that like other historic buildings, its porous walls and other features make it poorly suited for air conditioning and prone to mold problems.
Recalling that Turnbull had work done and lived at Denmark Hill, Jackson said, "The condition of Denmark Hill is really a lack of good preservation and conservation upkeep."
"The building was designed for open air ventilation," like many historic buildings, Jackson said. The Turnbull administration put in air conditioning, which caused moisture to gather and mold to grow, he said. "It is a recurring problem that plagues a lot of government buildings," he said.
Jackson said the government needs to dedicate people to monitor historic buildings and plan for their conservation and curation.
On June 29, architect William Taylor testified to Jackson's Committee on Culture, Historic Preservation, Youth & Recreation that he was hired by Mapp to survey the Catharineberg property and concluded it cannot be practically air-conditioned, so if the governor needs air conditioning at all at home, it is not suitable for the governor's residence.
Taylor said it could be better used as a museum and as a place for occasional entertaining, especially in the evenings.
Taylor said the building still had some of the same type of toxic mold that forced Turnbull out, and a permanent, sustainable solution should be found before spending any more money on retrofitting it for apartments again. According to Taylor, the building ventilates very well if kept open, but Turnbull-era work sealed up some of the doorways and windows, keeping the building from airing properly and from expiring moisture through the walls.
"The consequence of this is that mold and mildew take over when there is no natural ventilation," he said. Some historic buildings, such as the Old Danish School in Frederiksted, have been retrofitted with air conditioning in a way that still allows the buildings to air and ventilate properly, Taylor said. But the Catharineberg residence cannot be retrofitted properly, because it does not have an attic or crawl spaces under the roof for the machinery to go, he said.
Asked if the place can be used for a governor's residence, Taylor said it depends on whether or not it is appropriate for the governor to not have air conditioning, when he may be working or entertaining at the residence.
So where should the governor live? He must live somewhere. Should he or she rent his or her own place?
Jackson said he feels the governor should resume living at Government House, when it is practical.
"They still have a residential office. The living room is a sitting room area. One of the bedrooms is the governor's office. The den, kitchen and dining room still function. … It would make an excellent bachelor pad. It just requires retrofitting for residential use again," he said.
If a governor had a large family, the apartment would be too small, however, Jackson said.
"If there were five children, that is quite a lot. I think two children would be fine, but more than two could be problematic," he said.
Currently the governor's office is on the third floor along with the chief of staff, deputy chief of staff and administrative pool, a kitchen and small conference room, according to Government House.
Asked if Mapp had considered that move, Government House spokesperson Kim Jones said there "has been no consideration of moving those offices to convert the third floor."
Asked about the cost of moving the offices, Jackson said, "We did purchase the building next to (Government House on St. Thomas) for the expansion of the executive offices, so there is no reason we cannot convert the top floor back to a residence." If an office must be rented nonetheless, the cost would be offset by not paying rent for the governor.
Jackson said deJongh sent down a request for funds to reconvert the top floor to a residence, "and it came to the Finance Committee and did not pass," although Jackson and Cole supported the move.
Regardless of whether Mapp has considered living at Government House, no one has identified any major obstacle or expense to overcome.
Could the governor rent himself an apartment, without a government entity making a backroom deal to pay for it? Yes. Schneider, deJongh and Turnbull all did so, although all three faced controversy for security improvements to their homes.
Most states provide taxpayer-funded governor's residences. But not all: Arizona, Rhode Islands, Massachusetts and Vermont do not. Of those four states, only the Massachusetts governor, at $151,800. makes more than the V.I. governor's $150,000 per year salary.
Four governors in a row have faced scandal and controversy over where they are to live and what the government's role should be in subsidizing or ensuring the security of their living quarters. If the Legislature and Office of the Governor do not find a workable, permanent solution to the question, the next governor may also face scandal if he or she also works out living arrangements in the same informal, ad hoc way as the last four predecessors.
Editor's note: The deJongh administration requested an appropriation transfer during a Senate Committee on Finance meeting in September of 2014 that included funding to renovate part of Estate Catharineberg and the building adjacent to Government House. Government House representative Nellie Varlack testified to the Finance Committee that the renovations would supply a place for offices currently housed within the Office of the Governor. The requested funding did not include any renovations to make the third floor of Government House a residence. Voting to reject the appropriation transfer were Senators Buckley, Graham, O'Reilly and Sen. Terrence "Positive" Nelson. Voting in favor were Sens. Myron Jackson and Donald Cole. Sen. Clarence Payne was absent.