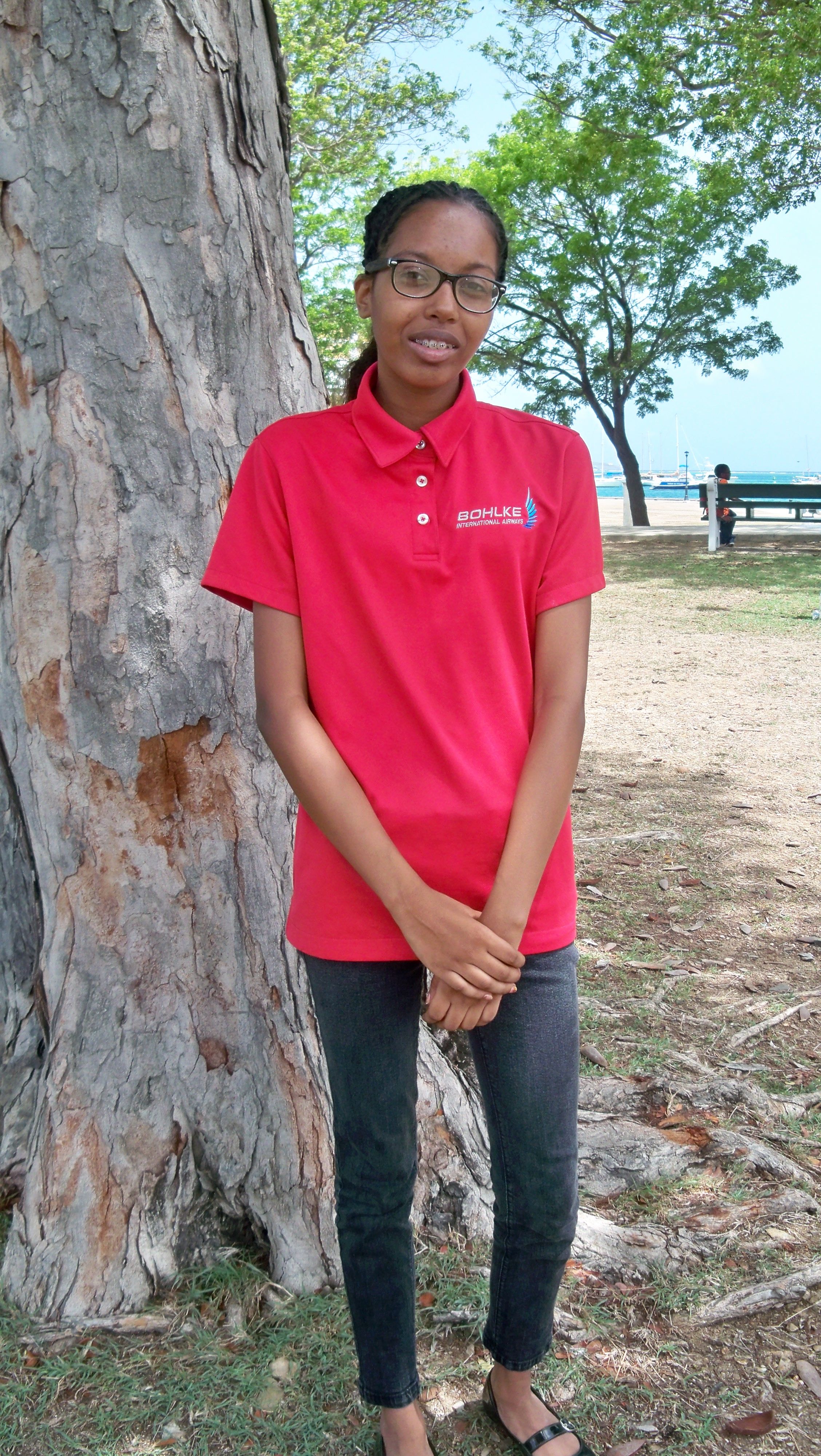 Natasha Sinanan, a senior at St. Croix Educational Complex, will have the financial means to get her private pilot certificate by October, through the generosity of Bohlke International Airways.
Sinanan was awarded the first Robert J. Phipps Aviator Pioneer Club Scholarship on June 27. Sinanan said she was very surprised that they chose her to be the recipient of a $10,000 scholarship that will totally fund her training, including manuals, equipment, and flight time in Bohlke planes.
"Bohlke International Airways and the Bohlke family have seen the dedication, willingness and enthusiasm of the youth of this island to pursue their dreams of a career in aviation," said Fiona Horne, Bohlke International Airways' marketing manager and private pilot. "It was a hard choice – all the applicants were very impressive."
Horne said as female pilot she is personally very thrilled the panel, made up of all men, chose a young woman.
The panel of Bohlke pilots – company president William R Bohlke, general manager Sam Black and KingAir pilot Reynold Modeste – reviewed the applications submitted that met the criteria established by V.I. Chapter Tuskegee Airmen Inc. (VICTAI) and ultimately Sinanan was selected as the first recipient of this annual scholarship.
"This is an amazing opportunity for me," Sinanan said. "There will be a lot of hard work cut out for me."
She said the biggest challenge she may have will be finding time to schedule everything.
Sinanan is a member of the V.I. Chapter Tuskegee Airmen Inc. Youth Aviation Club and is enrolled in the Aviation Academy program at St. Croix Career and Technical Education Center. She is the secretary for the St Croix chapter of the women's aviation club, The 99's. She has been an honor roll student most of her school career. And she dabbles in art and is involved in the Complex Art Club.
When the 16-year-old Sinanan she was looking for a club to join that she would fit into, she said. Cenita Heywood, a charter member of the V.I. Chapter of the Tuskegee Airmen Inc. and organizer of the Youth Aviation Club encouraged her to join the club.
The club enhances the students' learning experience, providing opportunities to attend flying camps in the summer at aviation programs across the country, Heywood said. The organization exposes the students to the hundreds of careers in aviation and they meet people working in aviation.
She said Heywood has been a big influence on her the past few years.
"Ms. Heywood has been guiding me and showing me how to accomplish my goal to become a corporate pilot," Sinanan said. "I love flying," Sinanan said. "It's exciting and a lot of fun."
Being part of the Youth Aviation Club has given her the opportunity to already take the controls and co-pilot a plane.
She will apply to Embry-Riddle Aeronautical University, where she hopes to study aeronautical science. At this time in her life she said she wants to be a corporate pilot because pilots do multiple things flying corporate planes.
She was born on St. Croix and her parents are Nizam and Maria Sinanan. She said her father is a remote control airplane enthusiast. They often go out and fly the planes together and he lets her use the dual control to fly the planes, she said.
After college Sinanan doesn't have a clue where she will end up. She said she has a natural curiosity sitting in a plane and she likes to get in a plane and just go.
The Robert J. Phipps Aviator Pioneer Club was created to honor Robert J. Phipps, the first Virgin Islands Chapter Tuskegee Airmen, Inc. Youth Aviation Club active member to complete private pilot's flight training and earn his pilot's certificate at the age of 19.