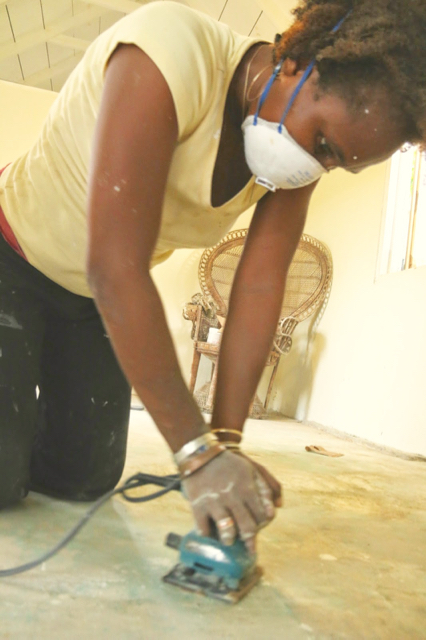 An Emancipation Day preview screening of St. Croix artist La Vaughn Belle's forthcoming documentary "The House that Freedom Built" drew more than 50 people Friday to the Free Gut neighborhood of Christiansted.
The preview consisted of a rough cut of the first nine minutes of Belle's hourlong film, which is in the editing process.
The documentary, which Belle began shortly after purchasing two small vernacular cottages at 18B East Street in 2011, follows her efforts to restore and repurpose the property as an artist's studio while uncovering its history and that of the surrounding neighborhood of Free Gut.
Free Gut, explained Belle, is the area of Christiansted where free people of African descent lived during the Danish colonial period. She said that once she began to learn more about the history of the community, what once was a simple desire for an artist's studio became something much more.
"This was in some ways a spiritual project for me," Belle said. "I felt a sort of calling to do it. Someone said to me, 'it feels like this house has a soul' and I felt that same way when I started the project."
Belle said the many hours of footage and interviews she has shot for the project follow three main narrative threads she is now attempting to weave together in post-production.
"The first thread is uncovering the histories of all the people who lived in the house or owned the property," said Belle.
She said researching the stories of the houses' occupants and owners with the help of local historians has been an incredibly illuminating and affirming project.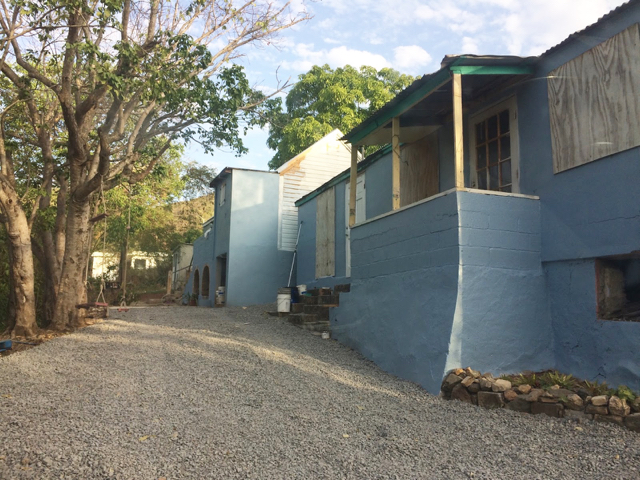 The first registered owner of 18B East Street, said Belle, was a woman named Elizabeth Abraham, who was born in the area of West Africa known today as Benin. Abraham, she said, purchased her son's freedom before eventually purchasing her own and settling in Free Gut in the late 1700s.
"It's amazing when you think about the tenacity, the will of this woman, who was born in Africa, survived the middle passage, survived enslavement, and was able to transition herself into a new sort of life as a free person on St. Croix," said Belle.
Another owner of the property, said Belle, was James C. Canegata, the father of David C. Canegata for whom the Christiansted ball field is named. 18B East Street was one of 11 properties Canegata owned in the area.
"He was this really interesting character who was able to amass his wealth during a time shortly after emancipation, when the status and positioning of the free black community was sort of in flux, when there were massive migrations of formerly enslaved people into the town, and there were outbreaks of cholera in Free Gut."
Belle said the second narrative thread of the documentary consists of her own process of restoring the building as the most recent owner, which included everything from replacing the roof to installing plumbing.
"Money is everyone's greatest obstacle, second to will. You have to have the will; you have to want to do it. But then you need the resources," she said.
Belle said the third narrative thread of "The House Freedom Built" is tying everything she's learned about preservation and history into the context of the contemporary community and the struggles, and options, of owners of historic properties in V.I. towns.
"The questions now are 'what's the next step?' 'What kind of note should I close the film on: inspirational, realistic, questioning?' 'How critical do I want to be, and how can criticism help to inspire?'"
Belle said if she hadn't learned more about her property, she never would have become an outspoken advocate for the preservation of vernacular buildings in Free Gut. She became so passionate that she even testified before the Legislature about the issue in 2012.
"If that process happened for me, it can happen for other people too," Belle said. The goal now, she said, is to make information about preservation and restoration accessible to the community.
She said that the idea behind hosting a preview screening as an Emancipation Day event was to "expand, not conflict with" other festivities and commemorations held on St. Croix on the same day.
"I think what they do in Frederiksted [for Emancipation Day] is great. But there should be hundreds of things going on, just like there are hundreds of things going on 24 hours later for the 4th of July. People should be able to be engaged in all aspects of Emancipation Day."
"The people who lived in Free Gut were people who had found other ways out of enslavement, before those who fought for it in 1848," said Belle. "But they're still a part of emancipation, that desire for freedom. And even though they were free people before Emancipation Day, that freedom was contested; there were all sorts of restrictions on it."
Belle said she hopes to finish editing the documentary by the end of the summer and release a completed version by Oct. 1. Since 2011, she has kept a blog about "The House That Freedom Built," where those interested can learn more about the project: http://thehousethatfreedombuilt.blogspot.com/
Belle was able to get $8,000 in grant money from the V.I. Humanities Council for the project, in addition to an additional $15,000 from two University of the Virgin Islands Cultural Awards Grants that she applied for in 2012 and 2014.
Editor's note: This story has been updated to correct a mistatement about funding. The Source regrets the error.