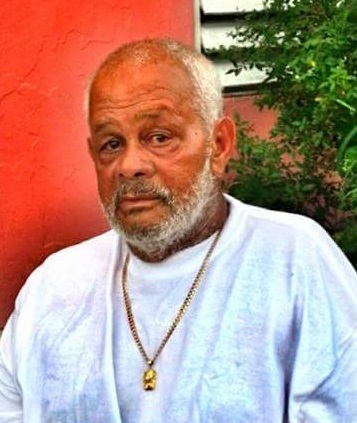 Leon Albert Lang Sr., also known as "De-Lion" or "Pops," of Mutual Homes died on Saturday June 6. He was 71 years old.
He was preceded in death by his father, Andrew Ludwig Lang Sr.; daughter, Lenecia Lang; and son, Leon A. Lang Sr.
He is survived by his spouse, Phillipa G. Lang; mother, Maria Lang; daughters: Mekala N. L. Lang, Shalante M. F. Lang and Aaliyah A.V. Lang; sons: Damian A. Lang Sr., Waleed D. Lang, Andie A. Lang, Khaleed A. Lang Sr., Toshan A. Lang, Che J. Lang, Larenzo Lang and Auelbert Lang; grandchildren: Leon A. Lang III, Omari Lang, Tanya Lang, Telena Kibbs, Keisha Lang, Kaleb Lang, Damian Lang Jr., Damisha Spencer, Bertram Sands, Aashala Hogan, Khaleed Lang Jr., Andrea Lang, Natasia Lang, Ayden Leon Paul and Kenia Leon Samuel; and sisters: Joan Lang, Irene Lang, Yvonne Lambadie, Gloria Lang, Melba Lang, Alice Wise and Florine David.
He is also survived by brothers: Albert Lang and Charles Lang; nieces: Irisma Williams, Trenisha Williams, Demitra Williams, Zamera David and Chloe David; nephews: Trevor Williams, Milton Williams, Andrew Williams, Charles Vantapool, Aaron Lang, Jumel Gadson and Octave David; great nieces: Tanaiya Williams, Daija Williams, Kaila Williams, Jahijah David and Decorya David; great nephews: Trevor Williams Jr., Dash Vantapool Jr., Milton Williams Jr. and Jahmarl David; and aunts: Margie Frederksen, Lavern Frederksen and Yvonne Frederksen.
Other survivors include his uncle, Alvin Frederksen; daughter-in-law, Anthonia Lang; brother-in-law, Marslyn David; sisters-in-law: Beatrice Louis, Joan Louis, Alix Govia and Jackulin Brown Greenidge; godchildren: Tenira Charles and Terence Charles Jr.; special friends: Elroy Harrison, Ray Johnenes, Juan Velez, Oliver Williams and Russell Simons; cousins and other relatives: the Branch, Cornelous, Frederksen, and Seally families, Keevil King, Shamarl Sutton, Ruggy Sutton, the Schuster family and the Louis family; as well as other relatives and friends too numerous to mention.
A viewing will take place at 9 a.m. followed by a funeral service at 10 a.m. on Monday, June 22, at Altona Baptist Church. Interment will be at Kingshill Cemetery.
All arrangements are entrusted to James Memorial Funeral Home Inc.