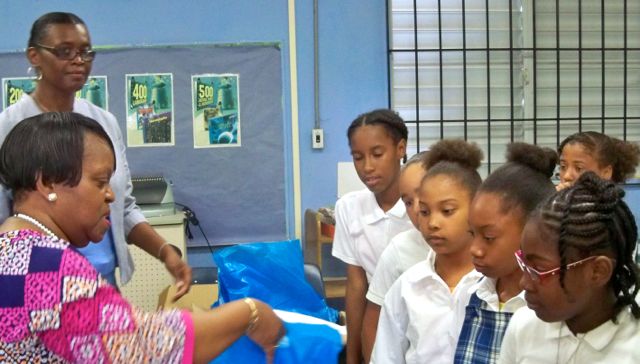 A new governor in the territory is making changes, but the Governor's Summer Reading Challenge for students remains in place. Gov. Kenneth Mapp said he believes reading and literacy are very important, so he is challenging students to read at least five books during their summer vacation.
Those who complete the challenge will be treated to a party thrown by the governor with prizes, certificates and coupons to receive 10 extra credit points toward a school assignment.
The reading challenge, in its seventh year, kicked off Tuesday at Claude O. Markoe and Charles H. Emanuel Elementary Schools. Students were given two, age-appropriate, colorfully illustrated paperback books at the kickoff.
Second-graders received "I Am the Virgin Islands" and "Kallaloo!"
Fourth-grade students got "Moon Rooster" and "The Shark and the Parrot Fish and Other Caribbean Fables."
Books being distributed to students in the schools are written and illustrated by Caribbean authors and illustrators.
Every kindergarten through sixth-grade student in public and private schools will get one or two books, depending on their grade level.
Claude O. Markoe third-grade teacher Glenda Joseph said it was great that the children got the free books. "Over the summer they can continue reading," Joseph said. "This will help prepare them for next year."
Fourth-grader Leandro Delarosa said he was happy to have his own books to make his own library.
Michael Figueroa said he liked to read and was excited about the party.
Claude O. Markoe third-grade teacher Bernadette Webster said the kids need the books, which are an extra resource. She added it's good the students have to write a 150- to 200-word summary about each book, so teachers know they read them.
"Knowing how to read is very important," Webster said. "Everyone has to read every day, no matter what kind of job you have."
Department of Education Assistant Commissioner Chermaine Hobson-Johnson told the children about the challenge and how to track their reading on sheets they were given with the books. They were also given a bingo-like game sheet. At the end of the Challenge, students are to turn in their tracking sheets to their teachers at the start of the new school year.
Hobson-Johnson challenged them to read more than five books. She encouraged the children to read the books quietly to themselves and then out loud to someone else. And she encouraged parents to take part and be actively involved. She said parents play an important role by sitting next to their child and having them read to them.
"The objective of the challenge is to get children to read to understand and communicate the purpose of the book," Hobson-Johnson said.
Superintendent Colleen Williams and deputy superintendent Faith George helped hand out the books.
Students are encouraged to visit their public libraries or log on to www.virginislandspubliclibraries.org for a list of free Tumbler e-books they may use to help them complete the challenge; students may also visit the bookmobile.
According to Cynthia Graham, Department of Education public information officer, the Governor's Reading Challenge will be expanding this year into a year-round literacy program. Mapp would like all students reading at grade level by the third grade.
When the challenge ends in September, other literacy activities will continue, such as "Books in Barbershops," placing books in maternity wards and other public places. Other activities will also be planned to encourage and promote reading.