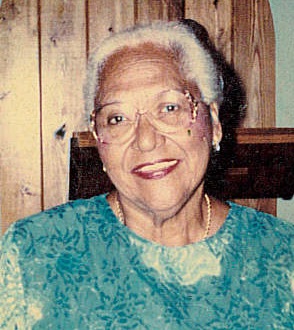 Beulah Theora Phaire Lang of Tide Village died on May 31. She was 95 years old.
She was preceded in death by her parents: Winthrop Heinrick Phaire and Eulalie Amelia Fabio Phaire; husband, Leroy Lang; daughter, Helen Audrey Patterson; and sister, Hyacinth Phaire Fabio.
She is survived by her son, Hermon Erik Patterson; daughter-in-law, Isobelle Patterson; grandsons: Eric Elliot and Deren Erik Patterson; sisters: Winona Phaire, Mavis Phaire Lang and Beatrice Phaire Encarnacion Cintron; nieces: Christine Encarnacion Thomas, Julia Fabio Green, Anya Encarnacion, Francine Lang, Linda Fabio Camacho, Arlene Lang, Rhona Encarnacion Martinez, Margaret Lang-Williams M.D., Petra Encarnacion Piniero and Carmen Cintron M.D.; nephews: Justin and Luis Cintron; and great nieces, great nephews, great-great nieces and great-great nephews too numerous to mention.
She is also survived by other relatives: the Fabio family, Phaire family, Schjang family and Schuster family; special friends: Francis"Fannie" Joseph, Patricia Gabino, Ana Gabino, Sharon Tutein, Joseph and Thelma Tomlanovich, Andreas and Debra Tutein, Viola (deceased) and Billy Blake, Gloria Paul, Adelia Norman, Ima Xavier, Shirley Boyce, Clarence "Butch" Green, Charles "Chuck" Butcher, Andrea Parker, as well as other relatives and friends too numerous to mention.
A viewing will take place at 11a.m. and a funeral service at 11:30 a.m. on Saturday, June 6, at Kingdom Hall of Jehovah's Witnesses, No. 7 Orange Grove, Christiansted, followed by cremation.
Professional services for Beulah Theora Phaire Lang are entrusted to James Memorial Funeral Home Inc.