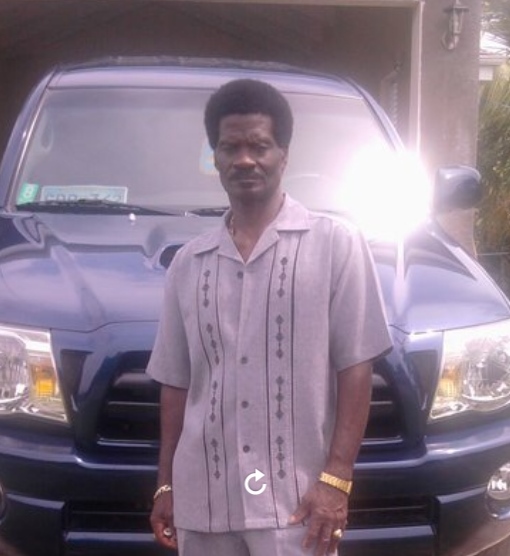 Pius Aurelien, also known as "Shoely" or "Sex and Soul HiFi," died on May 4.
He is survived by his loving spouse, Cecilia Aurelien; daughters: Sherma Aurelien, Cyrena Charlemagne and Alison Small; sons: Djavid Aurelien, Francis Aurelien, Conroy Aurelien and Presley; sisters: Eluta Joseph and Admira Aurelien; brothers: Ismael Aurelien, Laurencin Lawrence and Errence Florent; daughters-in-law: Carta Aurelien, Chrystal Wise and Lakeya Henderson; sisters-in-law: Meredith Herman-Aurelien, Morella Montoute and Marcia Montoute; brothers-in-law: Steve, Peter, Peterson, Herbert, Garnett, Anthony and Noby Papius; and nieces: Wendy Aurelien, Vanis Aurelien, Ataisha Aurelien and Francisca Aurelien.
He is also survived by mother-in-law, AnnMarie Papius; father-in-law, Joseph Papius; nephew, Jude Aurelien; grandchildren: Janai Aurelien, ReAnna Aurelien, Arielle Aurelien, Kaylan Aurelien, Arianna Aurelien, Azariya Aurelien, Damia, Amander and Shemar Alexander, Daliza Small, Jenyues, Yuandia, Nyhim, Nyame, Hannah and Niemial Char;emagne; great-grandchild, Johnial Ariana Tohmeh; cousins: Elvis Aurelien, Ancelia Rogers, Maria Daniel, Nicholas Daniel and Tano Gustave; special friends: Oscar, Mr. Doo, Aubre Anton, Pop, Papiche, Henrietta, Peter Cole, Pascal Adams and Fly; as well as other friends and relative too numerous to mention.
A viewing will be held at Divine Funeral Services Chapel from 10 a.m. to noon, on Saturday, May 16.
A second viewing will be held at 10 a.m. and a funeral service at 11 a.m. on Sunday, May 17, at Bethel Seventh-day Adventist Church, Estate William's Delight. Interment will follow at Kingshill Cemetery.
Arrangements are entrusted to Divine Funeral Services and Crematory. We own and operate our own crematory. Let us offer you a Dignified Funeral, affordable by all. Tel: 773-0003/fax: 773-3003.