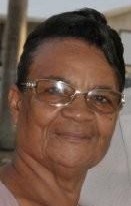 Sylvia Norma Williams, also known as "Sylvie," died peacefully on May 4 at her home on St. Croix at the age of 75.
Sylvia was preceded in death by her husband, Charles Williams; son, Melrose Benjamin; and son in-law, Ivan Shepard.
Sylvia is survived by her seven children: Orville Baltimore (St. Croix), Samuel Baltimore (Antigua), Allette Williams-Shepard (Texas), Christal Williams (Ohio), Rosemarie Williams (Ohio), Lloyd Williams (Ohio) and Sharmaine Beckles (Ohio); stepdaughter, Olivette Gittens (St. Croix); daughters in-law: Lorna Baltimore and Jennifer Williams; son in-law, Pierre Beckles; and 16 grandchildren: Travis Rogers, Alexandria Baltimore-Hookfin, Duchene Brookes, DeRone Paris, Keyana Williams, Kiara Williams, Andre Shepard, Alliah Andrews, Adonis Beckles, Amanda Williams, Jamal Shepard, Aniyah Beckles, Dillon Williams, Selena Williams, Tavry Baltimore and Bevon Baltimore.
She is also survived by nine great grandchildren: Tiana Rogers, Deja Rogers, Samaria Brookes, Latrell Brookes, Briana Brookes, Julian Paris, Allette Paris, Niema Brookes and Alexia Hookfin; brother, Jose Gore, also known as "Sonny" (Antigua); Aunt Christie (Boston); best friend and confidant: Yvonne Southwell, who was with Sylvia to the end; and other friends and relatives too numerous to mention.
The family would like to send special thanks to Pastor George and Mrs. George, the congregation of Church of God Holiness, and special friends Lu and Sandy for their continued love and support. Sylvia was a good friend to many and will be missed by all!
A viewing will be held from 3-5 p.m. on Friday, May 15, at James Memorial Funeral Home.
A second viewing will be held at 9 a.m. followed by a funeral service at 10 a.m. on Saturday, May 16, at Church of God Holiness. Interment will be at Kingshill Cemetery. Personal tributes or messages to the family can be sent to honoringsylvia@gmail.com.
Arrangements are by James Memorial Funeral Home Inc.