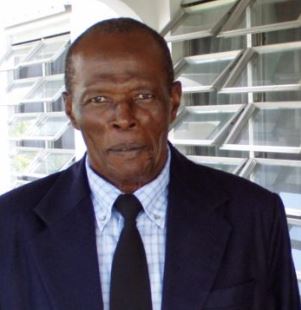 Horace Franklyn Griffith died on May 2. He was preceded in death by his mother, Ena Griffith; father, George Griffith; brothers: Willford Griffith, Milton Griffith and Ezra Griffith; and brothers-in-law: Glenfield Bartlett and Silberton Weekes.
He is survived by his wife, Miriam Griffith; daughters: Carolyn Griffith, Beaulah Griffith-Clarke; sons: Horace Markantony Griffith and Franklyn Griffith; sisters: Elane Griffith, Velda Griffith and Thamonda Griffith-Tonto; brothers: Author Griffith and Earl Griffith; and sisters-in-law: Eulene Small, Myrle Bartlett, Oceita Clarke, Dorothy Bartlett, Amena Weekes, Michelle Weekes, Miriam Weekes, Elma Kinch and Geannette Cox.
He is also survived by brothers-in-law: Ricky Clarke, Leroy Bartlett, Sherwin Weekes, Curtis Weekes, Alleyne Weekes, Andrew Weekes; nieces: too many to mention; nephews: too many to mention; cousins: too many to mention; special friends: Judith James and family, Leorta James, Dale James, Edeen Headley, Eleuteria Roberts and family, the Victor and Lett family, Helena Griffith and family.
Other survivors include more friends: the Alleyne family, the Seville family, Carlos Gittens, Maria Francois and family, Ms. Bees, Nina Bergan and family, Pastor and Mrs. Anthony DeVlught, The Central Church of the Nazarene family, Herbert Grigg family, the Royer family, the Whiskey family, Strawberry Hill family, Continuum Care family; as well as other relatives and friends too numerous to mention.
The family requests that mourners wear festive colors.
A viewing will be held from 3-5 p.m. on Monday, May 11, at Divine Funeral Services Chapel.
A viewing will take place at 9 a.m. followed by a funeral service at 10 a.m. on Tuesday, May 12, at Central Church of the Nazarene, No. 289 Mary's Fancy. Interment will be at Kingshill Cemetery.
Arrangements are entrusted to Divine Funeral Services and Crematory. We own and operate our own crematory. Let us offer you a Dignified Funeral, affordable by all. Tel:773-0003/fax 773-3003.