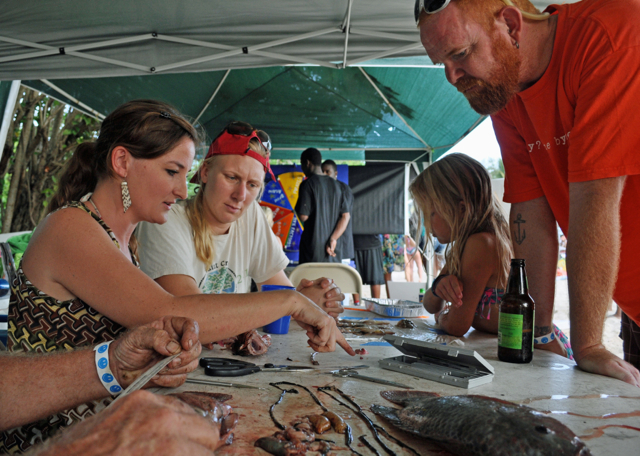 Reef Jam may seem like a big beach party for many, but it's all about education for local youngsters.
Through proceeds from the event, children are learning to snorkel and getting a glimpse of the coral reefs around St. Croix. As they learn to appreciate and enjoy the beauty under water they are also learning about coral reef conservation. They are also kayaking and wading in the mangroves in Salt River, learning about the importance of the mangroves.
"Way over a 1,000 children have learned to snorkel because of Reef Jam funding," Janelle Schindler, co-founder said. "A lot of local children haven't had a chance to see the bio bay at Salt River. Now they can do a wonderful bio- luminescence tour free."
Organizers are getting ready to stage the eighth annual Reef Jam from 1 to 10 p.m. May 24 at Rhythms at Rainbow Beach in Frederiksted.
The Reef Jam committee is dedicated to improving the health of local coral reefs through community education, outreach, stewardship and conservation programs. The proceeds from Reef Jam benefit local coral reef education and conservation efforts on St. Croix in the form of a grant program.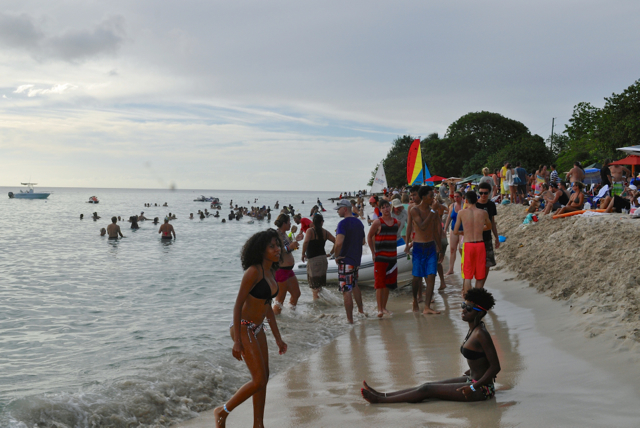 For a small entrance fee Reef Jam provides music, featuring co-founder Kurt Schindler, and more. There are information booths, educational games and activities, educational displays, local environmental speakers, food, drinks, raffles,swimming and dancing.
Janelle Schindler and husband Kurt founded Reef Jam in 2008 during International Year of the Reef. They originally did a benefit concert for the reefs in 2007 for another organization, but later learned the money raised here went to the reefs in the Pacific.
"We decided to do a fundraiser where all of the money raised stayed here," Schindler said.
Reef Jam is a project of the St. Croix Environmental Association. The free public snorkel clinics organized by SEA are offered six months a year at different locations around St. Croix.
Ty McRae, of Bush Tribe Eco-Adventures, leads a night-time, fun-filled, educational, historical, and environmental kayak trip in the bay filled with tiny glowing organisms. Schindler said children from the Boys and Girls Club recently did a bio bay tour and loved it.
During the school year volunteers from Reef Jam and SEA go to local high schools and do presentations on the coral reef ecosystem. They discuss how students can be proactive citizens to protect the reef. Students are encouraged to enter a Reef Rap contest and write a rap song to perform at Reef Jam.
Schindler said other programs and projects includes a lionfish derby, in which swimmers and divers help remove lionfish from local waters. And "Reef Jam Takes on Trash" is a litter protest cleanup done all over St. Croix.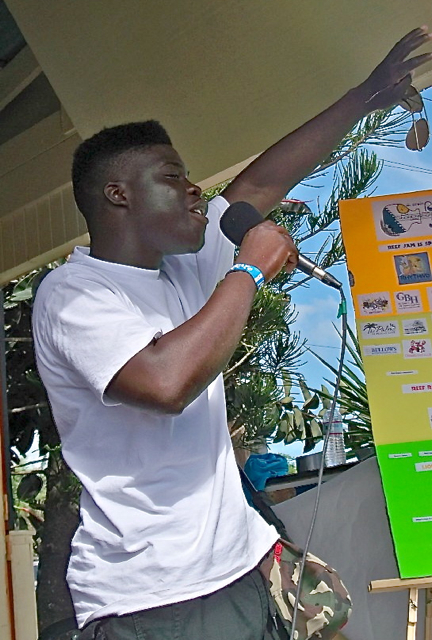 "Reef Responsible Restaurants" is a program designed to increase stakeholder understanding of how choices regarding catching, purchasing, serving, and consuming locally harvested seafood can positively influence the future of local fisheries and coral reefs.
"It's all a labor of love," Schindler said. "I never imagined that Reef Jam would still continue all these years. We'll continue as long as the community supports us. Reef Jam is run by the community for the community. We're really grateful for the people who live here and do good things for the community and are supportive."
The yearly attendance has been about 1,000 people, Schindler said. More than 100 people volunteer to help out every year.
Schindler said ib designs has been generous with donations from sales of their "Fan Coral" collection of earrings, bracelets and pendents made in silver and gold.
"Living on an island, every single one of us is affected by the health of our reefs," Schindler said."This event is to celebrate the incredible resource that surrounds us and gives us life."
Sponsors of Reef Jam are ib designs, BCGVI, Rhythms at Rainbow Beach, West End Water Sports, Shoreline at Chenay Bay, H H Tires, Above The Cliff, St. Croix Custom Pools, and 340 Cross Fit.
Those interested can learn more, register to be a food vendor, volunteer or make a donation to Reef Jam by contacting Janelle Schindler at 1-340-643-6095 or sending email to ReefJamSTX@gmail.com.